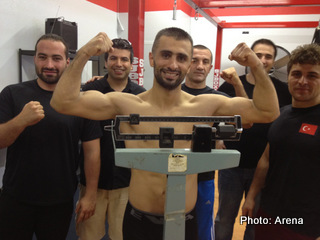 WBC Silver welterweight champion will certainly not "pull a Broner" at his championship clash with Robert "The Ghost" Guerrero in San Jose next week (Saturday, July 28th live on Showtime Championship Boxing). At the mandatory WBC 7 day weight check Aydin brought 149 lbs. to the scale – which actually means that he was closer to the official limit one week ahead of his fight than Adrian Broner was at his official weigh-in for Escobero. The WBC officially allows up to 154 lbs. seven days before welterweight title fights.
"The good thing about signing contracts in boxing is you know when you will fight and at which weight you will compete. So it's actually quite easy to be in the limit in time when you know what you're doing", said head coach Conny Mittermeier. "As I said before we've had a great training camp and Selcuk is in tremendous shape. You have to feel sorry for Robert Guerrero who will be steamrolled by a fighting machine."
"I can't wait for the fight to finally begin", added Aydin. "Hey Robert, look at me – and stop looking past me. This is the guy who will break your jaw. I know that you haven't been in the ring for more than a year now. So you know how it feels to take a long break. You will have to take another year off when I'm done with you!."
ABOUT "GUERRERO VS. AYDIN":
Guerrero vs. Aydin, a 12-round fight for the WBC Interim Welterweight World Championship, is presented by Golden Boy Promotions in association with Arena-Box Promotion and sponsored by Corona, DeWalt Tools and AT&T. The SHOWTIME CHAMPIONSHIP BOXING telecast will air live at 10:00 p.m. ET/PT (delayed on the West Coast) with Shawn Porter facing Alfonso Gomez for the NABO Welterweight title in the co-featured fight and preliminary fights to air live on SHOWTIME EXTREME® at 8:00 p.m. ET/PT.
Tickets priced at $252, $127, $62, and $26 are available for purchase online at Ticketmaster.com, charge by phone at (800) 745-3000 and at the HP Pavilion Ticket Office.
Sparring partners putting money on Aydin to beat Guerrero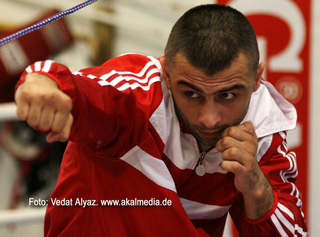 Unbeaten Turkish welterweight contender Selcuk Aydin offended Golden Boy CEO Richard Schaefer and members of the international press last Thursday when he didn't want to participate in a conference call for his July 28th WBC championship bout against Robert Guerrero at HP Pavilion in San Jose. When Aydin finally entered the call and interrupted the discussion he renewed his threat to break Guerrero's jaw. "You only talk like a politician", said Aydin directed to Guerrero. "You should focus on your training instead. Try to strengthen your jaw because I will break it!"
Aydin himself certainly focused on his training process over the past weeks and months. He started preparing for the fight in Stuttgart (Germany) as early as May 1st and moved camp to San Jose on July 1st for three weeks of intense sparring completing a total of 100 sparring rounds.
Because the hot-headed Turk isn't as well known in the United States as five-time three-division world champion Guerrero, the international sports betting industry favours "The Ghost". When Aydin's sparring partners heard that they worked with the 4:1 underdog they spontaneously decided to put part of their hard earned sparring money on Aydin.
"4:1 is ridiculous", said experienced Miami based Cuban Damian Frias who spent three weeks in camp. "Whoever made these odds has no idea that Aydin is one of the hardest hitting guys out there. This is easy money. I bet Selcuk will stop Guerrero."
Jhonathan Batista from Dominican Republic also favours Aydin to take the WBC welterweight champion belt home to Turkey. "I have been sparring with Miguel Cotto when he prepared for Mayweather and I can confirm that Aydin hits harder than Cotto", said Batista. "He's a rough and tough fighter and I don't see how Guerrero wants to beat him."
To take it a little easier on his training partners, Aydin sparred with 16 ounce gloves. "We used 14 oz. gloves in the very first sparring but we were concerned that the sparring partners couldn't take Selcuk's power", says head coach Conny Mittermeier. "We had a great camp and perfect preparation for this fight. Selcuk is in top condition and already has the weight one week before the bout. I have never seen him as concentrated. I feel sorry for Guerrero because he will take a lot of punishment."
Hernandez to face Woods for IBS world lightweight title Saturday night July 28th!!!
Syndicate Promotions is proud to present a boxing spectacular on Saturday night July 28th at the Columbus, Civic Center in Columbus Georgia. Three bouts will have title belts on the line. Headlining the show will be an exciting ten round women's IBS world lightweight title contest featuring Melissa "HurricanShark" Hernandez (16-3-3) against Georgia's own "Notorious" Nicole Woods (11-9-2, 3KO's).
Hernandez, the former WIBA world super featherweight title holder, has fought the best the sport has to offer, and owns wins over former WIBF super featherweight champion Mellissa Fiorentino and Canadian world champion Jelena Mrdjenovich. She knows the pitfalls of the game and fights for the love of the sport.
She is the unique blend of great hand-speed, slick movement and deceptive power which makes her quite a find in women's boxing today. Her opponent, "Notorious" Nicole Woods knows what a win over the world renowned fighter like Hernandez would do for her career and is anxious to get in the ring and look to take down the "HurricanShark" in front of her fellow Georgians.
In the co-feature of the evening, The IBS National super lightweight title will be on the line as Philadelphia, PA's Tevin Farmer (6-3-1,1KO) squares off against fourteen fight veteran Rasool Shakoor out of Jackson, Michigan in an eight round contest.
Farmer has been in with many of the best up and coming prospects his division has to offer. He is willing to fight anybody and it has led to a couple of setbacks early in his career. He has gained confidence from the fights though and has improved considerably as his boxing career progressed. Tevin now shows the ability to box or slug with great hand speed and good angles. He will have a tough test in Shakoor, who has gone the distance with rising prospect Angel Luis Ocasio and has tested many others, such as Miguel Buendia, Carlos Zambrano and Guillermo Sanchez. The combined records of the last five fighter's records at the time he faced them was an incredible 30-2-2, which has led to his deceptive 3-10-1 record.
Another Philly prospect Tim Witherspoon Jr. (7-2-1, 2KO's), is also ready for his chance to win a coveted belt as he takes on Atlanta, Georgia's own, Gerald Fisher (1-3) over eight rounds for IBS Junior super lightweight championship. Witherspoon Jr. is the son of two time heavyweight champion of the world "Terrible" Tim Witherspoon.
Douglasville, Georgia light heavyweight, Eddie Morris is ready to excite the locals as he makes his professional debut against Gulfport, Mississippi's Cleo Rice 3rd (0-5) in a four round contest. Morris, a former 2010 Georgia Golden Glove champion, is a self described fast puncher with deceptive power.
Former seven time all Army and armed forces champion, John "Fashanz" Franklin (2-0, 1KO) of Colorado Springs, Colorado looks to capture his third victory as a professional when he takes on the always deadly "Opponent to be announced," in a four round super flyweight contest. The talented fighter, who boxed in the Army's world class elite program, has amassed a fantastic amateur record of 120-15. Franklin is managed by Mike Quintana of Quintana boxing. "This is a prospect you want to keep an eye on," said Quintana. We believe he has all the skills and knowledge to become a world champion."
Rounding out the card will be a crossroads four round heavyweight scrap as Montgomery, Alabama's Kevin Howard (2-7-1) squares off against North Carolinian Lewis Cotuna (0-2). Both fighters know a victory is imperative if they are to attempt to make a career out of boxing and it is sure to be a slugfest.
There are also three MMA contests presently set for the card featuring some of the best amateurs in the region.
Doors Open at 6PM
First bout 7PM.
Tickets are priced at $100, $50, $30, and $15 dollars
Tickets can be purchased by calling Ticketmaster at 1-800-745-3000