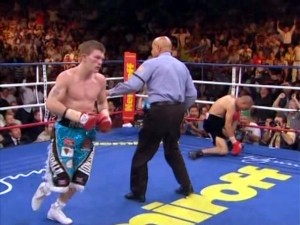 By James Slater – You've almost certainly heard the rumours, the whispers, even the shouts that say Manchester warrior and all-round superstar Ricky Hatton is possibly going to make a "shocking return to the ring."
The top web sites picked up the first inklings of this story a week or so again, and all Hatton himself or his lawyers, etc have said is the traditional "no comment," leading many to wonder for real if the comeback rumours may have some meat to them – after all, if Hatton were happy and content in retirement, laughing at the latest rubbish to have been written about him, surely he'd simply come out and put all the nonsense to rest? The fact that Ricky has not done this, but has allowed the rumour mill to go into full swing – to the extent that former opponent Paulie Malignaggi has spoken out on the subject, stating that he is very much up for a return fight with the man who halted him late on back in 2008 – has seen to it that the story has snowballed..
And, with Ricky's reported training in the gym (not just with his young fighters, getting them in shape, but Hatton whipping himself into shape; if you believe the word on the street, the best shape he's been in for years), a number of fans and experts are starting to convince themselves the comeback WILL happen. A quote that appeared in the reliable Manchester Evening News (THE place for all things Hatton related), from a "source close to Hatton" informed us that Ricky has spoken of a return, but that it would have to be "for the right price."
So, should Hatton return to the ring? At age 33 (34 in October), Hatton is, on paper at least, young enough to fight again. Last seen being taken out in brutal fashion by Manny Pacquiao in May of 2009, Hatton also has the motivation to climb through the ropes for a forty eighth time: he isn't and never has been at all happy to be remembered for "going out like that."
Money is almost certainly not an issue (although you never know for sure) but the weight factor almost certainly is. Known to balloon between fights even when he was in his prime, Hatton, now approaching his mid-30s would, one would presume, have a nightmare of a time getting back down to 147, never mind 140. But Hatton has been Tweeting how he has gone back to the gym and has pushed himself though some of his old workout routines (Hatton also added a photo to one of his Tweets: of a body builder's ripped torso, displaying once again his sharp sense of humour!) and who knows, maybe "The Hitman" has discovered a diet/dietician that really works for him as well as relocating his old desire?
But would a Hatton return be good for boxing? In terms of the amount of ink it would generate for the sport, then yes, it would be a good thing (just look at what the mere rumours of a Ricky return have done!), but it could also be an embarrassment; for the game and for Hatton himself. Sure, Malignaggi (supposedly the reigning champ Hatton would shoot for) is no murderous puncher, and he is a man Hatton has already beaten. But today, or next summer, or whenever Hatton comes back, if he indeed does so, Ricky would run the risk of running out of gas, of looking old and slow and of being thoroughly outboxed and, yes, even KO'd.
Three or four years is a long time in boxing, and without a tune-up, Hatton would have a tough time competing with as sharp and as active a fighter as the skilled "Magic Man."
For what it's worth, I'd say leave it alone, Ricky. What is there for you to prove other than you, like Lennox Lewis and a few other former greats, are smart enough to know when to stay retired.