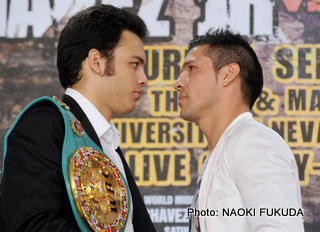 MÉXICO CITY (July 17, 2012) – Undefeated World Boxing Council (WBC) middleweight champion and Son of the Legend, JULIO CÉSAR CHÁVEZ, JR. (46-0-1, 32 KOS), of Culiacán, México, and two-division world champion with the matinee idol looks, SERGIO MARTINEZ (49-2-2, 28 KOs), of Quilmes, Buenos Aires, Argentina, may have been promoting their upcoming Méxican Independence Day World Middleweight Championship clash but it sounded more like they were preparing for a head-on collision! Chávez Jr. and Martinez concluded their four-city, two-nation media tour today, in México City, with each combatant verbally spitting in each other's eye, predicting a decisive victory and emerging as the rightful Middleweight Champion of the World.
JULIO CÉSAR CHÁVEZ, JR.:
"I want to prove that I am the best middleweight in the world and I will beat Sergio Martinez on September 15 to prove it. It will be a great night of boxing, a great night for boxing, and a great night of celebration for México as we will celebrate Independence Day and my great victory. This is a real fight between the two best middleweights in the world and one that history will remember for a long time.."
SERGIO MARTINEZ:
"There is no way Chávez Jr. can beat me. I will knock him out inside seven rounds. I gave his father a baby bottle today so he can take it to his baby after I give Junior a real beating. He won't be eating solid food with the few teeth remaining after I get through with him."
Chávez Jr. vs. Martinez will take place Saturday, September 15, at the Thomas & Mack Center, on the campus of the University of Nevada, Las Vegas. It will be produced and distributed live by HBO Pay-Per-View®, beginning at 9 p.m. ET / 6 p.m. PT.
Promoted by Top Rank, Zanfer Promotions and DiBella Entertainment, in association with Wynn Las Vegas, AT&T and Tecate, remaining tickets, priced at $600, $400, $200, $100, $75, $50 and $25, can be purchased at the Thomas & Mack Center box office and Town Square Las Vegas Concierge. Tickets can also be purchased online at www.unlvtickets.com. To charge by telephone call (702) 739-FANS.
WORLD BOXING COUNCIL NEWS
July 17, 2012 – Mexico City.
From the office of WBC President Dr. José Sulaimán:
The following is one of the weekly "Hook to the Liver" columns by WBC President Dr. José Sulaimán that are published in El Universal every Sunday. From July 15, translated from Spanish:
HOOK TO THE LIVER
By José Sulaimán
The conversion of the Baddest Man on Earth
A moment in our lives comes when fragrance, music, taste, old photos, make us remember times long gone, about beautiful places where you ate a certain food, danced with someone that you enjoyed. A smell that makes you remember long-gone loves, but which have gone away forever. The presence in Mexico of the boxing destroyer Mike Tyson took me to countless mementos that make me live again the thrills and emotions of past boxing.
The opening press conference in Mexico City had as many cameras as I had seen in a long, long time. It brought me back to a long time ago day when my dear friend, the late Jim Jacobs, brought to me a video showing the future bomber, even more than Joe Louis, he said, with his 18 KOs in the first round of his first 18 fights. I was impressed, but recommended Jim to keep him fighting to really become what he said.
A few years later, Don King came as his new promoter and Jim's associate, to give him the opportunity to fight champion Trevor Berbick for the WBC heavyweight world title. Tyson became the youngest heavy weight champion of the world at 20 years of age.
A kid, an orphan, and in jail since he was 14, received a gift from God with the coming of Cus D'Amato as his trainer. D'Amato could not enjoy his boy becoming champion, as he passed away about a year before. That evening, Tyson went all over the hotel, casinos, lobbies, and more, wearing his WBC green and gold belt. The following day, with the style of Don King, Tyson was crowned, yes, he received a diamond crown that Muhammad Ali and I gave him, embarrassing for me, the red robe of a king. That night the poor child jumped from poverty to a first step to become one of the greatest of all time.
The day came when he set the highest income in sports by winning more than $30 million in only a little more than the one minute when he defeated Michael Spinks, who stayed on the canvas as long as the fight lasted. Some said that Mike did it out of his outrage caused by Butch Lewis, my late dear friend, for making him wrap his hands twice. It is impossible to ever forget that little piece of Evander Holyfield's ear, which fell to the canvas very close to where I was sitting, after two bites on the ear from Tyson. Nobody in the arena or on TV could explain what had happened. Tyson was desperate for the many head butts from Evander, without any action from the referee. Tyson showed that night what he always claimed: that he was the baddest man on earth.
During the last WBC convention in Las Vegas, I asked Evander to present Mike with his Lifetime Boxing Excellency Award, that he hesitantly presented, while those two boxing barbarians hugged amicably with esteem and mutual respect, an example of what boxing is. What would I give for politicians and promoters doing the same…
How can I forget the savage knockout of Larry Holmes, also one of the greatest ever. I was sad to see that, but it was the punishment that life gives to all those that don't understand when their cycle of glory is gone. It also happened to Joe Louis, Ali, Ray Leonard, J.C. Chavez, and so many, many others, including Tyson himself.
Tyson, in his prime, married an artist who pushed him into decline, a real drama of someone born in a humble bed, reaching the skies and being dropped mercilessly by one he loved. The same happened when he was blatantly discriminated against by an all-white jury who sent him to jail for the accusation of sex abuse of a girl who went late at night to his room in a hotel — like, for an autograph?
He could not mentally accept the actions of his first wife, and later going to jail. The life of that extraordinary fighter who always had sold-out arenas, who provoked passion and excitement with the power of his fists, with the cheering of his race and the discrimination of others, fell all the way down in the deepest of vices and disgrace. It looked as if the great Mike Tyson was following the path of most fighters who are born in the humblest of beds: to reach glory, money, and beautiful women, then to fall after the lights of their career are off into poverty, hunger, pity, and only dreaming in nostalgia with tears of their times of glory.
But no, Mike Tyson flew from his ashes again into the world, after finding a gracious new wife who has led him away from the dirt to send him back to live in glory. A new Mike Tyson, representing still the greatness of his career in boxing, but now into the lives of those who get up from the canvas and continue their lives struggling for being good, and with success. I will leave the life of this man, whose life I lived very close to during all of his career with his ups and downs, as an example for the young of the world of how to struggle to leave the night behind and move into being someone to follow with his deeds of a good man, carrying with pride his life, like a diamond in boxing, to leave an indelible mark of his passing through life.
Mexico received him in victory with millions of flashes, the applause and admiration that he has always had from Mexicans. Mauricio and I took him to the airport with a feeling of being so proud of the man that once was the baddest man on earth, to one who today is a good human being with a history of glory.
Thank you for reading my thoughts.
Burgos vs. Vazquez, Huerto vs. Arcos on Friday
Orange, CA (July 17) – A massive Thompson Boxing Promotions tidal wave hits the Southwest as three different fight cards from the Orange County-based company will take place on Friday, July 20, from Laughlin, Nevada to Santa Ynez and Ontario, California.
A regional title fight between Mexican contenders Juan Carlos Burgos and Cesar Vazquez erupts at the Edgewater Casino in Laughlin, a lightweight collision between Miguel Acosta and Art Hovhannisyan will be the main event at Chumash Casino, and Charles Huerta faces Eduardo Arcos in a junior lightweight main event from the Doubletree Hotel in Ontario.
Few promoters have ever dared this feat.
Tijuana, Mexico's Burgos (29-1, 19 KOs) has proven several times that he's capable of winning a world title and seeks to prove it against equally impressive Cesar Vazquez (25-0, 16 KOs) of Mexicali, Mexico in an expected war for junior lightweight supremacy. Both will be battling for the WBO Latino junior lightweight title in Laughlin, Nevada. ESPN2 will televise the event along with a semi-main event pitting East L.A.'s Aron Martinez (17-1-1, 4 KOs) against Prenice Brewer (16-2-1, 6 KOs) in an expected welterweight war. The event is co promoted by Art Pelullo's Banner Promotions and Thompson Boxing Promotions.
North of Santa Barbara, CA, former world champion and lightweight contender Miguel Acosta (29-5-2, 23 KOs) of Venezuela battles Glendale, California's Art Hovhannisyan (14-0-2, 8 KOs) in the main event at Chumash Casino in picturesque Santa Ynez. The boxing main event will be televised live on SHOWTIME's ShoBox: The New Generation and it's promoted by Gary Shaw Productions in association with Thompson Boxing Promotions.
Further south, Thompson Boxing's newly signed, Charles Huerta (16-3, 9 KOs) heads a list of outstanding Southern California prizefighters appearing at the Doubletree Hotel in Ontario. The popular Paramount prizefighter always brings his caravan of fans. But it won't be easy against the always-dangerous junior lightweight Eduardo "Latigo" Arcos (16-7-1, 13 KOs) in the main event set for eight rounds. Don't count out Tijuana's Arcos. Any time he connects it's for good.
Allentown's Miguel Diaz (8-0, 3 KOs) returns to the Ontario faces Evaristo Primero (15-14-1, 7 KOs) in an eight round bout. Despite living in Pennsylvania the hard punching Diaz has become an Inland Empire fan favorite with his aggressive style. Primero has faced the best. Will his experience be too much for Diaz?
It's Colombia versus Mexico when Daulis Prescott (24-1, 18 KOs) fights Pablo Torres (6-4-2, 5 KOs) in a featherweight bout. Prescott is the younger brother of Breidis Prescott who knocked out Amir Khan several years back. Both Prescott brothers wield serious firepower. Torres also has a punch. All of his wins have come via knockout.
Rigoberto Flores (4-1, 2 KOs) of Northridge, Calif. meets Hector Garza (3-6, 2 KOs) of Texas in a six round junior welterweight contest. Flores is making his sixth appearance at the Doubletree and must deal with left-handed Garza. Lefties are puzzling for everyone.
In other fights Sylmar's Sergio Nuñez (6-0-1, 4KOs) fights Houston's Jesus Mendez (3-2, 2 KOs) in a junior lightweight clash. San Pedro's junior bantamweight Isaac Zarate (3-0) opposes Corpus Christi's Jeremy Longoria (3-1, 1KO).
San Diego's junior welterweight Giovanni Santillan (2-0, 1KO) meets Laredo's Alberto Espinoza (1-1).
Tickets for the "Path to Glory" card are priced at $74, $45 and $30 and may be purchased by calling: 714-935-0900. Bouts subject to change. Doors open at 6:30 pm, and the first bell rings at 7:45 pm. The Doubletree Hotel is located at 222 North Vineyard Avenue in Ontario. The hotel phone number is 909-937-0900.
It's a triple-header for Thompson Boxing Promotions just take your pick, make the drive and set your DVR!