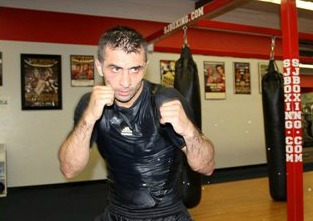 By Robert Jackson: In the past month or so we've seen fighters who were dismissed or overlooked grab the bull by the horns taking destiny into their own hands.
First there was Josesito Lopez just an afterthought in the way of a Canelo/Ortiz, 'big fight' scheduled for September 15, 2012. Lopez was supposed to be in a tuneup fight for Victor Ortiz who already had his ticket punched for the Canelo Express. 9 rounds and one broken jaw later, Lopez is now riding that train to Caneloville replacing the injured Ortiz.
This past weekend Amir 'King' Khan whose pre-fight banter suggested his ring superiority to P4P King Floyd Mayweather Jr, also got his ticket invalidated, losing by TKO to the unheralded and overlooked Danny Garcia. The WBA/WBC Champion Garcia now moves on to bigger and better things the 140lb division has to offer, leaving Khan ponder his future..
On a lesser note, fringe contender Mike Jones fighting out of Philly, got his head handed to him by KO during the late rounds of his fight against journeyman Randall Bailey, on the Pacquiao/Bradley undercard, stalling Jones' upward mobility to the elite levels of the 147lb weight class. Bailey has been dismissed and underestimated for most of his career. Jones has now moved his training from Philly and is now working with Floyd Mayweather Sr in Las Vegas.
That brings us to Robert 'the Ghost' Guerrero, who'll be facing Selcuk Aydin in his first fight at the 147lb division having moved up 2 weight classes to make this fight. The winner of this fight will move forwards to face the currently incarcerated Mayweather for the WBC 147lb crown. Prior to securing this fight, Guerrero attempted to make a fight against Mayweather and was passed over when Mayweather chose Miguel Cotto and moved up to the 154lb weight class, while still retaining his WBC 147lb belt.
Throughout his preparation for Aydin, Guerrero has constantly indicated that his ultimate goal is to fight and defeat Mayweather like only he can. Sound familiar? Only a fighter knows what his/her capabilities are in the ring, but it seems that all focus and concentration should be put forth towards the task at hand, and not skip forwards to the next fight. Having never fought any elite fighters in the 135lb division casts doubt on Guerrero's chances also.
Most of all, in his first fight in the 147lb division against the #2 rated contender who's recognized as a big puncher, it would serve 'The Ghost' well to remain focused on Aydin and disconcern himself with any thoughts about facing Mayweather until the time comes.