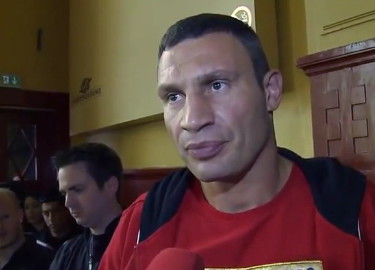 By Vitali Shaposhnikov: With David Haye's spectacular victory over Derek Chisora this past Saturday night, the fist name that jumps to mind is Vitali Klitschko.
The fact that Haye was able to perform as promised, and even deliver a knockout win, is an achievement in itself. But now that this victory gives Haye a lift in the heavyweight division rankings, he needs to find a useful way to take an advantage of this opportunity.
For some time now, speculations of Haye vs. the older Klitschko brother have been circulating the boxing community. As a matter of fact, many boxing fans assumed that if Haye was to put on an impressive performance, he would be Vitali Klitschko's final boxing bout before Vitali calls it quits.
Despite the fact that this was assumed to be a likely scenario, it turns out that Vitali has no plans in fighting Haye in the near future, if ever. During his press conference in Moscow to market his upcoming bout against Manuel Charr, Vitali had the following to say as reported by DailyMail.co.uk (http://www.dailymail.co.uk/sport/boxing/article-2174364/Vitali-Klitschko-David-Haye-chose-Dereck-Chisora-September-super-fight.html?ito=feeds-newsxml):
"David Haye was supposed to be at this press conference. He had a concrete offer for a fight in September and he refused. He turned down a fight with Vitali Klitschko in favor of one with Chisora."
Vitali's manager Bernd Bönte confirmed this in another interview published on Guardian.co.uk (http://www.guardian.co.uk/sport/2012/jul/16/vitali-klitschko-david-haye-fight?newsfeed=true):
"We offered Haye the fight in September but he chose to fight Chisora instead because that was easier for him. David probably turned Vitali down because he got more money against Chisora, who is by far the easier opponent. We had a contract ready for Haye, had booked an arena, but he turned us down for a second time – the first time he chose to face Nikolai Valuev instead.
To be honest, while I understand that boxing has its own politics, I have trouble seeing Bönte's statement as a lie. Every good boxing manager and promoter knows that avoiding a fight that would likely end up in a loss is a must, up until a certain point of course.
Milking the cash cow is the biggest part of the game in almost any sport, and in boxing, sometimes it is more evident than in any other one.
I doubt many people would pick Haye over Vitali, thus taking an undesired pay might not have been worth the risk for team Haye. Now that David has scored a knockout that Vitali could not, the time to milk the cash cow has come for Haye, but unfortunately, team Klitschko might not want to be a part of that plan any longer.
"After fighting Manuel Charr, Vitali goes on the campaign trail for parliamentary election in the Ukraine. He's the leader for the opposition, UDAR. Should he be elected on 28 October then he will probably stop boxing. For him politics is the future – he wants to fight for democracy. But even if he's elected, maybe he'll want to have a farewell fight," concluded Bönte.
Leaving the sport with a victory over Charr should not be a part of Vitali's plan. This would be a big disappointment to boxing fans, with his resume taking a serious hit. There are a lot of people that already criticize the brothers for taking on questionable opposition, and with a conclusion involving Charr would certainly make things worse.
Fighting Haye would not only be a big money fight, but could be a nice ending to Vitali's career with very limited risk of a loss. As of now, Fightnews.com (http://www.fightnews.com/Boxing/klitschko-holds-moscow-presser-124232) quoted Vitali's agressvie stance on Charr, saying: "Charr thinks I am dead and he can tear me up like a wild lion. But my name is Dr. Ironfist and Charr will feel this and lose all his teeth. He will walk back to the tiger's cage without teeth."