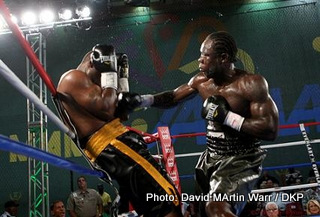 by Pavel Yakovlev – (5/10/12) Azea Augustama is one of the world's brightest up-and-coming light heavyweights. Since turning pro in 2009, he has won 13 of 14 bouts, including eight victories by knockout. So far, Augustama has impressed many with his mobile footwork, fast hands, razor sharp left jab, combination punching ability, tight defense, and capacity to easily throw any shot from a wide variety of angles. The 5'11" fighter patterns his style after that of Sugar Ray Leonard, and in the ring, the resemblance shows.
In his lone loss, Augustama dropped a split decision to Denis Grachev. Many observers felt the fight was so close that the decision could easily have been given to Augustama. In some ways, the debatable verdict reflects well on Augustama, as Grachev has since moved on to knockout top contender Ismayl Sillakh.
Prior to turning pro, Augustama was one of the most decorated amateur in the world. Fighting at the 178 lbs weight class, he represented Haiti in the 2008 Olympics, and won the gold medal in the 2008 U.S. National Golden Gloves.. In the 2007 Pan-American Games, he won a bronze medal. Interesting, Augustama put on weight and fought in the 201 lbs division in the 2007 World Championships.
Augustama recently signed a promotional contract with Don King Productions. It is highly probable that Augustama will appear in the world ratings within one to two years, after which he will rival his division's elite in pursuit of a world championship.
A native of Haiti, Augustama's family moved to the United States in 1990, and he is a citizen of both countries. In the following interview, Augustama discusses his career with ESB.
ESB: What got you started in boxing?
AA: I started boxing when I was 15 years old. To be honest, my first passion was American football.
I made the football squad in high school, but decided to try another sport. But from second grade until high school, I was always in at least one fistfight every year. Because of this, my mom sometimes asked me, "why are you always fighting so much," so I went into boxing. Once I took up amateur boxing, I won the locals, then nationals, and the rest is history.
ESB: Why did you like boxing better than other sports you played?
AA: I found that I liked boxing because you're in the ring all by yourself. You're the one who can shine, and you can make your own decisions. You don't have that power of choice in team sports, where you have a coach pulling you out or sending you in, controlling everything. In boxing, it's all you in the ring.
ESB: You have two brothers who are accomplished boxers. That must have inspired you.
AA: I'm the sixth of eight brothers. My older brother Manuel is the fifth, but he actually started boxing after me. He is a very powerful puncher, and made it to the Olympic trials. Altogether Manuel had between 17 and 20 amateur fights. My younger brother Eli also boxes. Next to me, he has the most experience of us, having between 40 to 60 amateur fights.
ESB: You had a distinguished amateur career. What was your record, and who were your toughest opponents?
AA: A rough idea of my record is about 88 wins and 12 losses. To be quite frank, there were maybe five or six guys I could credit as being my toughest opponents. The first guy that comes to mind is Edgar Munoz from Venezuela, who I fought in the Olympic trials. I entered that fight having been off for a year and a half. We both threw about 70 punches per round for four two-minute rounds. After that fight, it took me an hour to recover my breath. Artur Berterbiev I lost to twice by close decisions. He was tough, and was knocking out everyone else in that tournament in just two rounds. But I hung in there with him and made it really close. Afterwards, he talked to me and gave me a lot of credit.
ESB: In your experience, which nations produce the strongest amateur teams?
AA: Well, the thing is, there are different weight classes, so I judge the competition based on what weight class I'm in. In my weight class, Russia was extremely tough. Obviously the Cubans are super tough. Columbia produces a lot of strong powerpunchers; I can't really put my thumb on why. Maybe they train to sit down on their punches.
ESB: Sometimes you fought at heavyweight as an amateur, above your weight class.
AA: That's something I learned from my younger brother Eli, to be quite honest. Talent wise, he is one of the best, but sometimes he was at the point where he got lazy, and couldn't get down to his own weight class of 165 lbs. Whenever that happened, he fought at heavyweight instead. I followed his example. I knew I was stronger than Eli, and figured I could do even better than him at the higher weight.
ESB: How did it feel to make the transition from the amateurs to the pros?
AA: I'm more into the pro style. Even as an amateur, my style was more like a pro style, I would say. In the amateur system as it works now, a fighter throws one or two shots, gets points, then keeps staying away, and then he's credited for winning the fight. In the pros, it's different in that how a guy dictates the fight can win him the round. Because of this, even if a guy lands just one punch in a round, he can win that round because he's putting on the pressure and his opponent is just trying to stay away from him.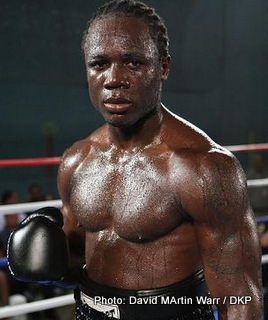 ESB: Describe your fighting style.
AA: Well, I do admire boxer/punchers, so that's the style I try to bring into the ring. Sometimes I lose focus and do things I shouldn't, but overall the boxer/puncher style is what comes naturally to me.
ESB: What is your best punch?
AA: The straight right hand, which I like to use in the one-two. I put a little range on it. I hide it. When I don't load up, and it comes straight down the middle, my right works best. I find that I get more leverage that way, and the opponent doesn't see it coming.
ESB: What are you working on in the gym, to improve your game?
AA: I'm working on my jab. I have a beautiful jab when I use it. I'm not consistent enough when I use it, but that's changing. When I make my jab work right, everything works out. Al Bonanni (Don King Productions Director of Boxing and trainer of IBF Light Heavyweight champion Tavoris Cloud) is constantly complimenting me on how I use the jab.
ESB: Do you any fighters from the past or present inspire you?
AA: Manny Pacquiao is one of the most humble boxers ever, I respect him. He works really hard, and is very humble. Shane Mosely is a tiger in the ring, but he's humble outside of it. Roy Jones Jr. always seemed so arrogant and cocky on television, but when I met him, he was a class act. Bernard Hopkins is also a class act. I was in two training camps with him. Once Bernard gave me a jacket that a pop musician from Haiti gave him. He's even mentored me, and has spoken with me a lot. Bernard is a great guy. Also, there's David Haye. In 2007 my trainer Jorge Rubio asked me to spar with him. David showed me the shoulder role move, which I incorporated into my style. David is a really nice guy in person; none of the cockiness that he shows on television was there.
ESB: As a pro, you've lost only once, by split decision to Denis Grachev. At the time, some people felt the loss reflected unfavorably on you, because Grachev was relatively unknown and you were expected to beat him. But last week, Grachev KO'd top contender Ismayl Silakh, a win that will put him in the world ratings. So, in retrospect, the Grachev loss doesn't necessarily look bad. Any comments?
AA: Overall, the Grachev fight was a learning experience. There are some people who say the fight could have gone to me by a round; the fight was that close. I think the decision could have gone either way, and he got it. In a fight like that, you always look back, think about what could have been done better, or done differently. Definitely there are some things that I did that I could have done differently. If he fights me again, I'll be a whole different fighter. I now know what adjustments to make against him. On one night, he beat me. On another night, I think I would beat him. I give him credit though. Grachev is a really smart fighter.
ESB: How does it feel to work with a legendary promoter like Don King?
AA: Don is a legend…he's been around a very long time. He gave me a great chance. I'm going to make the most out of it, and be the best I can be.
ESB: What can you tell us about work with your long-term trainers, Tony Betancourt and Angel Nazario?
AA: Angel preaches the fundamentals, controlling the opponents, not making the fight any harder than it has to be, and he emphasizes conditioning as much as possible. He really pushes me to the brink. I love that, it helps me to excel. Tony's approach is not far from Angel's…he's mentored me from the beginning, when I started boxing. Tony's helped to incorporate everything I've learned from other coaches. He's like the father figure in the corner for me.
ESB: You've sparred several times with world champion Tavoris Cloud. Surely you must have learned something from that experience.
AA: I've sparred with him on several different occasions. The first time was when I was still an amateur…I didn't know too much about him at the time. It was great sparring, very competitive. We just went four rounds that firwst time; I tried to dictate my style of fighting, and he tried to dictate his. Al Bonanni (Cloud's trainer) was very impressed with me. Since then, I've sparred with Tavoris several times, and all the sessions have been very competitive. These sessions have helped me excel as a fighter. 
ESB: What motivates you to succeed?
AA: Family, God, the drive to know truth, the hard days working in the gym, and seeing my mom and dad struggle. All these things motivate me to hopefully help my family.
ESB: Does you Haitian background inspire you to succeed in boxing, and do you speak Creole?
AA: I do speak Creole, but if I go to Haiti, they realize I have an American accent. Every value I feel comes from my mom and dad, of course, and they taught me to be respectful and courteous. That's something that shows my Haitian background. I do take great pride in being Haitian, and I take great pride in being American. Haitians have a sense of strength because of their history, as they were the first African-American country to win their independence by defeating a strong foreign power (note: Haiti won its independence in 1804 waging a successful armed revolt against Napoleonic France.)
ESB: Where do you see yourself in boxing one to two years from now? Grachev is already in the world ratings, and you are on par with him. You are rising fast.
AA: Well, a year from now, hopefully, I'm getting on Showtime. Possibly I'll be 17-1 or 18-1 by then. Two years from now, I see myself in contention with the top fighters. Hopefully by that time I'll have 23 or 24 fights. I'm just looking for bigger and better things, pursuing my dream of becoming the world champion.