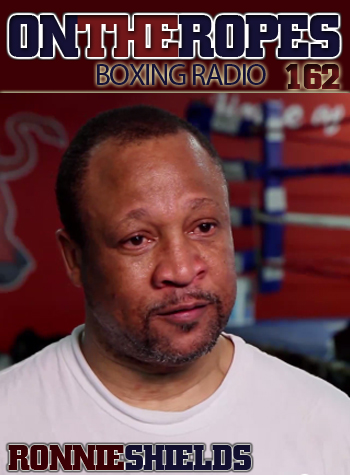 by Geoffrey Ciani (Exclusive Interview by Jenna J & Geoffrey Ciani) – This week's edition of On the Ropes Boxing Radio featured an exclusive interview with highly regarded trainer Ronnie Shields, who recently helped guide Edwin Rodriguez (21-0, 14 KOs) to an impressive victory over Donovan George (22-2-1, 19 KOs). Shields spoke about Rodriguez's victory and where he believes the young super middleweight currently stands in the 168 pound landscape. He also touched on a variety of other subjects including Sergio Martinez's eleventh round stoppage victory against Matthew Macklin, the upcoming fight between Floyd Mayweather Junior and Miguel Cotto, whether he believes Shane Mosley has a chance against Saul Alvarez, the two title shots Shields received back in his days as a boxer, Tomasz Adamek, and some of the younger fighters he is currently working with including Mike Lee, amongst others. Here are some excerpts from that interview:
His views on Edwin Rodriguez's winning effort against Donovan George:
"I thought Edwin did a great job. This was my third fight with Edwin, and I must say I think this is the best fight that we've had together since I started training him. I think Edwin showed he's not a one-dimensional fighter like everybody thought he was."
Regarding the more tactical approach displayed by Rodriguez against George:
"I definitely didn't want Edwin to get into a slugging match. They billed this fight as "Bombs Away", but I had to take that away from him because I didn't think that was the best option for him to be in a fight like that. So he really, really did a great job. His defense worked perfectly, and I'm so proud of him because he stuck with the game plan."
On whether he would prefer to see Edwin get a shot against Carl Froch or Lucian Bute:
"Well Edwin has sparred with Carl Froch before, and he really likes Carl Froch as a person. I don't know. I've seen Froch fight. I've seen Bute fight. I mean I really don't have a preference of which one. I really don't care at this point in time. I think Edwin is a really good competitor, and I think he'd be a really good competitor against either one. I think Edwin's confidence is sky high right, and he's ready, and eager, and willing to fight either one of them. So it really doesn't matter to me."
His views on whether Edwin Rodriguez is ready for a title shot right now:
"Absolutely! Without a doubt, I think he proved that on Saturday night. I think when people saw the last fight against Will Rosinsky, I think people didn't think he was ready then. But they have to understand Edwin and Rosinsky are great friends. They're always on Facebook with each other, but when DiBella matched them against each other everything kind of turned and it became more of a rivalry than anything."
His views on why Guillermo Rigondeaux has had so much trouble staying with one trainer during his young professional career:
"The reason they told me he left in California is because Freddie didn't have time for him. So when he came down here with me, you know everything was going great. He had to go to Ireland. He defended his interim belt in Ireland and I had to leave with him for two weeks, and everything was fine. What he didn't understand was I have other fighters besides him also. So when he came here for the last fight, he came like four months in advance and he didn't want to be here that long, which wasn't my fault. You know that was his manager and his promoters in Miami. So he said when he came he didn't want to be here that long. I really didn't work him out as hard. I sat down and explained to him we had three months before the fight, and he was really mad about that. But we trained and everything was going good. Then I had to leave for two weeks, and he didn't like that I had to go for two weeks. I told him to think about you, when I had to go with you for two weeks. He didn't like that fact. He wanted me to just drop everything and drop everybody and only work with him. There is no way in the world I would ever do that for any one fighter, so I told him the best thing he can do is go back to Miami."
His views on Sergio Martinez's eleventh round stoppage victory against Matthew Macklin:
"Well I didn't get to see the whole fight. I saw it in bits and pieces. I didn't see the first couple of rounds, but then I saw rounds four, five, and six. It looked like it was a very competitive fight, but I realized one thing when I had Kermit Cintron fight Sergio. I realized that Sergio is the strongest fighter in the world at the end, not in the beginning. If you look at his last few fights you will see that also. With his power he can change the hold on his power throughout the fight. So I figured if the fight was close, and I figured Macklin had a great chance, but if it was close going down the end that Sergio was going to be just too strong for him at the end and that's what happened. I really didn't think he was going to stop him. I really picked Sergio to win by unanimous decision, but the fight was a lot closer than I thought it was going to be. Again Sergio proved that he was one of the best pound-for-pound fighters in the world."
His views on the upcoming fight between Floyd Mayweather Junior and Miguel Cotto:
"I think it's a favorable matchup for Mayweather. I mean I really and truly do. I think with Floyd, he wouldn't fight at 154 pounds unless he was absolutely confident and sure that Miguel Cotto was past his prime, number one, and that he sees Miguel is not the same fighter he was five years ago. So this is why Floyd feels comfortable going up to 154 pounds. Also I think the only chance Miguel Cotto had at beating Floyd Mayweather, I think he let it go when he let Emanuel Steward go. I think Emanuel brought a lot to the table for him, but he can't get mad at that other that he brought in. What he needed for the Antonio Margarito was conditioning, and the other guy did a great job because he had to box Antonio Margarito that way in order to way. But to fight a guy like Floyd Mayweather you need a strategist, and Emanuel Steward is the best strategist in the world and he doesn't have that. So I really don't see him beating Floyd at anything. You know Floyd will stand in there and punch with him, he can't outbox Floyd, and Floyd is too good of a counterpuncher. So in order for him to have a chance I think he needed Emanuel Steward."
His views on the upcoming fight between Sugar Shane Mosley and Saul Alvarez:
"I really think that's going to be a great fight. I think Shane has the best chance early in the fight. The thing about Shane is, you know Shane is such a great guy. I remember when Kermit Cintron fought Alvarez and Shane came down and he helped me with Kermit, because he studied Alvarez way before his fight was ever even mentioned. So he came down, he sparred with Kermit, he helped me in the ring with Kermit, and he did a lot. So Shane knows about Alvarez. He knows everything about him. He's studied him for awhile now, so this is perfect for Shane because now he's fighting him. I know a few things that happened to Shane when he fought Pacquiao. Shane tore his Achilles tendon like about four weeks before that fight, so that really hindered him a lot. You didn't see the best Shane Mosley out there. Everything I'm telling you is true facts that I know. I was at the fight, and after the fight I saw Shane and he showed me the blisters on the bottom of his feet that he had from the new shoes that he put on. He made a mistake by putting those shoes on without trying them. With that said, with the Achilles injury and the blisters on the bottom of his feet he was at a huge disadvantage, because Pacquiao is just so good and you have to be at 100% to beat Pacquiao. But against Alvarez Shane realizes one thing—that Alvarez in the first couple of rounds is not at his best. He likes to feel you out, and every fight he's fought he's the same way. He's so deceiving man, because when I watched him on tape I said he was real slow. But seeing him firsthand the kid has power and the kid has speed. In order for Shane to win this fight, Shane has to jump on him and make him respect him. Nobody's made this kid respect them yet. You know what? It's going to be a hard, hard task for Shane to do that. If anybody can do it, Shane has a chance, but he has to do it within the first six rounds."
His views on whether Tomasz Adamek should move back down to cruiserweight following his one-sided loss at the hands of Vitali Klitschko:
"I think so. I mean look, in this game it's all about having the best opportunity for your fighter. I trained Tomasz. He's a very, very good boxer. He's not the biggest puncher in the world, but he's a very good boxer. He's not a huge guy. I had seen where his trainer was talking about bringing him up to 230 pounds. That's way too much for a guy of Tomasz's stature. He can't fight at that weight because he's going to be too slow and he has no power at that weight. He's not going to have any power at that weight. I saw they said they were willing to fight Klitschko again. Why? Who would want to buy that? Who would see that? He can be 280 pounds and it won't matter how big he is. He can't win against either Klitschko. It's as simple as that. His best bet is to go down to cruiserweight and he can handle all of those guys there. He has an even chance and he can be a superstar at that weight."
Regarding the two title shots that he had during his boxing career against Billy Costello and Tsuyoshi Hamada:
"Well definitely the one in Japan I know I deserved the victory. I mean I trained so hard for that fight. When I fought Hamada I really realized what I was going into when I got there, because I had seen so many other fighters and talked to so many other fighters who had fought in Japan and the same thing happened to them. If you don't knock the guy out you're not going to win. It's as simple as that. No matter how bad you beat a fighter, in Japan you're not going to get that decision. It's just as simple as that. I knew that going into that fight, but I did the best I could and everybody who saw that fight, still today I have people telling me I should have been champion of the world because I beat Hamada the Japanese guy. Now against Billy Costello I had a lot of problems making weight for that fight. Number one, they took me out of my environment. I was with Don King at the time, and him and my manager decided that I needed to get away to go to training camp in upstate New York. I didn't want to go because I was so comfortable being at home. I couldn't lose any weight, and the day of the weigh in we weighed in the day of the fight. I was like six pounds overweight, so I didn't eat anything for like 48 hours trying to lose the weight. I barely made the weight. I was so weak I could hardly stand up. I could have gotten hurt seriously in that fight. Thinking about it now I realize I probably shouldn't have fought that fight, because I should have stayed at where I was. I can't take anything away from Billy Costello because Billy was a really, really good fighter. He was on that night and he fought a tremendous fight."
Regarding some of the younger fighters he currently works with:
"Right now I got a kid named Mike Lee. Mike Lee is from Chicago, Illinois. He's 8-0. He's a really, really good prospect. He graduated from Notre Dame. He has a finance degree from the University of Notre Dame, and he decided he wants to become a fighter. His career is really going great. We had a setback. He tore a tendon in his right knuckle, so he's not going to be able to fight now until June. He's been off this whole year. He's back in the gym finally now. Just look out for him—Mike Lee, he's a light heavyweight. Then I have a kid from San Antonio, Texas named Adam Lopez. He had his first fight on the Chavez Junior card in San Antonio last month and he had a spectacular first round knockout. He's fighting next week in San Antonio again. I have a kid named Jarmall Charlo who fought in Houston on the undercard of Erik Morales and Danny Garcia. He's 16-0, but he's 21 years old. I'm moving him slow. I'm not trying to rush him into anything. So these are the future stars that I'm working with. These guys bring it all the time! I got another kid named Danny O'Connor who's 16-1. He's from Boston, Massachusetts. Be looking out for him. He's a really good southpaw, and I got a few more guys that are just starting up. These guys are going to be the future of boxing."
***
For those interested in listening to the Ronnie Shields interview in its entirety, it begins approximately thirteen minutes into the program.
RIGHT CLICK and 'SAVE AS' TO DOWNLOAD EPISODE #162
***
To learn more about "On the Ropes Boxing Radio"
Visit our official Website:
http://www.ontheropesboxingradio.com
Subscribe to our show on i-tunes:
http://itunes.apple.com/us/podcast/on-the-ropes/id427474189
Join our Facebook Group:
http://www.facebook.com/group.php?gid=231954175413&ref=ts
Or Follow us on Twitter:
http://twitter.com/JennaOnTheRopes
http://twitter.com/CianiOnTheRopes
To contact Geoffrey Ciani or Jenna J:
ontheropes@boxing247.com
To read more by Ciani or Jenna please visit The Mushroom Mag:
http://www.eatthemushroom.com/mag