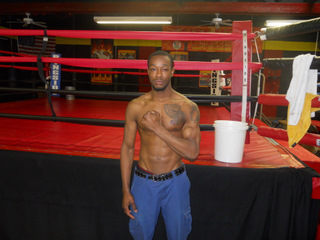 By Lou McLaughlin: Today I had the opportunity to conduct an interview with Newark's up and coming middleweight John Thompson. John carries himself and speaks as someone far mature then his 23 years. He is a young man who is introspective enough to consider the "Big Picture" of life. As to how what he does in his youth and how it will affect his future. One would hope that his boxing career will continue with success because as the spotlight shines brighter on him it will give younger people an inspiration to see how he has chosen to lead his life. He has a six round semi main event on First Round Promotions card at the Robert Treat Hotel in Newark.
Q-You turned pro June 22, 2011. You had three fights in last half of 2011.
A-I may slow down a bit but not drastically. I still haven't achieved my ultimate goal. As long as that goal to be number one is still there I'm going to keep at it
Q- I was at your last fight in Nutley in February. You really dominated Laureano Laracuente. How did it hit your ego that he said "no mas"-no more of this guy Thompson and didn't come out for the fourth round?
A-It was good as far as my record goes.. But I'm not really impressed with me stopping him and him in the third round and him not coming out for the fourth. I've been doing this for 19 years since I was 4 years old so it's nothing really new to me. Once I achieve my goal then I'll be impressed with myself. Then I'll feel that I actually accomplishing something as far as right now I'm just stepping up in the brackets
Q- I was told that before coming to the Elite boxing gym to train that you do roadwork and old a full time job after training. Tell me about your day and schedule and what you do for down time.
A-Well, in my down time I like to paint I'm an artist. I travel a lot. If I don't have a fight coming up I leave the country, I was in Paris not too long ago (Thompson works for what was Continental now United Airlines and in that capacity has travel privileges and benefits). I like to travel see the world now while I'm young.
I usually go running 7 in the morning a 6 or 7 mile jog come to the gym for about 2 ½ hours, then go straight to work. By the time I get home from work at 10 P.M. it's time to go to sleep.
Q-You must have had a lot of positive influence in your life?
A-Not sure what you mean by positive influence
Q-Your life is so well organized, you're training as a professional athlete, and you're working full time.
A-Like I said I've been doing this for a long time. I'm used to it now. This is my lifestyle. From when I was younger from going to school, after school going to the gym, after the gym going back home, watch a little T.V. then go to sleep. I've always had my routine. I'm older now I know I have things that I have to take care of. As far as working, I'm not making millions of dollars. I have a full time job, I go to the gym.
Q- Tell me about your amateur career and the decision to turn pro?
A-As an amateur I was 89 wins 22 losses, I was going to turn pro in 2009 as I was actually voted out of the Golden Gloves because they said that you can't move up in weight class. That's false you can move up in weight class, you can't move down. Long story short they voted me out. But in the following year I decided to stay with the Golden Gloves so I could give my Father the Golden Gloves chain. I turned pro shortly after in 2011 because as an amateur I won almost everything out there –Silver gloves, Diamond gloves, Golden Gloves, the Ohio State Fair. I won a lot of amateur championships.
Q- In your last two fights your opponents were a bit more experienced then your previous four. I looked up your April 18 opponent Jamond Bourgeois
A-I don't even take my age as a factor. I have a lot of ring experience. A lot of these guys look at me and they're not thinking right. They're looking at the glass half full when they should be looking at the half empty because you know I actually have the upper hand. But although I have the upper hand I still come to the gym and work out as hard as I need to for a big pro fight as I do for a championship. I look at each as it could be my last.
Q-Your answer brings me to my next question. How far do you expect to go in your career?
A-I actually believe that I'm a greatest boxer. If you don't believe that you are the greatest boxer you shouldn't be in this game. Once you start doubting yourself you have already lost. My plan is to become the best-that's it.
Q- A favorite question of mine. Your ring name "Apollo Kidd" how did that come about?
A-Apollo Kidd-let's start with Kidd, a lot of people always put one "D" I put two D's. One D is for a kid a child. But I'm a grown man The Kidd is for me being youthful with heart and spirit. Apollo comes from the Greek mythological gods of Zeus and Leto also very strong and talented. Apollo also comes from Neil Armstrong's landing on the moon in 1969. The media had originally said his words on stepping out on the moon were "That's one small step for man one giant leap for mankind. But they did it over again I believe in 2003 correcting the statement to one small step for a man. This saying that this one person sets it off for everybody. That's how I look at myself like a philanthropist it's not just for me it's for everybody else. Can't explain it but the thoughts just came to me and I said "Wow! This is who I am"
Q- Last question –its open mike-anything you want to say or add to the fans and public. Whatever you want to sound off about. Doesn't even have to be boxing
A- I want to say if you believe in something go after it. You only live once while not live while you're living.
Wednesday April 18, 2012 at the Robert Treat Hotel John Thompson will be fighting Jamond Bourgeois of Louisiana in the 6 round semi main event. The 8 round Main Event will feature Paterson's Richard Pierson against Joshua Snyder of Maryland. There are six other bouts scheduled on the card
Robert Treat Hotel
50 Park Place
Newark, NJ 07102
General Admission $ 50, VIP $ 100, Front Row $ 200
Doors open 5:30 P.M. Fights start 7:00 PM
Tickets available at www.FirstRound Promotions.org CALL 1-888-612-4191
Boardwalk Saloon Elite Heat Boxing Gym Final Round Boxing
206 Bloomfield Ave. 130 Mt. Pleasant Ave. 156 Algonquin Pkwy
Newark, NJ 07104 Newark, N.J. 07104 Whippany, NJ 07981
973-483-8766 862-772-2532 973-515-0704