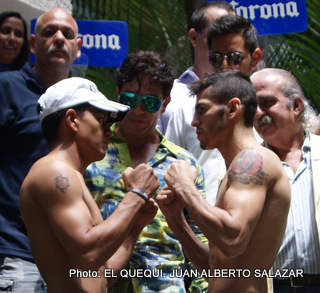 Jorge Linares 134.6 vs. Sergio Thompson 134.2
Marco Antonio Periban 167.6 vs. Gerardo Diaz 164.4
Carlos Cuadras 116.1 vs. Humberto Morales 116.8
Naciff Castillo 115 vs. Faustino Cupul 117.5
Francisco Vargas 129.8 vs. Carlos Fernando Perez 129
Jorge Romero 136.6 vs. Eduardo Canales 137
Following an exciting February event, the Oasis Cancun in Cancun, Mexico will once again host Televisa's hit series "Sabados De Corona," this time featuring a Saturday, March 31 showdown between former Two-Division World Champion Jorge "El Nino de Oro" Linares and hometown hero Sergio "Yeyo" Thompson.
This 12 round lightweight clash, which is presented by Golden Boy Promotions and Pepe Gomez Promotor Deportivo and sponsored by Corona, Oasis Cancun, Periodico QueQui, Cancun Tourism and Quintana Roo Tourism will take place at the Oasis Cancun in Cancun, Mexico.. The Televisa broadcast will air on Canal 5 and begins at 10:30 p.m. CT. Doors open at 6:00 p.m. CT and the first fight begins at 7:00 p.m. CT.
Tickets, priced at 100 pesos, 500 pesos, 1000 pesos and 1500 pesos are available for purchase at Hooters Z.H., Farmacia Paris Centro de Cancun and the Oasis Cancun.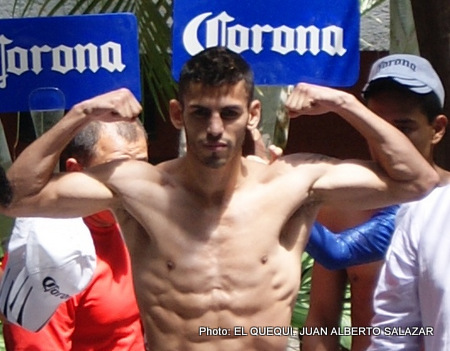 Venezuelan star Jorge Linares (31-2, 20 KO's) has done a lot in his nearly decade-long run in the sport, winning world titles at 126 and 130 pounds while defeating a star-studded list of standouts that includes Oscar Larios, Rocky Juarez and Jesus Chavez. Yet amazingly, the Barinas native is only 26 years old. The winner of four of his last five bouts, with his only loss coming in a World Boxing Council (WBC) Lightweight Title fight against Antonio DeMarco that he was winning on the scorecards when the fight was stopped due to cuts Linares had suffered in the fight, Linares is ready to begin another title run and the road to the championship begins on March 31.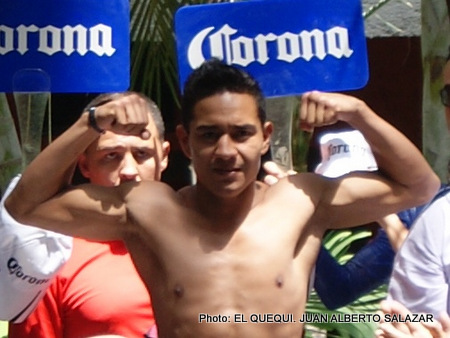 Cancun's own Sergio Thompson (21-2, 19 KO's) has long been considered one of the Mexican boxing scene's unsung heroes, and on March 31 he gets his chance to shine on the big stage against one of the game's best in Jorge Linares. A WBC Mundo Hispano and WBC Fecarbox champion who currently sports a seven fight winning streak with six knockouts, Thompson is confident that his power and determination, as well as the energy he will get from his hometown fans, will lead him to the biggest victory of his career.