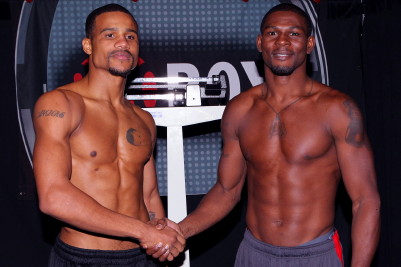 (Photo credit: Tom Casino/SHOWTIME) CABAZON, Calif. (Dec. 29, 2011) – Two of the most recognizable names in boxing will make their long-awaited returns to the ring tomorrow, Dec. 30, when Jermain Taylor and Andre Dirrell are featured in separate 10-round fights on a special edition of ShoBox: The New Generation live on SHOWTIME® (11 p.m. ET/PT, delayed on the West Coast) at Morongo Casino Resort & Spa in Cabazon, Calif.
Taylor, (28-4-1, 17 KOs), of Little Rock, Ark., is a former undisputed middleweight champion who'll be making his first start in 26 months when he meets Jessie Nicklow (22-2-3, 8 KOs) of Baltimore, Md., in the main event of a tripleheader. It will be Taylor's first fight since losing to Arthur Abraham in the Super Six World Boxing Classic on Oct. 17, 2009.
Dirrell (19-1, 13 KOs), of Flint, Mich., hasn't fought since March 27, 2010, when he won by 11th-round disqualification over Abraham in the Super Six World Boxing Classic. Dirrell's first fight in 21 months will be against Darryl Cunningham (24-2, 10 KOs), of Detroit, who has won 17 in-a-row.
In the opening bout of the telecast, former Cuban amateur standout Luis "El Leon" Garcia (11-0, 9 KOs) of Cork, Ireland, makes his United States debut when he takes on southpaw Alexander "The Great" Johnson (12-0, 5 KOs, 1 NC) of Oxon Hill, Md., in an eight-round showdown of undefeated light heavyweights.
Garcia, who turned 24 on Dec. 23, is a former world amateur champion. Johnson outpointed previously unbeaten Farah Ennis (17-0 going in) two starts ago on April 2, 2011.
What the fighters said Thursday:
JERMAIN TAYLOR
"I feel totally different today than I ever have the day of the weigh-in before a fight. I'm not irritable. I didn't have to dry out. I feel calm and at peace.
"I feel so different because finally, for the first time, I did it right. I put in the hours training in the gym. I did my job and worked hard. I don't have to drop a bunch of weight. I ate pasta the other night, steak and eggs the other morning. I never could do that before.
"This is the first time I can say that I am entering a fight knowing that I'm in shape. I'm ready to fight.''
JESSIE NICKLOW
"I know why they want to fight me. They think I'm too small, that I'm a natural junior middleweight. But they're making a big mistake. I'm not a steppingstone.
"I'm really confident for this. I don't think Taylor has that confidence. He's been off two years. I've had four fights, two this year, but I've never been out of the gym. I definitely feel I can stay close (inside) and fight my style of fight
"My game plan is always the same – to hit my opponent in the face. I'm not changing anything just because I'm fighting a former world champion. Let's see what he's got to offer. I know what I'm bringing.
"I'm really looking forward to this.''
ANDRE DIRRELL
"I have never felt as excited for a fight since I turned pro. I'm really psyched up.
"There's going to be ring rust, of course. I just don't want to show it. I've trained really hard. I trained through the holidays. It all begins again for me Friday night.
"I want to win, look good, and then go after all the super middleweights. I'm not ducking anybody. I will fight any of the 168-pounders in the world except for my brother, Anthony. People want to see me and Andre Ward fight. All I can continue to say is that that fight will definitely happen.''
DARRYL CUNNINGHAM
"I'm going to have fun. I appreciate Team Dirrell giving me the opportunity to showcase my skills, and I will showcase my skills on Friday.
"This is such a great opportunity. I just can't lose and not take advantage of it.
"Lots of people have never given me my due. They look where I come from, my background, the fact my Dad's a pastor. They've always said the "Church Boy" couldn't make it in boxing because he was too nice a guy and too much of a family man.
"This is my chance to prove them, and everybody else wrong.''
LUIS GARCIA
"It's always been my dream to fight in the U.S., and I'm very excited that now it is happening and that it is on SHOWTIME.
"I really want to win and leave a good impression so I can fight in the states all the time. I don't know anything about the guy I'm fighting. What I do know is that I will give my best.''
ALEXANDER JOHNSON
"This is a great opportunity for me, fighting on SHOWTIME on such a great card like this. I am determined to come in and show what I am made of and what I can do.
"He may be a bigger name and have the credentials, but that all changes tomorrow.
"After tomorrow, when someone mentions my name, the question isn't going to be, "who is he?''
For information on SHOWTIME Sports Programming, including exclusive behind-the-scenes video and photo galleries, complete telecast information and more, please go the new SHOWTIME Sports website at http://sports.sho.com/.
OCHIENG AND QUIGLEY BATTLE FOR TITLE ON JAN 28
Erick Ochieng and Nick Quigley will fight for the vacant English Light Middleweight title at York Hall, Bethnal Green on Saturday 28 January, live on Sky Sports.
Ochieng and Quigley will provide the chief support for Carl Frampton's Commonwealth Super Bantamweight title defence against Kris Hughes, and their clash promises to be the perfect appetiser to the Irishman's big night.
It's a first title fight for the pair although 23 year-old Quigley has gone tantalisingly close to major honours when he reached the Prizefighter Light Middleweights final at the east London boxing Mecca in September – losing to Robert Lloyd-Taylor but gaining a new following with his tremendous displays against fellow Scouser Ste Harkin and Brentwood's Kris Agyei-Dua. Quigley bounced back in December with a shut-out win over Dee Mitchell in Wigan taking him to 10-1.
Stoke Newington man Ochieng coming into the fight on the back of three wins in 2011, and the hotly-tipped 24 year-old is itching to claim the strap after recovering from the sole defeat of his career in March with a win over Liam Cameron in May and also comes into the fight with a points win over Mitchell, York Hall the venue as Ochieng moved to 8-1.
Also on the bill are Islington's unbeaten Middleweight prospect John Ryder, Upminster Lightweight Ryan "Crash Bang" Taylor, Canning Town's Heavyweight debutant Wadi Camacho and a real tear-up in store between former two-time World Champion Robin Reid and Waltham Abbey's Daniel Cadman.
"January 28 promises to be a classic York Hall night," said promoter Eddie Hearn. "We've got a great main event with new sensation Carl Frampton out to impress in his defence against Kris Hughes, Ochieng versus Quigley should be a classic a John Ryder is out to show everybody he's the real deal – the perfect way to start a big year ahead, with a sold-out Prizefighter on February 11 in Wolverhampton to come."
Tickets for Carl Frampton vs. Kris Hughes for the Commonwealth Super Bantamweight title plus full championship undercard led by Ochieng and Quigley's English title battle are on sale now from Matchroom Sport priced £35 unreserved, £60 ringside and £100 VIP – to book call 01277 359900 or visit www.matchroomboxing.com
Boxing 360 inks heavyweight prospect Joey Dawejko
NEW YORK (January 4, 2011) – Boxing 360 announced today that it has signed Philadelphia heavyweight prospect Joey Dawejko (5-0, 2 KOs) to an exclusive promotional contract. The 21-year-old Polish-American fighter is scheduled to make his Boxing 360 debut January 13 at home in Philadelphia against an opponent to be determined.
"He's a catch," Boxing 360 founder and CEO Mario Yagobi said about signing Dawejko. "He's powerful, very poised for his young age, with an impressive amateur background from 105 pounds to super heavyweight. He's 5-10, weighs 235 pounds, and is powerful with either hand. He throws punches from different angles and when he hits, his opponent really feels it. Big heavyweights feel awkward fighting Joey because he's short and stocky. We believe that, in time, Joey will be a cruiserweight, where he'll be even more powerful fighting in that division. We're excited to be working with Joey and look for big things from him."
Dawejko captured 14 U.S. amateur championships, highlighted by him becoming the youngest ever to win the Eastern Olympic Trials at the age of 16, as well as a gold medal performance at the 2008 World Youth Championships in Mexico.
"I signed with Boxing 360 because I have a lot of confidence in Mario," Dawejko explained. "I feel it's the right choice because Mario can do a lot for my career. I think moving to cruiserweight is a good plan. I can easily make that weight. I'd like to win a couple of titles there and then go back up to heavyweight. My greatest attribute is my defense; I don't like to get hit but I really love hitting my opponent."
In his last action this September, Joey took a fight on only two days notice against previously undefeated John Lennox (6-0), who Dawejko stopped in the opening round.
Other members of Boxing 360's stable include IBF World Light Junior Lightweight Champion Amanda "The Real Deal" Serrano, Maurice "Sugar Moe" Harris, Leon "Hurry Up" Moore, former IBF super middleweight champion Alejandro "Naco" Berrio, unbeaten welterweight prospect Vitaliy "Demyan" Demyanenko, WBC Caribbean & NY State super middleweight champion Lennox "2 Sharpe" Allen, Dominican lightweight champion Eudy "AK47" Bernardo, Nick "Hands of Steel" Casal, DonYil Livingston, Mike Mollo, Joel Diaz Jr., Aleem "The Hammer" Whitfield, Travis "The Notorious" Peterkin, Bryan Acaba and "King" David Estrada.
Go to www.Boxing360.com for more information about Dawejko, Boxing 360 or any of its other fighters as well as scheduled events.