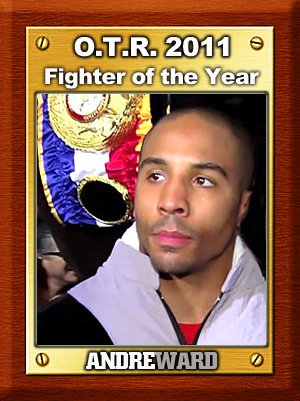 by Geoffrey Ciani & Jenna J – Last week's 154th edition of On the Ropes Boxing Radio included the announcement of our "2011 Year End Awards". 2011 wound up being a pretty good year of boxing loaded with drama, upsets, controversy, and some great action-packed fights. On the Ropes Boxing Radio has done its best to consistently bring you the latest and greatest in the world of boxing straight from the fighters and trainers who help shape the professional landscape. With the unique insight that comes from reporting the latest boxing news every week from the newsmakers themselves, you will not find a better list of annual boxing awards than right here. Without further ado, here are our 2011 winners!
Fighter of the Year: Andre Ward
Despite fighting just two times in 2011, Andre Ward excelled on the big stage. In the Semi-Finals of the Super Six Boxing Classic, he outclassed a game but outmatched Arthur Abraham winning a unanimous decision on May 14. In the Final, Ward would win another convincing decision December 17 in a unification matchup against the tough and determined Carl Froch. Ward not only won these matches in style, but he also managed to make it look easy against quality opposition. Given the magnitude of these high profile bouts, which concluded a tournament that has arguably been the best thing in boxing for the past two-plus years, Ward's achievements stand out above the rest. Ward will be turning 28 in February and he still appears to be getting better. With his dedication to his craft, impeccable work ethic, tremendous ring IQ, great versatility, and an uncanny ability to adapt, it would not be surprising if Ward's best days are still ahead.
Honorable mention: Juan Manuel Marquez, Brian Viloria
In a boxing year without a clear frontrunner for Fighter of the Year, two boxers definitely deserve mention for being in the running. Juan Manuel Marquez receives an honorable mention for his sensational effort against Manny Pacquiao in which he almost pulled off a spectacular upset against the man who was widely viewed as the best pound-for-pound in all of boxing. Also, Brian "Hawaiian Punch" Viloria deserves mention for his terrific performances against Pingo Miranda and top ten Pound-For-Pound Giovani Segura.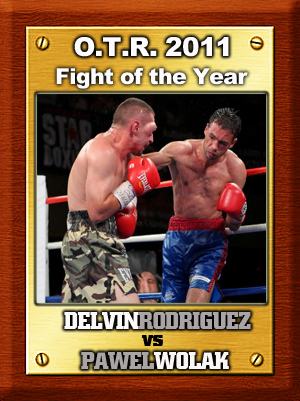 Fight of the Year: Delvin Rodriguez vs. Pawel Wolak
ESPN2's Friday Night Fights had a lot of great action packed fights in 2011, but one fight stood out among the rest and that was the July 15 clash between Pawel Wolak and Delvin Rodriguez. This fight had it all! There was drama, momentum shifts, blood, grotesque swelling, heated exchanges, and an amazing display of heart and determination from both combatants. It was a classic clash of styles, where Wolak applied relentless pressure and continuously moved forward while Rodriguez looked to slip and looked to score with precision counterpunching. It was simply the type of fight that casual fans and die-hard alike will always appreciate with great enthusiasm. After ten action-packed rounds, the fight was fittingly ruled a draw.
Runner-up: Herman Marquez vs. Luis Concepcion
Boxing had some great action in 2011 and plenty of fights that could be a candidate for the best of the year. Our runner up for Fight of the Year is the terrific matchup between Herman Marquez and Luis Concepcion. Both fighters saw the canvas in the first and the champion Concepcion was dropped two more times just to get up off the floor and come right back at Marquez. It was a match that had great action and drama throughout.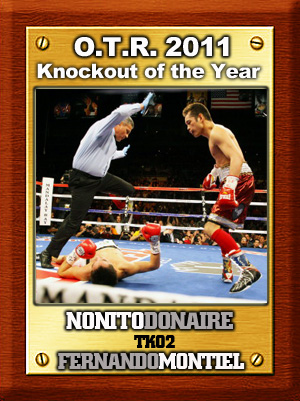 Knockout of the Year: Nonito Donaire KO2 Fernando Montiel
When Nonito Donaire challenged the unified WBA/WBO bantamweight champion Fernando Montiel, fans were mostly expecting a competitive encounter that could potentially become a Fight of the Year candidate. Instead what they got was a brutal knockout, as 'The Filipino Flash' landed a booming left hand that violently sent Montiel to the canvas. It was an absolutely brutally devastating shot! In fact it was the type of knockdown that was almost worrisome, as Montiel was laid out on the canvas with his body mildly twitching. Amazingly Montiel rose to his feet and, even more amazingly, the referee allowed the contest to continue, but it was all elementary at this point. Donaire followed up with a crisp combination and the bout was called to a halt. It was a magnificent stoppage victory for the young raising star whose awesome display of raw power gave boxing fans a lot to talk about.
Honorable mention: Gennady Golovkin KO1 LaJuan Simon, Vitali Klitschko TKO10 Tomasz Adamek
With all the great fights and big upsets this past year, the one thing 2011 lacked was spectacular knockouts. Even so, there were a couple of others worth noting with Gennady Golovkin destroying LaJuan Simon in just one round, and also Vitali Klitschko applying a vicious one sided beating of the number one heavyweight contender Tomasz Adamek.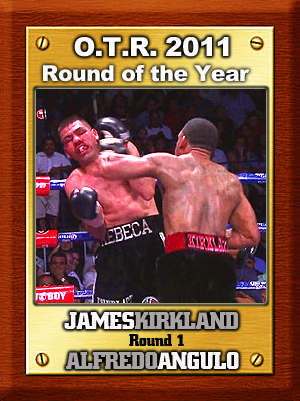 Round of the Year: James Kirkland vs. Alfredo Angulo, Round 1
After Alfredo Angulo dropped James Kirkland with a quick right hand, it looked as if this fight was going to be a repeat of the shocking first round upset loss Kirkland suffered at the hands of light hitting Nobuhiro Ishida. Kirkland rose to his feet and Angulo proceeded to hit Kirkland with everything in his arsenal, but in the process of this onslaught Angulo literally punched himself out. The round concluded with Angulo flying to the canvas complements of a series of extremely hard blows landed by Kirkland. Kirkland would eventually go on to win the bout in the sixth, but the entire fight can be summed up in the non-stop back and forth action that unfolded in round one. How good was this round? Good enough that fans and members of the media alike were comparing it to the epic fight which took place between Marvelous Marvin Hagler and Tommy "Hitman" Hearns. That in itself speaks volumes about the type of round this was, and boxing fans will surely be talking about this one for years to come.
Runner-up: Andre Berto vs. Victor Ortiz, Round 6
Great fights often produce great rounds that stand out more than others. Round 6 in the Berto-Ortiz match up had swings like you would not believe, as a monster right hand dropped Victor Ortiz. When Ortiz got up and fought on, it seemed he was only seconds away from being stopped when all of a sudden, two powerful left hands had Andre Berto on the seat of his pants and getting a count from the referee. Emanuel Steward's reaction alone captured the drama best, which lands this round here as our runner up for Round of the Year
Upset of the Year: Lamont Peterson SD Amir Khan
After Amir Khan successfully unified Zab Judah's IBF junior welterweight title with his own WBA belt in such commanding fashion, few observers expected Lamont Peterson to give Khan much of a challenge. After all, Peterson had already been thoroughly defeated by Timothy Bradley and he did not look especially good in his draw with Victor Ortiz, which was a bout most people felt Ortiz deserved to win. An 11 to 1 underdog going into the fight, things could not have started any worse for Peterson who was knocked down in the very first round. Khan appeared to be too quick and fluid for Peterson, and it appeared Lamont was in for a long night. Peterson made an adjustment and switched strategies. Instead of trying to box with Khan, Peterson turned the match into a close quarters scrap where he was able to consistently get the best of Khan with an assortment of short hooks and uppercuts on the inside. Khan had no answer for Peterson's shift and tactics, and did his best to create space. Often this included pushing his opponent, which resulted in Khan having two points deducted. At the end of the day, Peterson was awarded a razor-thin split decision victory, enabling him to become a unified champion in what was a shocking upset.
Honorable mention: Orlando Salido TKO8 Juan Manuel Lopez, Nobuhiro Ishida KO1 James Kirkland
One of the best things about boxing is the upset, and 2011 had its fair share of them. Besides Khan-Peterson, there were other fights that just as easily could have been Upset of the Year. Back in March we saw one of boxing's raising stars get a harsh reality check when Juan Manuel Lopez found himself on the wrong side of a TKO8 result against Orlando Salido. Another surprising bout saw undefeated James Kirkland get stopped in just one round against light hitting Nobuhiro Ishida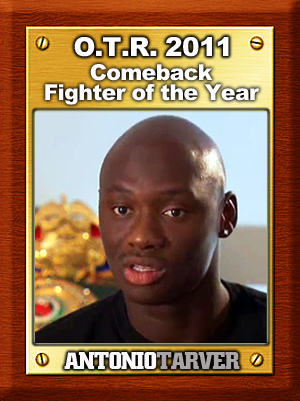 Comeback Fighter of the Year: Antonio Tarver
While Antonio Tarver might not fit the traditional mold of Comeback Fighter of the Year, he was long thought to be done as an elite level fighter and he surprised many in the boxing world with his one-sided dominant performance against top cruiserweight Danny Green. Prior to that, Tarver had not won a significant fight since his victory over Clinton Woods in April 2008. He would then lose a pair of bouts against Chad Dawson before scoring a less than stellar win over heavyweight journeyman Nagy Aguilera. Tarver was a big underdog against Green and was viewed as little more than a stepping stone in Green's continuing rise to prominence. The victory made Tarver relevant again for the first time in years, and this means he should have several lucrative options to choose from as he sets his eyes on 2012, including a potential matchup with heavyweight world champion Wladimir Klitschko.
Honrable mention: Jorge Arce, James Kirkland
In 2011 there was more than one comeback of note, as Jorge Arce moved up in weight and surprised the boxing world with a huge upset victory over previously undefeated Wilfredo Vasquez Jr. to win the WBO super bantamweight title, and also avenged a previous defeat of his and his brother in back to back fights. Also deserving mention is James Kirkland for his victory over Alfredo Angulo in a match few expected him to win after his shocking defeat earlier in the year.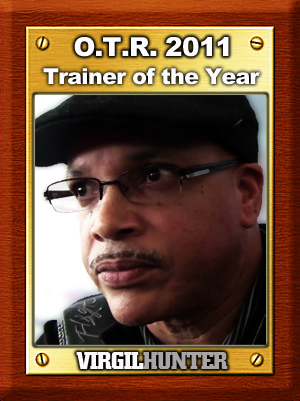 Trainer of the Year: Virgil Hunter
As was the case for Fighter of the Year, there was no real standout for Trainer of the Year. Virgil Hunter, however, is one of the best boxing minds in the business today and it showed in Andre Ward's efforts against Arthur Abraham and Carl Froch. A lot of the credit for Ward's excellence in execution belongs with Hunter. People often talk about the special bond that exists between Freddie Roach and Manny Pacquiao, but the working relationship between Hunter and Ward is even more unique and its roots run far deeper. Hunter is outstanding when it comes to formulating a game plan and strategy, and like his pupil Ward, he is able to adapt by changing those things accordingly throughout the progress of a fight. He knows what to say, when to say it, and how to say it when delivering his in between round instructions, and him and Ward always appear to be on the same page as far as approach goes. Hunter and Ward undoubtedly constitute one of the best trainer-fighter duos in the game today, and the ease with which they coasted through the Super Six Boxing Classic exemplifies the hard work and dedication that goes into their preparations.
Runner-up: Emanuel Steward
Our 2010 Trainer of the Year did quite well this past year too, as he trained both Andy Lee and Cornelius Bundrage to victories over opponents they previous lost to. He also led Wladimir Klitschko to a one-sided win over David Haye in what was the biggest Heavyweight fight in years.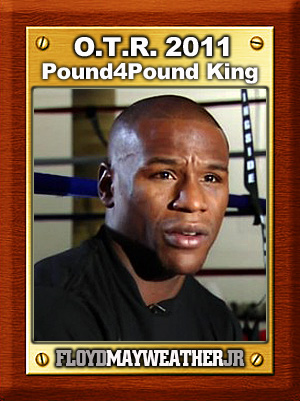 Pound-For-Pound King: Floyd Mayweather Junior
The ongoing debate amongst boxing fans for the past few years has surrounded the mythical title of Pound-For-Pound Supremacy—Is it Manny Pacquiao or Floyd Mayweather Junior? It is one of those situations where until and unless these two do battle, we will never have a definitive answer. In 2010 Pacquiao topped the charts to close the year, but Mayweather Junior has now surpassed Pac-Man in our rankings despite having fought just once. In that bout against Victor Ortiz Mayweather exhibited the type of dominance we have grown accustomed to seeing in his performances. Even though he was coming off a 15 month layoff, Floyd did not show any rust and thoroughly dominated Ortiz before scoring a knockout that was legal yet highly controversial. Pacquiao also struggled with long-time rival Juan Manuel Marquez, barely escaping with a majority decision win in their third encounter in a fight most observers believed Marquez did enough to win. Pacquiao's perceived subpar effort against Marquez combined with Floyd's masterpiece led to the swap of positions to close 2011.Other factors for consideration include the fact that Mayweather pitched a shutout against the very same Marquez two years earlier, and also that Pacquiao looked less than sensational in his other 2011 win against Shane Mosley.
***
CLICK HERE TO SEE OTR's 2010 YEAR END AWARDS
***
To learn more about "On the Ropes Boxing Radio":
Visit our official Website:
http://www.ontheropesboxingradio.com
Subscribe to our show on i-tunes:
http://itunes.apple.com/us/podcast/on-the-ropes/id427474189
Join our Facebook Group:
http://www.facebook.com/group.php?gid=231954175413&ref=ts
Or Follow us on Twitter:
http://twitter.com/JennaOnTheRopes
http://twitter.com/CianiOnTheRopes
To contact Geoffrey Ciani or Jenna J:
ontheropes@boxing247.com
To read more by Ciani or Jenna please visit The Mushroom Mag:
http://www.eatthemushroom.com/mag