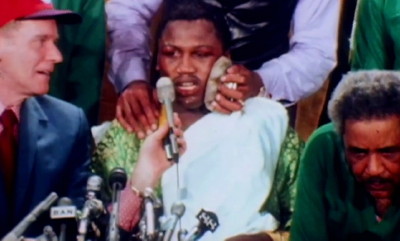 By Robert Brown: I realize in writing this article that there already has been a raft of pieces written about Joe Frazier already, however since Joe Frazier made a huge impact on me as a person both as a fighter and as a man, I believe it is my duty to pay tribute to Joe Frazier considering the unfortunate news of his passing due to a battle with liver cancer.
Joe Frazier also known as "smokin Joe" impacted the boxing world in a variety of ways not only as a fighter but also as a manager and trainer, although he did not manage and train a lot of big name fighters he spent a lot of time training youngsters out of his Joe Frazier gym in Philadelphia and famously looked after Willie Monroe who beat the great middleweight champion Marvellous Marvin Hagler in his early career.
Joe Frazier is most famously known for his famous battles with Muhammad Ali but well before that he proudly represented the US Olympic team in the Heavyweight division when Buster Mathis Snr pulled out due to an injury concern, Joe Frazier would then famously and somewhat unexpectedly return with the gold medal.
Joe Frazier would become Heavyweight champion in somewhat unfortunate circumstances, he would win the title from Jimmy Ellis who won an ill-conceived tournament to gain the title as a result of Muhammad Ali being exiled from boxing, so right from the start Joe Frazier faced an uphill battle with boxing fans for him to be recognized as the legitimate Heavyweight champion, Joe Frazier realized this so that is why he campaigned all over the country and all over the world to help facilitate Muhammad Ali regaining his license because Frazier knew himself deep in his own heart that he could not consider himself the real champion until he fought Ali.
Ali eventually regained his license which began the long awaited process of setting up the fight of the century March 8th 1971 Madison Square Garden's New York, which began the most famous and the most fiercely contested and brutal trilogy in the history of boxing which gave boxing fans the finest of the sport but also took the best out of both fighters.
Muhammad Ali would not be as revered as he currently is today if it was not for Joe Frazier, Joe Frazier also made a significant impact in the film industry, one of the most successful movie franchises in the world, the "Rocky" franchise is based on Joe Frazier's life, Joe Frazier even worked in a meat packing plant as the character "Rocky" did in the original film, and when we think of the Philadelphia spirit which is a major component of the "Rocky" franchise we think of Joe Frazier's incredible spirit and courage.
As I stated in my previous article a memorial for Joe Frazier, I think it is a glaring oversight that the major creator of the famed Philadelphia spirit and one of the top 10 greatest Heavyweight boxers of all time did not have a lasting major memorial in his own city was a mistake and a glaring oversight, now hopefully since he has passed on, the city of Philadelphia will rectify the situation and build or name something in his honor as a gesture on behalf of the city of Philadelphia and all boxing fans around the world to recognize the contribution of this great man.
Joe Frazier a great boxer, a great champion and a great man R.I.P.