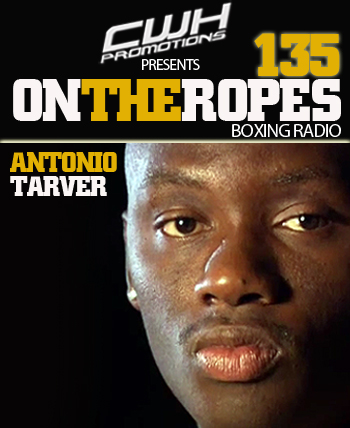 by Geoffrey Ciani (Exclusive Interview by Jenna J & Geoffrey Ciani) – This week's 135th edition of On the Ropes Boxing Radio (brought to you by CWH Promotions) featured an exclusive interview with the newly crowned IBO cruiserweight champion Antonio Tarver (29-6, 20 KOs) who is coming off an impressive upset victory against former champion Danny Green (31-4, 27 KOs). Tarver spoke about his stoppage victory, and also discussed his future which may possibly include a rematch with Bernard Hopkins or a heavyweight championship bout with one of the Klitschko brothers. He also shared his views on the upcoming Super Six Finals matchup between Andre Ward and Carl Froch. Here is a complete transcript of that interview:
JENNA J: Let's move to our second guest of this week's show, and it's one that I'm very proud to have on because not only is he a Showtime analyst but he is now the current reigning IBO cruiserweight champion of the world. We're joined by 'The Magic Man' Antonio Tarver! How's everything going today, Antonio?
ANTONIO TARVER: Oh I'm doing really well. I'm doing really well. Thanks for having me.
JENNA: Well it's definitely a pleasure of ours. Now you're coming off of a very impressive performance just this last week against Danny Green. Can you tell us about your whole experience over in Australia?
TARVER: Yeah, you know they made it very, very comfortable for me. I mean they really laid out the red carpet and we were received very, very well with respect and dignity and my hat goes off to Danny Green Promotions, you know Green Machine Promotions. It's a first class outfit. His promoter Mick Timmer is a first class guy. They put me together with a guy that was our liaison over there. His name was Mick Markson and he's just a wonderful, wonderful guy, man. He just treated us with the utmost respect and made sure we had everything we needed and he's just a standup guy. I really enjoyed my trip and I would be inclined to go back to Australia and fight again.
JENNA: Alright well let's talk about the fight itself. Throughout from the opening bell one thing was clear: he could not stop your straight left hand. All night long you were continuously hitting him with it. You really couldn't seem to miss him with that shot. Can you tell us how you thought the bout played out and did you have any surprises from Danny Green?
TARVER: You know Danny Green was a tough customer, man. He was a proud Australian who really wanted to do everything to make his country proud and to really bring home that victory for his people. He really brought it. He was in great shape and it took a really great performance by me to really slow him back and push him back. I knew going into this fight that I had to control the distance. There was no way that I could let Danny Green get inside and punch freely. You know what I mean, that all my ring generalship and my experience would really have to come into play. I think the most important punch of that whole fight, even though my left hand was very successful, was that jab. I used that jab like a friend of mine Winky Wright used his jab. Every time he stepped forward and came across that line I popped him with that jab, whether it was close or whether it was a chopping jab over his left hand. I just met him with that jab and I dictated and controlled the space with that jab, and that was one of those things that I was proud of.
I didn't get my right hook into play as much as I had wanted to, but that left hand to the solar plexus, every time he came in I would move that left hand around. I threw it overhand, I threw it straight, and that one shot right there to the solar plexus coming from below. It was like a uppercut bolo style shot. I caught him with that shot all night long and I hurt him with that shot that really led t o the stoppage because he was paralyzed. He couldn't do anything. He was rendered helpless on the ropes and that's when I felt I had my opportunity to really let some hard shots go. You saw the veteran in me. Not only did I go to the head, but I dug some very paralyzing shots to the body, and when the ref asked us to fight again I was able to land some big shots to the head. It was good on their part that they stopped the fight. I thought that the referee should have stepped in and stopped it. This was a guy who couldn't get his hands up and I hit him with four or five unanswered shots, and credit to Danny Green. He was willing to go on and still fight, but the fight was over and we don't know where Danny Green is right now.
But like I said, I was focused and what's amazing to me is when I look back at the interviews that I gave leading up to the fights, my confidence and my desire to stop Danny Green in fear of allowing it to go to the cards, and having a dominating performance against a guy who hadn't lost in so many years. He was a defending champion. He was riding high from the BJ Flores win and knocking out Roy Jones in one round. He was on cloud nine and for some reason, they thought because my age and because I had not looked my best against Nagy Aguilera that I was coming over there and was surely going to get beat by Danny Green. But it was the opportunity of a lifetime to really put my career back in motion and really put myself back in a position that I thought I should have been in awhile ago.
For whatever reason it took a fight with Danny Green for the people once again to recognize that I'm a credit to this sport, that I'm still one of the best fighters out there today, and you can't just handicap me because of my age. That's a foolish thing to do because I have what these people it sometimes seems hard to see. I have natural God given ability and God given talent, and I've perfected the defensive art of boxing. That in itself gives me longevity and gives me the opportunity to continue to be a top notch fighter. Like I've said I have so many options out there today. I'm just sitting back and taking my time and I'm going to get with my manager Al Haymen, and make the right decision that's going to give us the best opportunity to continue to show the people that we should be considered a Hall of Famer and a legend in the game right now with my accomplishments, and we're going to continue to build on that resume.
JENNA: Alright well Antonio you mentioned options, and you certainly do have a lot of them. You can either stay at cruiserweight and fight for a championship at that weight class or, because you are such a big name and there is a desire for an American heavyweight champ, Wladimir Klitschko is looking for a dance partner in December. What do you think your best option is going to be?
TARVER: Well you know Wladimir called me out before he even had that David Haye fight. He thought that it would be a big fight for him to really put it back on American soil and fight somebody with credibility. When I looked at that David Haye fight I can picture myself in there really doing the things that David Haye wasn't able to do for whatever reason. I know Klitschko is a big strong fighter, I know he's a big puncher, but you can't hit what you can't see, and I feel like my speed, my boxing ability, my ways to get inside. I won't give him the arm reach to do anything. I'll be in there, and excuse my French, I'll have my head on his chest. With my speed and with my counterpunching ability I think I can go in there with Klitschko and shock the world and become heavyweight champion! It's not out of the realm of possibility, and like I said every time they doubt me that's when I stand up and show the world what I'm truly made of. If it's something he wants to do then it's something I'll be inclined to do, but I got to get with my manager.
Danny Green still has a rematch option. I don't know where he's at with it, but there is a lot of action at cruiserweight. Bernard Hopkins, I woke up this morning and found a Google alert that he called me out. You know he has his hands full with Chad Dawson. I think it's a bad fight for Hopkins. Hopkins, as great as he is, I think Chad Dawson just has what it takes to really give him problems. I don't like that fight for Hopkins, but Hopkins wants to prove that he can beat these young guys and do it in fashion. But Jean Pascal, even though he had a win over Chad Dawson, I know Chad Dawson had a lot of distractions going into that fight and if you look at that fight every time Chad Dawson let his hands go it was no contest with Jean Pascal. It was no contest, and I think before that head-butt he was going on to stop Jean Pascal. He had him in trouble in that eleventh round. I just felt like if they had that rematch Chad Dawson would have proven to be the better fighter. Hopkins went over there and he did what he had to do the first time. He got a draw. The second time he beat Jean Pascal, but I don't think that says a lot when you look at styles make fights. I think the style is a bad matchup for Hopkins. I don't think he beats Chad Dawson. I'm going out on a limb and saying that, and if he doesn't beat Chad Dawson then I don't think the rematch gives us what we want and what we deserve—the opportunity to beat Hopkins at his best.
So that's what I'm looking to do, to get the rematch that he hasn't honored when he was a forgotten man after losing twice to Jermain Taylor. I gave Bernard Hopkins the opportunity of a lifetime and he was never honorable by giving me a rematch! Knowing the things that I had to deal with going into that fight, two months before that I was 233 pounds starring in Rocky Balboa. You know that's never been an excuse for me, but there were other things that went on during that fight where I felt like I wans't myself and didn't have any emotions. I couldn't get up and couldn't down. There are things that I feel happened leading up to that fight. I can't prove it, but that's how I feel. You know what I mean, because I know me. So that's what it is. It's water under the bridge, but if I ever get the opportunity to avenge that loss, trust me, you're going to see a whole lot of magic like you saw last week against Danny Green and that would be the fight of a life time for me. But I want Hopkins at his best, not coming off a loss to Chad Dawson. I'm hoping and praying Hopkins is victorious so we can continue to show these people what 'The Magic Man' is all about.
JENNA: Great, well Antonio we're also on the line with my Co-Host Geoff.
GEOFFREY CIANI: Hi Antonio. Congratulations on the victory and it's a pleasure to have you on the show.
TARVER: Thank you sir, I appreciate it.
CIANI: You mentioned Bernard Hopkins, Antonio, and guys like you, and him, and even Glen Johnson in the Super Six, what is it about fighters like you that enables you to be successful into your forties?
TARVER: I really think that boxing is a game of chess. I'll use that as a symbol. It's a thinking man's sport. You know what I mean. A lot of these fighters think it's all about aggression, and emotion, and it's physical, but it's a thinking man's sport. It's the sweet science, the art of self defense, and I think a lot of people when they look at boxing they forget that part of it. I think when you look at me coming through the amateurs and coming up the ranks that was something I prided myself in—defense. I'm not saying Glen Johnson is the best defensive tactician, but he has something that a lot of these fighters don't have and that's just sheer guts and heart! A fighter that has those type of attributes, he'll beat a guy who has more skill and even will. He'll beat a guy like that because his condition allows him to do things that makes him a tough fighter to beat—in your chest, the aggression, the punching power. It's a nightmare! He's like a gnat when you're surrounded at a picnic when you got a lot of flies around the picnic table. You just can't get rid of them! Glen Johnson is a credit to the sport, he's a humble guy, he fights every time, and he shows up!
Bernard Hopkins, who can say enough about Bernard? Bernard is one of the craftiest smartest technical guys out there in the game today. What makes Bernard such a credit to the sport is because even though you come in with your best A-game, you're going to have to have three or four different types of games because he's going to take your main strength from you and you're going to have to have another strength in order to be successful against Bernard. He's a smart intelligent fighter. I think I have a lot of those attributes as well. I have an enormous amount of skill, I have an enormous amount of talent, I'm an athlete, I can play various sports, and that's what a lot of people underestimate about me. I'm a student of the game. I've really molded myself after great fighters like Sugar Ray, Marvin Hagler, Roberto Duran, and Ali. I've taken a lot from a lot of those fighters and built my own game, and my own game is being about two or three steps ahead of my opponent. You know once he tries to set a trap, I've already set the trap. I'm a great counterpuncher. I have hand speed. I have deceptive power and when these people get hit by me they don't understand how a guy can go straight up and down and muscle in and hit so hard. Punching power is about timing. It's not about how hard you swing or arm punches. It's about straight punches and it's about timing, and it's about the punch that you don't see. That's what makes me a sharp puncher. You don't see me miss a lot. When I hit, I'm target-oriented with my punches. You feel me? That's what makes me a unique fighter, and I have deceptive movement. I don't move a lot, but I got good reflexes and good instincts. I think my instincts are underrated, and like I said, I think I got one of the best defenses in the game. You don't see fighters hitting me three or four times consecutively. When they hit me it's by pure accident, and trust me they're not going to hit me with the same punch and I'm tough! I can take a shot. I got a good solid chin. That makes me hard to beat.
CIANI: Now Antonio, in addition to being a guy that's hard to beat right now in boxing, you're also an outstanding commentator with the broadcasts you do with Showtime. Given the fact you have that, what keeps you motivated to keep wanting to fight at this time?
TARVER: Oh man! Did you see that big crowd they had in Australia? Did you see all the press, the clippings, the press conference? Momo y mono I went over there and fought a guy in his backyard and did it with class, did it with fashion, and dominated this guy when he was in the covers of his own home in front of his adoring fans. That's sexy to me and I like traveling abroad! I want to do more of that type of stuff. It just shows you that if you can anywhere! It's the mark of a true champion. It's the same thing Bernard Hopkins did his last fight. It's the mark of a true champion. We can fight anywhere and win, because when you're in that squared circle you got to feel at home no matter where you're at. That's what it boils down to. All those fans, they can't help him when he's in that squared circle. They can't throw punches for him and they can't take punches for him.
I'm comfortable wherever I'm at in my own skin, so that in itself gives me the motivation to continue on and to win championships. I'm a two division titlist. I won four championships in ten years in the light heavyweight division. That's domination! No matter who beat me, I came back and avenged that loss and took my title back. That's domination and that's what gets me going. When the critics doubt me and say that I can't, that gives me the motivation to do. Like I said I'm on God's plan. This is what God bestowed upon me, this gift. I must use it! If I don't I'm not fulfilling my purpose of living. It's not by accident that I'm here. I'm here for a purpose, and I don't know what that purpose is. God has preserved me beautifully, and I think it's for the heavyweight championship of the world. I don't know how it's going to come about, but that's what I believe. My vision is to become heavyweight champion of the world!
CIANI: Antonio, changing things up here a tiny bit, I'd be curious to get your opinion on the Super Six super middleweight tournament as a whole, and whether or not you think the final matchup between Andre Ward and Carl Froch is a fitting finale for the tournament?
TARVER: I think that Super Six tournament has given boxing everything that it should have. Tournament-style boxing, I think we need more of that. It really pits the best fighters in that division against the very best. When you look at guys like Jermain Taylor, Arthur Abraham, Andre Dirrell, and guys that have started in that tournament, now they only have two champions standing atop and one is going to get that trophy and one of them is going to be recognized as the man to beat in a hot division like the super middleweight division. I think it's very much fitting when you look at the styles. Carl Froch is a guy that has multiple talents. He's a guy who has abilities to fight different ways. He's aggressive, he's counter puncher, and he's slick. Then you look at Andre Ward. What can you say about the Olympic Gold Medalist? He's a guy that has shown the ability to be as great as he wants to be, he's a believer in God, and he still can fight his butt off! The guy is multitalented and can do it all in the ring. That fight right there is really going to put one of those guys in the top two or three pound-for-pound. You're going to have to give him that because of the fighters that they've gone through to get there, and Andre Ward credit to him. He's still undefeated. I think Carl Froch can be his biggest threat to that undefeated record, that Olympic Gold Medalist, and to him finally coming up on the short end. I'm in awe of Carl Froch because the guy has shown so much, but if anybody could beat him it's Andre Ward. He's a guy who has shown me to be as good as Roy Jones was at that age. I mean the hand speed, the quickness, the boxing ability, and the defense—I mean the guy's got it all! He's ambidextrous in the ring. He can fight left-handed and right-handed. So that gives any fighter nightmares. I can't wait to sit there ringside and call that fight! I'm going to be as excited as I was about the Pacquiao-Mosley fight. I think when all the smoke clears they're going to say the Super Six was a positive structure in boxing, and it really sets Showtime apart from any of the premiere networks. I think Showtime has been doing a great job with the fights they've been carrying and the competition in these fights that they've been doing. It really sets them apart from anybody right now. Showtime is the leading premiere network of boxing!
JENNA: Well Antonio we just have a couple of more questions before we let you off the line. You mentioned how you believe it's your dream or believe it's your goal to become the heavyweight champion, but you're currently in the cruiserweight division and that division has always been kind of in the shadows when it comes to boxing. People really haven't given it that much attention because it lacks that big star. If you decide to stay at cruiserweight do you think you can make that division get the notoriety that it so often lacks?
TARVER: Yeah I think even the fact that the Danny Green fight has really echoed so much in the boxing world and community, I think it just shows you it only takes one great fight to really lift the division. You get guys like Cunningham and that other guy Marco Huck screaming for a fight with me, because they know that there is a name recognition in the division. Hey, it's what we all fight for and that's to make a good living financially. It gives them the opportunity to beat me and to go on to get my credibility in the game. So you know it's an opportunity for any cruiserweight that fights me. It would be a big opportunity. You haven't had a cruiserweight with the notoriety that I bring to the division in a long, long time. I think Evander Holyfield was probably the last cruiserweight that really had that type of popularity.
It's a good thing for the cruiserweight division, but unless there is something big out there for me, my whole thing is I'm looking at smaller heavyweights like David Haye and if I'm going to fight Goliath and beat David, it don't matter—any one of the Klitschkos. Like I said, I want to do something so monumental in boxing that it will never ever be forgotten. I think when you look at my ability and skill set that I have the ability to do that. I can put on a good ten or fifteen pounds and I don't care who I hit, they're going to feel it! I think my defense is second to none. So these big guys are going to be swinging and missing and I'm going to be counterpunching. I'm not going to be afraid to get inside like you saw with David Haye who was a little bit hesitant. I'm not going to be afraid to get inside, because I'm going to trust my defense, I'm going to bang these guys to the body, and I got a serious overhand left. If I catch one of those big guys, it's "Timber!". It's "timber", baby! So you know I'm excited about my future. It's just important for me to make the right decisions right now. If it's to stay at cruiserweight and unify those titles until I get the call up, then so be it! But I'm ready now for whatever.
JENNA: Alright well if you do get that call at heavyweight the Klitschkos are the champions in the heavyweight division. How do you as a fighter go about beating fighters that have been barely touched in all their title defenses of late?
TARVER: Well you know first of all they're going to come in overconfident, and that's one of the things that's going to play into my hands. They haven't faced a fighter like me ever, a fighter that has just the instincts that I have and the anticipation. I mean I can feel in that ring like nobody else. Like I said, they're not ever going to think in a million years that I could hurt them with sharp shots. Both of those guys have been hurt, and been knocked out before, and quit, and all of that other stuff, so you just got to put them under pressure. They haven't been pressed! I mean lately it's been pathetic with the guys who have had the opportunities to go in and do something. They haven't fought! Some of these guys are afraid to go out on their shields. You can't be, and fighting a guy like those Klitschko brothers and having the opportunity of a lifetime, you got to take chances! You've got to be willing to lay your butt on the line and say, "You know what? I'm willing to get knocked out for an opportunity to knock one of these guys out or to beat one of these guys". You got to be willing to make that sacrifice, and in the back of these guys' minds they're doing it for the payday! They're not doing it for the monumental event. You feel me?
Like I said, there is a way to beat anybody. If I get one of those guys frustrated, that's it! It's over! I'm just a different fighter and you're never going to be able to understand what I bring to the game until you're in there and you're faced with it. So I'm a unique guy and I just feel like, like I said, it's written. It's written! There is nothing that I could do about it. All I can do is go through it. I can feel it in my heart. It's written, and I need to just live my purpose , and my purpose is I feel is that God has persevered me for something great and it wasn't knocking out Roy Jones Junior even though that was a big, big deal. But he's preserved me for something bigger than that and I can't put my hands on it, but I believe it's to become heavyweight champion by any means necessary. No one thought Ali could beat George Foreman. He did it because he felt that it was his calling, and that's just the way I feel. I feel if I get the opportunity, I'm going to shock the world.
JENNA: Antonio, I have one final question. You've had a career that's had its ups and downs, but when you look at it over all how would you sum it up and how would you characterize what you've done when it comes to overcoming the critics and what people have said about you?
TARVER: Well I mean I feel that they never could really see what makes me different. Look, I lost six times and four of those times it was avenged by devastating knockout and I beat Glen Johnson handily in Memphis. There are two fighters that have beaten me in my whole entire career that I haven't defeated. That's Bernard Hopkins and that's a young Chad Dawson. You know if it all ends today, that's a hell of a record when you look at a guy who's been in this thing since 1996 and has won the title four times. I'm a five time champion now. Say what you want, I'm a winner and that's it! That's how they're going to be able to describe me that when the chips were down this guy stood up and he showed the world that he was a champion, period! You know that's what I can say and I hope that I'm remembered by that, but I'm still writing the book! They thought the book would be closed July 20, but we started a whole new chapter, baby! So don't close the book yet! We are still writing these chapters. It ain't over until it's over.
JENNA: I like the Rocky line there, Antonio.
TARVER: (laughs) Did I say that? (laughs)
JENNA: (laughs) Yes you did, but it's been fantastic having you on the program, and like you said I don't think you've written your last chapter so I'm definitely looking to seeing what else is to come from Antonio Tarver.
TARVER: Thank you sweetheart, I appreciate it. Thanks a lot! Thanks for having me. I appreciate it.
CIANI: Thanks Antonio. Best of luck!
TARVER: Thank you, my man!
***
For those interested in listening to the Antonio Tarver interview in its entirety, it begins approximately one hour and forty-four minutes into the program.
RIGHT CLICK and 'SAVE AS' TO DOWNLOAD EPISODE #135
***
To learn more about "On the Ropes Boxing Radio:
Visit our official Website:
http://www.ontheropesboxingradio.com
Subscribe to our show on i-tunes:
http://itunes.apple.com/us/podcast/on-the-ropes/id427474189
Join our Facebook Group:
http://www.facebook.com/group.php?gid=231954175413&ref=ts
Or Follow us on Twitter:
http://twitter.com/JennaOnTheRopes
http://twitter.com/CianiOnTheRopes
To contact Geoffrey Ciani or Jenna J:
ontheropes@boxing247.com
To read more by Ciani or Jenna please visit The Mushroom Mag:
http://www.eatthemushroom.com/mag