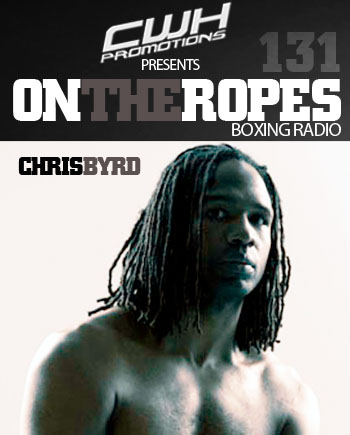 by Geoffrey Ciani (Exclusive Interview by Jenna J & Geoffrey Ciani) – This week's 131st edition of On the Ropes Boxing Radio (brought to you by CWH Promotions) featured an exclusive interview with former two time heavyweight champion of the world Chris Byrd (41-5-1, 22 KOs). Byrd spoke about a variety of different subjects, including the upcoming unification fight between Wladimir Klitschko and David Haye, Bernard Hopkins becoming the oldest fighter to win a major world title, Mike Tyson's Hall of Fame induction, the decline of Roy Jones Junior, the Super Six Final matchup between Andre Ward and Carl Froch, and whether or not he believes Manny Pacquiao and Floyd Mayweather will ever square off. Here are some excerpts from that interview:
His views on the recent Hall of Fame induction weekend:
"Oh it was great. I had seen that, who was that, Mike Tyson, Kostya Tszyu, and Julio Cesar Chavez got in. I mean three great, some of the greatest fighters of all time. It's just great looking at those guys and watching them throughout the years and their accomplishments. You know great for them. God bless all of them. They were great fighters who did a lot for the sport. I was happy for them just to hear the names. Time goes by so fast, you look at some of those names and think man, they had great careers and it's over for them, but they're in the Hall of Fame now, so well deserved."
Regarding whether Don King had ever brought up the possibility of a fight between him and Mike Tyson:
"Yeah, he kept bringing it up. Every time he brought it up I was excited about it. I've looked up to Mike Tyson for years, even when I was an amateur and I was a middleweight. I always loved Mike Tyson. He had a great work ethic for fights and a lot of intensity in the ring. Don would bring it up, and I would think okay, this is a time where I get the chance to fight one of the greatest heavyweights of all time and I get to put my skills against him. Somebody like Mike Tyson who had just massive power, skills, was an icon of the sport, but it never materialized. So I was a little disappointed with the fact I never got a chance to fight him, but at the same time I'm happy for him. He's done well in his career."
His views on the upcoming heavyweight unification fight between Wladimir Klitschko and David Haye:
"Well my thoughts on that fight, I stopped picking a winner. I may have a favorite, but not picking a winner. Anything can happen in the ring. My thoughts, with Wladimir Klitschko fighting him twice, and being a smaller heavyweight like David Haye and a really skilled heavyweight like David Haye, but he's small. It's a hard task. Wladimir is bigger than you think. When you go the press conferences and the weigh-in, and you look at him and you think okay. He's big and he's tall but he's not that big, until you get in the ring and you start feeling the power, and he's keeping the range, and he's hard to get to. It's a difficult task to try to overcome, but with David Haye he's a puncher. He has a great puncher's chance. He has pretty fast hands and he has a chance in the fight, but it's a good big man versus a good little man and David Haye's got to be a great little man to pull this off which is really an upset. He better have studied a lot of his tapes and better take chances in the fight to where he'll surprise Wladimir. If not I think Wladimir will slowly break him down over the fight, because he's been fighting like that lately. He's just being patient, taking his time, and not going for the knockout early. Even though he's a little upset going into this fight, but he's just patient and he'll just break you down and make it frustrating for you round after round, where you don't even get a chance to really hit him clean. I mean he systematically just breaks you down and wins the fight. David Haye better come with something pretty special to try to upset Wladimir Klitschko!"
On whether he sees any weaknesses in Wladimir Klitschko's style which he believes can be exploited:
"Oh yeah, definitely! Weaknesses with Wladimir, everybody says his chin. Of course, this is heavyweight boxing. If you get hit in the chin, you'll go, especially with two strong guys and especially when you're fighting somebody that can punch. With Wladimir, his weakness I still think he can't fight going backwards. If you could push him and make him constantly fight you tire him out. When he fights at a pace that he loves to fight at, which he's been fighting since he's beat me in every single fight. He fights at his own pace. No one has really pressed him, and then he'll comfortably beat you. Emanuel Steward has been doing a great job with him to calm him down. Normally he was pursuing the knockout. When he got knocked out those three times, he was pursuing the knockout. Now, he's letting you come to him. He's patient. I just think in my opinion, skill-wise David Haye has a lot of skills and he can punch, but I think he has to take chances and with Wladimir, push him. Try and make him fight going backwards and make him think at all times before he throws. He always makes the smaller guys think, because once you throw he counters, he has a good jab, and once he gets going he thinks that he's got you because he started landing his punches, especially his jab. Once his jab starts landing, everything else is connecting after that. He has very few weaknesses right now because he has so many advantages, with height, reach, weight, everything, and talent. He's an Olympic Gold Medalist, he has a lot of amateur experience, and he has a lot of talent and he's confident. So he's a hard package to beat right now, but like I said it's heavyweight boxing and one punch can change your mind in the ring about everything."
His views on Bernard Hopkins' victory against Jean Pascal when he became the oldest fighter at age 46 to win a major world championship:
"Oh man, it's great. It's really great for him and great for boxing. Bernard has had talent since I was an amateur watching him until now. He's a talented guy. He's smart and he knows how to box. I take nothing away from him. He was fighting a good champion that upset who I consider really still the best light heavyweight in the division, Chad Dawson. Bernard comes in and beats him at 46. It's just a great feat that he could still dominate and beat younger opponents, and not only opponents but champions. It's just a great feat in boxing."
His views on the recent decline of Roy Jones Junior and whether he believes Jones is tarnishing his legacy with the knockout losses he has suffered:
"Yeah, in a way I can look at it like that. Knowing the career of Roy Jones, it stops at the great Roy Jones. Everybody remembers him as great, and it goes by what you've done in your prime. Everybody knows he's way past his prime, he really shouldn't be fighting, and he's fighting out of his weight class really. I mean he fought at cruiserweight his last fight. I know he fought and won the heavyweight title, but it's still not the same. He's fighting out of his weight class and he's kind of ruining his legacy still fighting, but to me Roy Jones is still one of the greatest fighters that I've ever seen that ever laced them up. I just hope for him that that was it, because it hurt me to see him lose in that fashion. Hopefully he'll just hang them up and that will be it, and he will leave the sport."
On whether or not he believes there was any realistic chance of a heavyweight unification fight between him and Roy Jones Junior when they both reigned as champions:
"I wanted that fight really bad, but I put the ball in Roy's court if he wanted it. I wasn't going to talk trash. I'm not a trash talker anyway, but I'm not going to say anything about him. If Roy wants the fight, it was a great moment for him, a great feat for him that he beat John Ruiz. I think for the fans, I think they would have enjoyed it. You got two smaller guys, naturally smaller guys, unifying two thirds of the heavyweight title. It would have been something special I thought, but it never happened. The ball was in Roy's court. It just didn't happen."
On whether he has been following the Super Six tournament and what he thinks of the upcoming Final matchup between Andre Ward and Carl Froch:
"Oh, yeah I've been following the Super Six. It's a great, great Final, I mean really, really great Final. It's a really great matchup of two fighters. To me Carl Froch has just with confidence and his ability, has surprised a lot of people. He's like I said, very confident in feeling that he is the best super middleweight in the world and I give him a lot of props, but Andre Ward at the same time is the same thing. This kid is amazing! He's young, an Olympic Gold Medalist, and he was really coming into the tournament not favored. Maybe he was one of the guys that could beat some guys, but not favored and he upset some guys and really became the number one guy in the Super Six. He has a lot of talent, and there is a lot of talent in that weight class. It's going to be a super fight and it all depends on who can execute the game plan. Can Carl Froch keep his distance and outbox him? I truly feel that Andre Ward is going to be bringing pressure, trying to get inside, rough him, and make him fight his fight. If that happens, Andre Ward wins, but if Carl Froch can keep him at bay, and he can punch pretty good, too. If he can keep him at bay, hit him with certain power shots, and make Andre Ward think, he has a chance to win. It's a pick'em Final, which that's how it should be. You got the two best super middleweights in the world fighting each other coming into a great Final. I think it's going to be a great fight."
Regarding his first professional loss against Ike Ibeabuchi and whether he believe Ibeabuchi could have become a great heavyweight champion:
"Well it's funny with that fight and how good they say Ike would have been. My thought on the fight was I thought I would beat him. Watching him on tape, he's big, he's strong of course, but everybody was big and strong and he was slow. So I thought I would just use all my tricks and outbox him over ten rounds and win the fight fairly easy. When I got in the ring it was a little different. His coach was smart. He was telling him as I was watching it afterwards, 'hit him anywhere', because I was real slippery he thought I'd run into something. Ike did certain things in the ring, like bending his knees which really surprised me because I wasn't used to other heavyweights being that smart in the ring. I always felt as a professional I was the smartest guy in the ring, and he was a big strong guy that was talented. To dominate the heavyweight division like everybody else though he would? Probably for that time, I personally think Ike would beat Lennox Lewis. He would put the pressure on him, he could take his punch, and really dominate him. Maybe Evander Holyfield also, that would have been a really good fight because Holyfield would have fought him in the trenches, and Tyson also because Ike could take a punch. To constantly reign after that would have been very hard with the Klitschko brothers, because it's the height and range factor. Ike was my height. He was big, but he was my height. Maybe Wladimir, but Vitali I don't know. He would have kept the height and range and it would have been a hard style for Ike Ibeacbuchi to reign as the supreme heavyweight champion like Tyson was in the 80s. So I don't see him just taking over. I think Wladimir or Vitali would have still been the reigning heavyweight champion, in my opinion."
On whether he could have imagined that Vitali Klitschko would still be a heavyweight champion more than ten years after he beat him:
" Yeah. I mean I think personally, a lot of us could still be fighting, even myself. I mean it's over for me, but I had injuries that retired me. I have nerve damage in my foot that truly retired me. I'm still in great shape and could still fight. Vitali took off almost four years, rested his body, and never really took too much damage in his fights. So he can still do it, and he's taller and more skilled than most of the heavyweights out there so he's not really getting challenged. He could probably fight until he's 50. One thing about Vitali, I went and sparred with him, he's a smart guy. He really learned from when he was younger fighting me until now. He really studied the game and knows how to box and use his height and reach really do his advantage, and calm down and just take it round by round to execute his game plan and win a fight easily without making it hard. He's been doing that. I'm not really surprised because of the advantages he has. It's a hard style matchup. When you see him, people talk about him on film, but when you get into the ring with him, and notice how big and strong and what kind of size advantage he has, it's a totally different thing."
On whether he believes he truly beat Vitali Klitschko or whether he believes he was fortunate that Vitali was forced to retire due to a shoulder injury:
"I look at it really like I beat him, because in boxing you don't quit. You just don't quit, especially when you're champion and over a shoulder injury. That's debatable. For me, I don't quit. You literally, and I hate to say it after he killed me in the ring almost, and I'm a little guy. You fight. I just couldn't believe that on the stool he stopped. I was like oh wow! I'm the new WBO heavyweight champion on eight days notice, I had diarrhea, I'm not truly a heavyweight, and this guy is 6'7"/6'8", 249 pounds, 28-0 with 28 knockouts. The German crowd laughed at me when we got into the middle of the ring, but after four rounds they started cheering for me. So it was just a great thing and I truly felt that I beat this guy. I made him quit. I don't care what people think or say. In my opinion you don't quit, especially as champion."
On whether he believes fans will finally get to see a long awaited showdown between Manny Pacquiao and Floyd Mayweather Junior sometime early next year:
"Hopefully. It's great for the sport. Even the hype of the two guys before they fight is great for the sport in my opinion, because it keeps everybody on the edge of their seats thinking okay it may happen or it may not. You got two guys where the average person, not even fan, just the average person if you bring up boxing, they will bring up either Pacquiao or Mayweather. So I think it's great for the sport to keep people on the edge of their seats before they actually do it, because I think the fight is building into the biggest one that ever happened. I mean there is enough money to escalate through the roof. You got the number one and number two pound-for-pound boxers in the world that are going to go against each other and two great talents. So I think it will eventually happen, and it will be great for the sport when it does."
On whether he has ever considered returning to boxing in a trainer's capacity:
"Yes. At first being champion was a lot of negotiating and I lost a lot of love for the sport. I don't want to get into the who and why, but certain people will figure it out. At first I wanted to walk away from the sport 100%. I couldn't stand it at the very end, just dealing with certain things because the business side is so bad. But now I'm coming back! I'm slowly but surely getting back into the sport and I just thank the Lord who laid on me all this talent and now it's time to invest into some boxers. I live in San Diego now, and hopefully very soon I want to start my own camp here in San Diego, which is a hot bed of boxing to just train guys. Now I'm starting to watch a lot of boxing, and no disrespect, but there are not that many great trainers out there. I mean when I listen to corners I don't think they truly know how to instruct guys. So I want to put together a group of former champions to start training and to start investing in these kids or young men that are already boxers. I just want to train guys, and teach them, and instruct them in the ring, and guide them to do great things in the sport. So I think I will be that, and get back in it on the training side."
***
For those interested in listening to the Chris Byrd interview in its entirety, it begins approximately one hour and three minutes into the program.
RIGHT CLICK and 'SAVE AS' TO DOWNLOAD EPISODE #131
***
To learn more about "On the Ropes Boxing Radio:
Visit our official Website:
http://www.ontheropesboxingradio.com
Subscribe to our show on i-tunes:
http://itunes.apple.com/us/podcast/on-the-ropes/id427474189
Join our Facebook Group:
http://www.facebook.com/group.php?gid=231954175413&ref=ts
Or Follow us on Twitter:
http://twitter.com/JennaOnTheRopes
http://twitter.com/CianiOnTheRopes
To contact Geoffrey Ciani or Jenna J:
ontheropes@boxing247.com
To read more by Ciani or Jenna please visit The Mushroom Mag:
http://www.eatthemushroom.com/mag