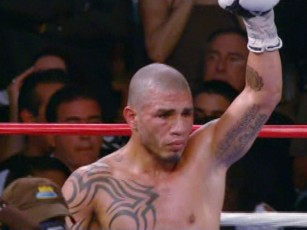 By James Slater – Miguel Cotto, the reigning WBA 154-pound champion, will return to the ring on March 12th, more than likely in Las Vegas – so says promoter Bob Arum in speaking with ESPN.com's Dan Rafael.
Out of action since his June stoppage win over Yuri Foreman, Cotto remains one of the sport's biggest attractions. Not only that, but Cotto, a true fan favourite, could well engage in a number of big fights in the future. There has been talk that the Puerto Rican star will face Antonio Margarito in a rematch some time in 2011, and there is also the possibility Cotto could face Julio Cesar Chavez Junior (in what would not be as big a deal). First though, Cotto must have his "comeback" bout in March.
After having recovered from the injuries that have kept him out of the ring since the Yankee Stadium stoppage win over Foreman, Cotto is now raring to go. But who against? According to Arum, there are three names on the list, one of which Cotto will fight on March 12th..
Vanes Martirosyan and Pawel Wolak (the man who has twice seen a fight with the aforementioned Chavez Junior fall through) are good fighters, and either guy would present a potentially tough night for Cotto. However, it must be agreed that Nicaraguan wild man Ricardo Mayorga's name, also on the list, adds some extra intrigue. No-one is saying the now 37-year-old "El Matador" is a better fighter than Martirosyan or Wolak; it's just that Mayorga always brings excitement, and as such the idea of him against Cotto would appeal to more fans than would the other two guys on the shortlist.
And just maybe, with his unpredictable style, Mayorga gives Cotto a helluva fight.
The former welterweight and light-middleweight champ returned to action on this past Friday's bill in Miami; halting Michael Walker in the 9th-round to improve to 29-7-3(23). That fight was held up at just above middleweight (Mayorga tipped-in at 162.5-pounds), and if Mayorga can get down to 154 okay, he might give Cotto a decent argument. Certainly, if he does get the fight, Mayorga will make things plenty interesting in the run up to the bout.
One of the sport's most colourful trash-talkers, Mayorga makes fans pay attention. Some fans may choose to hate him, but all fans are interested whenever the slugger is getting ready for a big fight. Cotto, who will be shaking off ring-rust just like Mayorga will continue to do (his win on Friday came after a 15 month absence), might have problems with the Nicaraguan's strength and power in the early going – before his timing comes back.
If this is the case, we could get a fun fight in March. Now, watch Arum/Cotto go and choose to face Wolak or Martirosyan instead of Mayorga!