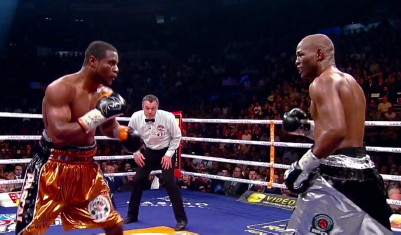 Mizell H. (Atlanta, GA): I know that you've always been a huge Bernard Hopkins fan. I've never been one myself, but I have to give it to him, that was an amazing performance. What were your thoughts of the way he performed?
Vivek W. (ESB): You know, it does so much for me on so many different levels to watch an athlete completely defy the odds the way Hopkins did. Here you have a man who should be retired, getting fat and happy with his family, vacationing for the Holiday season, or simply enjoying life; but instead, at 45 years old, mind you, he spent the past 8 weeks training rigorously, was never once caught breathing hard, and put on a performance for the ages….literally and figuratively. Supporters support, critics critique, but this was one of those performances where they ALL must agree! Hands down!
Hopkins hadn't touched the canvas in years, and many questioned whether he could ever get up if he did at this stage. Not only did the man rise to the occasion, but he was able to rise off the deck twice and absolutely school a young world champion who is in the midst of his prime. It was just an immensely inspiring performance that I have already watched 4 times.. Many question why I always speak with such a huge affinity to fundamental skills, but if this display didn't cement my logic, I don't know what does. What else could possibly propel a man to near victory (or should I say clear victory) after several knockdowns?
The only performance remotely close was Juan Manuel Marquez's feat of getting off the deck three times against Manny Pacquiao and withstanding that assault en route to a Split Decision that many felt he should have gotten. The only people capable of this type of performance are those who have a strong set of skills on a fundamental level. When you have skills like a Hopkins, or a Mayweather, or even a conditioned James Toney, you become the proverbial "cat with 9 lives", because it gives you a much greater margin of error. To stun or knock these men down may often mean very little because they do what they do so well, you may not win another exchange, let alone another round against them.
Pascal has never been knocked down in his career, and although he didn't taste the canvas, there were points in which it appeared he wish he had. The body shots were debilitating. The head shots were crushing. That pain will fade away, but the heart Hopkins stripped from his chest may never return! I don't think Pascal will be the damaged goods we saw Pavlik become after he was humbled by the "Executioner", but no question, the next time he faces someone who can take his shot and keep pressing ahead, expect to see that "deer-in-headlights" look…..for he is truly less of the man he entered the ring before this encounter. Bernard Hopkins, job well done!
Brent T. (Orlando, FL): In your prediction you stated that there would be controversy and that there would be a split decision. Had the one judge scored the 8th round 10-9 Hopkins like the others, rather than an odd 10-10 score, history would have been made. What are your thoughts on this oversight? Intentional, or happenstance?
Vivek W. (ESB): I don't think that you can realistically say that the judge "cheated", but what I don't get is that (after reviewing it multiple times) it was extremely difficult to score that round 10-10. Whether you're going by effective aggression, punches landed, or whatever, it's very difficult to score that round even. In that judges defense, I didn't have his angle. Had I been in his seat, perhaps I would feel differently, but as it stands, I fall in alignment with the popular consensus.
I'll tell you this much……..the true "Canadian kid" (Lucian Bute) just lost any shot he had at hosting a showdown with Andre Ward, or whomever he gets next. There's no way in hell an American fighter will brave those odds again! Some will argue that the judge wasn't Canadian, but the reality here…..he didn't have to be, he voted like one! Some will find that statement to be very disrespectful, but what I say to them is don't judge my statement by the words spoken….judge it by the truth contained within! Perhaps the truth does hurt! But so did one mans denied run at history, shot down as a result of a poorly thought out strike of the pen!
To answer your question, I can't say it was intentional. That's between that particular judge and God. If it was, as an ode to the "Executioner", as they say before all executions, "May God have mercy upon his soul"!
Marcus G. (Aventura, FL): What is this stuff coming out about Freddie Roach and Team Pacquiao demanding Mosley take a drug test but they won't! That's BS! Is this true?
Vivek W. (ESB): Yes….it is! Honestly, I may not be a good source to answer this question because my position is well documented on the steroid controversy. I will NEVER support any athletes position to refuse a drug test. That being said, this is a slightly different case and it cuts both ways. Mosley admitted to using substances before. He faced Mayweather, he tested clean, and with all the scrutiny surrounding his name, I think this guy would probably not even take certain over the counter vitamins out of fear of ever being caught up in this mix again. I really and truly think it's taken a toll on him.
You consider things from that angle, and suddenly, you have to ask yourself why can one team be speculative and the other not granted the same ability? Many will say that Mosley was a proven user, but Pacquiao said Margarito served his penalty and deserves to be allowed to vindicate himself without being questioned…..isn't this a bit of a break from that path? I think Team Pacquiao has a right to consider this option under the circumstances, but what I do have an issue with is the fact that they seem to do things they don't want others to do when it benefits them, but not the other way around.
Speculation is what Mayweather has in mind, be it proven or not. Speculation is what Nasim Richardson had in mind in the Margarito's locker room with the handwraps. Speculation is what Team Pacquiao had in Margarito's locker room before their fight. How is it that Team Pacquiao is able to continue speculation and not only that, but be allowed to act on it, yet no one else is? There's a major equality issue there.
I would love to hear Pacquiao supporters who have stated that Mayweather can't force him to do a test because "he isn't the governing authority" try to defend this move. This is the identical act, only this time demanded by the same man you attempted to defend from this very action! I'd better stop here and bite my tongue on this one, fellas……If you can see me holding my nose, it isn't because it's running. I'm doing it because this stinks!
Vincent M. (Phoenix, AZ): I'm a huge Shane Mosley fan, but what shot do you give him against Manny Pacquiao?
Vivek W. (ESB): I guess it's a good thing you're asking me this question, because those close to the matter certainly have something different to say, pretty much everyday it seems! Bob Arum and Freddie Roach basically stated a few days after the Mayweather/Mosley showdown that Mosley was basically washed up. The intriguing thing here is that they felt this way about Mosley when defeated by Mayweather, yet only months prior, Roach, whom I have great respect for, stated that he told Shane (when Mosley visited Wild Card gym) that he couldn't get a fight with Pacquiao because he was "too good"!
All these contrasting statements can be taken with a grain of salt, but in my opinion, styles make fights, and if you want to really gauge Mosley's true worth now days, you should probably listen to the recent statement Freddie Roach made when it became imminent that his man would be in the ring with him next: "Mosley will be a hard fight for Pacquiao"!
Truth is, Mosley looked a bit old in the ring with guys like Mayweather and Mora, but Pacquiao isn't either. Mora was a much bigger guy who happens to be slick and very unorthodox. Mayweather is perhaps the best defensive wizard the sport has seen in recent history, and statistically, in the history of the sport. To quote HBO's Jim Lampley: "Pacquiao is there to be hit, the question is, how many times will he hit you"! Mosley has a helluva chin and I don't see him entering the ring with a fear-factor!
The flip side to that…..without question, he will land that same bomb that he did against Floyd, multiple times even, and Pacquiao will have to prove that he has the granite chin we believe he does. Margarito punches fairly hard, Cotto was a banger, and so was Clottey, but I'd venture to say there's a reason Mosley has held a higher KO ratio than all of these men despite going higher in weight, and he is a legitimate power puncher. People always reflect on the Cotto fight, and the fact that he couldn't KO Cotto. But remember, that was the pre-Margarito Cotto who was at the height of his career.
When the smoke finally settles, I think Mosley will have a helluva chance in the first 7 rounds. After that, he'll be a softened up…..basically tenderized like a piece of meat before a lion…..and from there I expect Pacquiao to pounce!
Hector S. (Brooklyn, NYC): After seeing Odlanier Solis, what chances do you give him to win the heavyweight crown?
Short answer……slim to none! Elaborate answer…..I think the guy has a good set of fundamentals, but he's lazy, and that will ultimately hurt any chance he has to truly make it. When I see Solis, I see a young man who had it all come a bit too easy in life. Not literally. Being a Cuban defector, needless to say his path to where he is today wasn't an easy one. My point is that talent wise, the kid has skills, but he's been able to beat men with those natural skills so easily that he's apparently never learned how hard it truly is to reach the pinnacle of the sport. I don't feel he needs to lose weight for the reasons most others do.
Many talk about his size and site that as a reason for him to trim down. I think he needs to trim down because for once he would have to work hard. He doesn't look like he truly trains hard. If he learned the commitment of being a year-round athlete, the results could be ten-fold. He has fast hands, good technique, decent power, and all the other trimmings. He lacks the dedication and drive, and has poor footwork and balance. My little passage won't be what he hears to help him change. The bell ringing while on his back after a Klitschko (pick your poison, either one) hammers him into submission for the first time in his career will! Sad but true!
(Check out weekly "Saturday Roundtable" discussions and daily buzz topics with Vivek Wallace on FaceBook. Vivek can also be reached at vivexemail@yahoo.com, 954*292*7346, Youtube (VIVEK1251), Twitter (VIVEKWALLACE747), and Skype (VITO-BOXING)