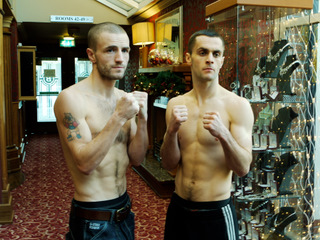 By Brendan Galbraith – At today's weigh in at the Balmoral Hotel in Belfast, the Scottish challenger to Martin Lindsay's British Title – John Simpson was measured when questioned on his assignment tomorrow night. Simpson is coming off a controversial split decision loss to talented Liverpool fighter, Stephen Smith and the tough Scots man is looking for to opportunity to bounce back and attempt to secure the Lonsdale belt:
"It feels good. I like boxing away from home, I have had some of my best performances away from home and I am looking forward to getting in there and showing Belfast a great fight."
Simpson is wary of the quality of his opponent but has put in a 'perfect' training camp:
"He [Lindsay]is definitely a great fighter – he has showed it in his last few fights that he can fight and it will be a really tough contest but it is definitely one that I am going to win.."
"Everything has been perfect. I have been sparring with Carl Frampton – he was over for a week. I was sparring with Ricky Burns and Micheal Roberts (who has just turned professional). So I have been spoiled for sparring and everything has gone well."
Frank Maloney has confirmed at a press conference last week that Martin Lindsay's next three fights will be all be in the Kings Hall, Belfast next year and that he has already started negotiating with an opponent for another British Title defence. Does Simpson feel that Maloney is tempting fate?
"That is his mistake. That is press carry-on, I will just concentrate on fighting and the job at hand tomorrow night."
Simpson, who was accompanied by sparring partner and world champion, Ricky Burns and top trainer Billy Nelson – will be hoping to build on the success of his fellow country man tomorrow night.
Earlier, both Lindsay and Simpson made weight without any problems. The head-to-head was business-like and free from any kind of malice with both fighters preferring to do their talking in the ring tomorrow night in what should be an action-packed fight.
The full weigh in details and proposed card is below:
British Featherweight Title
Martin Lindsay (8 stone 12 Ilb 14 oz) v John Simpson (8 stone 13 Ilb 6 oz)
British Flyweight Title
Shinny Bayaar (7 stone 13 Ilb 2 oz) v Paul Edwards (7 stone 13 Ilb 4 oz)
Tony Jeffries (12 stone 5 Ilb 6 oz) v Tommy Tolan (12 stone 8 Ilb)
Luke Wilton (8 stone 14 oz) v Uzzy Ahmed (8 stone 10 oz)
Jamie Conlan (8 stone 2 Ilb 2 oz) v Francis Croes (8 stone 7 Ilb 14 oz)
Brian Cusack (12 stone 10 Ilb 8 oz) v (12 stone 7 Ilb 14 oz)
Tony Nellins (10 stone 2 Ilb 14oz) v Jason Carr (10 stone 4 Ilb 8oz)
Dan Carr (9 stone 6 Ilb 4 oz) v Mike Harvey (9 stone 6 Ilb 10oz)
Ryan Greene (11 stone 1 Ilb 5 oz) v Simone Lucas (11 stone 3 Ilb 4 oz)
Steve Jevons v Martin Shaw (both fighters will weigh in tomorrow morning)