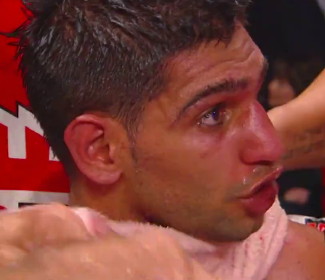 Kirby R. (Manchester): Based on his performance last Saturday night, I feel Amir Khan proved he is the best jr. welterweight in the sport. Not only did he take the punches, but he made the victory look easy. What was your overall assessment of his performance against Maidana?
Vivek W. (ESB): I loved a great deal of what I saw from Amir Khan. For the record, I've always loved what I saw from Khan. His offensive skill level was always very intriguing to me, particularly since joining Freddie Roach. The only thing that I've questioned about Khan, (like many others), was his ability to overcome another thunderous power shot. What fight fans don't realize is that there's a huge difference with a quick KO and a complete beating over 12 rounds. You take a look at Kelly Pavlik, who was totally dismantled by Bernard Hopkins and never regained form, or Ricky Hatton, who stated that the lost to Mayweather was easily the most painful of his career because it was the only time he pretty much went the distance and simply couldn't figure someone out – getting beaten badly the whole time while trying.
In both cases the men lost total confidence that was never replaced, yet in the case of Khan, the quick KO was humbling, but he always knew had the fight gone further, his skill could have made the difference.. It says a lot about a competitor who can maintain their heart after such a humbling loss. Almost in one motion, he got KO'd (against Prescott), got up off the canvas, made the necessary changes, and here we are…..watchin' him slowly take the game over by storm! Few seem to remember, but he didn't get called out….he called Maidana out. After the humbling Prescott lost he rebuilt his confidence to the level of calling out the biggest puncher in the division.
With such a spirited effort, in the aftermath, I think you have to give the kid his props. That being said, I think you also have to be careful of the typical "pendulum shift" that most fight fans and media quickly fall victim too. Weeks ago I spoke on how as soon as someone in the sport does something big, the momentum seems to bury the reality. This case is no different.
Everyone was so shocked at Khan doing things we didn't think he could do that most failed to realize had it not been for a somewhat questionable effort from referee Joe Cortez and a few deducted points, the fight could have easily ended as a draw, if not a lost for Khan. The final four rounds, Khan spent on the move avoiding shots, and prior to that, there were a few rounds that could have easily gone the other way had he not stole them in the end. The best report I can give on his effort is that his evolution looks good, but there's still ground to cover. The Freddie Roach fight template is to build leads on cards with powerful, fast flurries. Pacquiao has mastered this style, yet due to size deficiencies, he doesn't have the jab, so he has to flurry a lot more to accumulate his leads, and is hit a bit more as a result when applying this fight plan.
Khan has the height, reach, and length to use his jab, flurry less, and build a good lead without taking as much punishment. When he finally realizes this, he'll be able to depend more on defense, and less on chin durability and unnecessary machismo that may help sell tickets, but may also increase the odds of another painful defeat. He looks much more durable than before, but I don't think he'll ever have Pacquiao's chin!
Marlon S. (Van Nuys, CA): What are your thoughts on Victor Ortiz after seeing his effort against the light-hitting Lamont Peterson?
Vivek W. (ESB): I think we've seen the ceiling of Ortiz's elevation in the sport. Some may see that being a bit critical, but I view the sport from the perspective of a trainer, and I analyze things on an analytical level that only a true student of the game could. Prior to certain fights, I review tons and tons of fight footage. When I review the footage of Ortiz, I see certain adjustments, but in the famous words of "Iron" Mike Tyson, "everyone's got a plan until they get hit"!
The now infamous comments Ortiz made after the loss to Maidana about "not deserving" to take beating in the ring "like that" has been a resonating cloud that forever lingers over his head, and when I watch him start a fight making adjustments, then get hit flush and instantly revert to bad habits, never switching back to the adjustments he spent 8 weeks in a fight camp learning despite the repeated plea from his corner to "remember what he learned", it says a lot. I think Ortiz has decent pop in his punches, but it's all nullified by the lack of heart displayed, which is evident every time he starts to get thumped.
Peterson's power has never been top-tier, and if he was able to use a few faints and jabs to befuddle Ortiz in between power-shots, I don't think those fighters who truly represent the highest echelon of his class will have much of an issue slowing him down or eventually stopping him. Ortiz will defeat the "B" and "C" level fighters of the sport, but I see him playing a role similar to that in which we currently see Zab Judah play. In other words, he'll make it into the "store" like everyone else, but he won't leave with any bags. I'm not the biggest rap fan now days, but to quote my man fiddy, (50 Cent), I'm afraid Ortiz is a "window shopper"!
Leslie H. (Los Angeles, CA): Now that Wladimir Klitschko is no longer scheduled to fight, do you have any faith that the Haye/Wladimir Klitschko fight will actually happen in the spring of next year, and if so, where, and what type of numbers do you think the fight will generate globally?
Vivek W. (ESB): Well…..the initial word around camp is that fight fans and media will finally get the chance to see one of the marquee fights we've wanted to see happen, albeit the lesser of the two, in comparison. The only point of contention between the two camps is said to be the PPV money. Haye wants all the British PPV money, allowing Klitschko to get all money from his region. This stalemate will be interesting to hash out, because technically, Haye hasn't really and truly earned the status necessary to demand such a thing, but you could logically argue that neither has Wladimir. I'd hate to see this issue keep the two men divided, and considering how quickly both camps went public with their "lets move ahead, the coast is clear" banners, I don't see it breaking down again, this time.
When analyzing the true worth of the fight, my opinion somewhat varies. Oscar De La Hoya stated that this is "an event", not just another fight, and while I would agree to an extent, I'm not so sure that it's the same "event" in the United States that it is across the pond. Wladimir Klitschko has a pretty good following here in the U.S., but despite his speed, power, and perceived marketability, David Haye has failed miserably to capture the U.S. based fight public at large by not taking more prominent fights to build his name and elevate his overall status. You have to ask yourself how realistic is it to see a ton of fight fans will go this far for Haye like they did with the Mayweather/Hatton showdown? Judging by continuous statements from fight fans over in the U.K. that I speak to, when it comes to David Haye, his home support is just that….."home" support. I have serious doubts that a huge number of fight fans will travel that far to see him.
Based on that reality, I don't think the fight should be staged in the U.S. at all. Las Vegas has been considered, but realistically, if they're gonna truly push the U.S. presence for this fight, I think New York City's Madison Square Garden would be a better consideration. It's more cost effective for those who have to make that trans-atlantic trek across the pond, and the city is grand enough to host such an affair. That being said, in my book, the fight needs to stay on the fighters side of the pond. The people of that region deserve the right to enjoy the buzz associated with a fight of this magnitude. Furthermore, the promoters involved have to realize that the ultimate location will be very critical to the bottom-line numbers. The live gate fees in that region will be amazing, and so will the PPV counts; however, here in the U.S., I don't expect the PPV number to exceed 700K (if that).
Henry H. (Boston, MA): GBP has stated that they'll be putting Khan in a fight back at home before we potentially see him in against the Alexander/Bradley winner. Looks like they're eyeing Judah. What do you think about this matchup, and who esle would you like to see him face?
Vivek W. (ESB): I've heard about Goldenboy's consideration of Zab Judah for Amir Khan. I love both fighters and don't think it would be a horrible fight to watch, but I'm curious to know what are they trying to accomplish in choosing this particular matchup. If they just want to add a quality name with a limited level of risk to the resume, this is a good option. If they truly want to build on Khan's newfound confidence and give him the kind of work that will prepare him for what truly awaits out there, I'm not so sure this is the formula. Judah will make it entertaining, but I'm just not so sure what will happen late in the fight. I have totally supported Judah and his bid to go down in weight, but I'll be the first to say that I really haven't seen enough in him to make me feel he can be the threat he once was. Experience will only take him so far amongst this group of young guns. I see Khan winning that fight. I don't see much risk involved.
Ideally, what I'd love to see is Khan face Andre Berto. I think that would be an ultimate test for both men. A true barometer for their current value in the game. A decisive victory over Andre Berto and I'd probably support Khan's bid get a Mayweather or Pacquiao type fight. Not that Berto is on that elite level, but what he does bring is speed, decent pop, and youth, which is something few others options present, aside from his jr. welter contemporaries. A win over the Alexander/Bradley winner and Berto would give him my complete endorsement. Stay tuned.
(Check out weekly "Saturday Roundtable" discussions, and daily buzz topics with Vivek Wallace on FaceBook. Vivek Wallace can also be reached at vivexemail@yahoo.com, 954*292*7346, Youtube (VIVEK1251), Twitter (VIVEKWALLACE747), and Skype (VITO-BOXING)