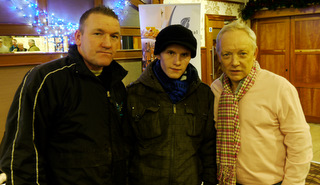 By Brendan Galbraith – Belfast flyweight, Luke 'Winky' Wilton, who has signed a three-year deal with Frank Maloney Promotions, faces former foe, Uzzy Ahmed on the under card of Lindsay-Simpson on the 15th December 2010 in the Kings Hall, Belfast.
And Wilton is keen to avenge a narrow 39-40 points loss to Ahmed in only his fourth professional fight back in 2008:
"I cant wait – I will settle the score this time. He is in for a shock next Wednesday night.
"Training has been brilliant, superb. It has been the best so far, I am only 1 Ilb overweight and I am ready to go. I have been working with a lot of amateurs, particularly for his style."
Wilton was supposed to fight Ahmed on a Maloney card in July but his opponent pulled out of the fight at the last moment:
"There is nothing worse, I was on the scales and he didn't turn up – so I will settle the score for that as well.."
If Wilton comes through his rematch with Ahmed unscathed he is eying a British Title fight with the winner of Shinny Baayar and Paul Edwards in 2011 – which is the co-feature on Kings Hall show.
Promoter Frank Maloney has three flyweight fights on this under card, including Wilton's Belfast rival, Jamie Conlan, recognises the history of the flyweight division to Northern Ireland:
"Northern Ireland has got a history of flyweights", began Maloney. "I remember Hugh Russell beating my brother (Eugene Maloney 3-5-1) at flyweight!" Hugh Russell who was in attendance at yesterday's press conference, this time in his role as an award-winning photographer – raised a fond smile at Maloney's reference.
Maloney continued:
"We have got the Flyweight Title on and I know this will cause interest because we have the two young flyweights on here (Conlan and Wilton)."
"There is a great Irish Title fight down the road for the two flyweights (Jamie Conlan and Luke Wilton) and to use that as a step for the British Title or an eliminator for the European Title. So there are some very good fights there."
Both fighters, Conlan and Wilton, were asked at yesterday's press conference if they would fight each other and there was no hesitation from either man in accepting the challenge that Maloney will inevitably put on in one of his Belfast shows in 2011.
Wilton said: "I would take the fight, no problem. I have no qualms with that at all".
First things first, a rematch and a score to settle with Ahmed.
Wednesday 15th December 2010 at the Kings Hall, Belfast:
Martin Lindsay v John Simpson (British Featherweight Title) & Shinny Bayaar v Paul Edwards (British Flyweight Title).
Prices: £55 (Ringside) £35 and £25
Doors Open: 18:15
Sky Sports Telecast starting at 8pm.
Further information: Call FTM-Sports 020 84677647 or log onto www.frankmaloney.com
The Full Card is:
12 x3 British Featherweight Title
Martin Lindsay v John Simpson
12 x 3 British Flyweight Title
Shinny Bayaar v Paul Edwards
8 x 3 Light Heavyweight
Tony Jeffries v Tommy Tolan
6 x 3 Flyweight
Jamie Conlan v Francis Croes
6 x 3 Flyweight
Luke Wilton v Usman Ahmed
4 x 3 Welterweight
Steven Jevons v TBA
4 x 3 Light Middleweight
Ryan Greene v TBA
4 x 3 Light welterweight
Tony Nellins v TBA
4 x 3 Featherweight
Mike Harvey v Dann Darr
Weigh in will take place in The Balmoral Hotel, Blacks Road, Belfast 14th December 2010 at 3pm.