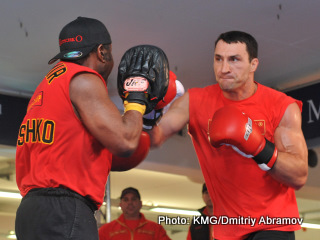 By Maverick Fantana: Wladimir Klitschko made a wise choice in pulling out of the fight against the hard hitting British man Dereck Chisora, obviously someone in his team is as a wise as the three wise men from the very first Christmas. As East Side Boxing readers will know I tipped Chisora to be rated the future number three in the pound for pound boxing ratings if he were to win against the apparent best heavyweight in the world Wladimir Klitschko. In a recent interview which was featured on East Side Boxing, the world's premiere boxing website, Emmanuel Steward expressed concerns about Wladimir fighting Britain's most feared heavyweight prospect and instead it seems like they want to fight the easier option in David Haye, who lives in Cyrpus. As well all know in Britain Dereck Chisora is the most loved Dereck in modern British history, above Derek Griffiths from Playschool or Coronation Street's own Derek Wilton who was of course married to Mavis. Even Derrick Evans AKA Mr Motivator doesn't compare to the inspiration and Christmas spirit Dereck Chisora gives the populace of Great Britain.
I've heard that big six foot six and Wladimir Klitschko had missed training to watch the Corrie tram crash which shocked the world and also he didn't want to miss this Saturday's final of X-Factor, despite the fact that Wagner had already been voted out.. My WWBPL sources tell me that "I have spoken to Shelley Finkel [Wladimir's adviser] and if we can make a Klitschko fight with David Haye we will do that next and if not Wladimir will revert back to fighting Chisora." What can boxing finest fans make of this comment? Well as I have stated previously, pound for pound future number three Chisora would have knocked out Wladimir Klitschko, as they say styles make fights, and these following quotes from Emmanuel Steward speak volumes to real men, such as myself:-
1) "We looked at him very closely. Forget about the fourteen fights. There is a lot of fire and determination in him. So Wladimir is going to have to be on his best P's and Q's for this fight because he's going to be pressured and he's going to be challenged consistently, and not at a slow pace, either."
A real man, such as myself, can see that Mr Steward does not fancy Wladimir's chances against a younger, hungrier opponent. As anyone who has studied boxing will know Wladimir is susceptible to fast starters, or just guys who punch him in the jaw fairly hard. If you have seen Dereck Chisora fight you will know that when the bell rings for the first time he comes out and aims to rip his opponents head off his shoulders, even at Christmas! This is not the type of opponent an ageing 34 year old Wladimir needs to be facing, realistically he wants to be sitting in front of a nice warm fire with his pipe and slippers rather than taking on an unbeaten force in Chisora.
2) "He is going to have to be a little more physical and a little more assertive in this fight. If things go like I would like, in six or seven rounds he will have tired the guy out and worn him out and mentally broken him down, which is one of the most important things we train for with Wladimir."
Let me highlight for you the important bit of this to remember "mentally broken him down, which is one of the most important things we train for with Wladimir." Make no mistake about it, big Dereck has gotten to Wladimir. We all know that on his day Wladimir is a fine boxer who has a tremendous punch but unlike his brother he is not mentally the strongest guy out there. When he gets into trouble he stays in trouble, whereas Vitali will wait it out until the fight has been officially declared called off and then miraculously spring to life and complain it was a premature stoppage. These guys are both Doctors, they are therefore clever and cunning and in it for the money. Easy money in this instance equals David Haye who lives in Cyprus.
3) "This guy is a very determined guy. We're going to have to be careful and keep good balance at all times. We can never get off balance with this guy. I would, in a perfect world for me, say a knockout somewhere about midway through the fight for Wladimir."
We have to read into what is really being said here people. Emmanuel Steward has trained great fighters and he knows who they should fight and who they shouldn't. For example he kept Lennox Lewis away from my all-time favourite heavyweight fighter John Ruiz, and for simple reason, Ruiz would have beaten Lennox Lewis up like it was his birthday in high school. Whilst I am not knocking Wladimir Klitschko in any way for showing brain over brawn, I must simply state the facts. The third comment from Steward acknowledges that Chisora is determined and Wladimir needs to be careful and kept on balance at all times i.e not punched on the chin. A master of chin punching was Mike Tyson, who was beaten in four rounds by Danny Williams who of course got beaten up in two rounds by Dereck Chisora. I don't think anyone in the world would say Wladimir would beat Mike Tyson, but my undeniable logic shows that Chisora would knock Tyson out because he beat the man who beat the man. It's science.
CONCLUSION
Where does Wladimir go from this sudden 'back injury'? As a guy who lambasted David Haye for pulling out of several fights with him and/or his brother, one due to back injury, we can only assume that Wladimir is pulling out of the fight for reason other than 'injury'. His last few fights have consisted of Peter, a man he beat before, Hasim Rahman who is a guy well past his best and Eddie Chambers, a skilful man hopelessly outweighed and should be fighting at Cruiserweight.
Whilst a lot of the boxing community might not have given serious thought to a Chisora win against the vulnerable Klitschko we must put things into perspective. Chisora is a man who lives in England which is facing temperatures of minus twenty. On the other glove David Haye sips Barcadi and basks in the glory of the sunshine in Cyprus, about plus thirty. You tell me which one of these men sounds like they would be hungrier for success? One thing is for sure, Wladimir better be working on a good excuse for running away from Dereck Chisora or he is going on the naughty list right away.