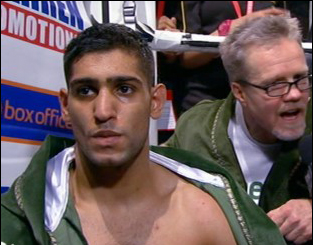 By Fantana: Festive greetings boxing fans! We have a lot to look forward to on Saturday night as Amir Khan battles Maidana in a hotly anticipated battle the likes of which have made 2010 a great year for the manliest of sports. Whilst the British people have been freezing in minus 20 degrees temperatures, the lowest for almost ten months, Amir Khan has kept spirits high on these fine shores. Further adding to Carl Froch's dazzling display against Abraham a fantastic performance by Amir Khan will surely be like Christmas coming early for all real men, such as myself. As always I can back this up with statistics, Briton's are set to splash out £3 billion in the month of December! Surely this is clear evidence of the effect Amir Khan has on the economy, and David Cameron agrees. Another man who had a big impact on the economy was Scrooge, and just like Scrooge Amir Khan will be facing three opponents in one night, in a non-gay way. Here's why:-
CHRISTMAS PAST
Amir Khan's past is littered with glory and reward. An Olympic silver medal, a Range Rover and an undefeated professional record were all his. Yet he suffered a collision with a speed bump along the way, named Breidis Prescott.. Irrespective of what Khan has achieved since then certain members of the public will always bring up Prescott's name as they try and humbug the greatness of Amir Khan. Beating Barrera wasn't enough, winning the world title wasn't enough, stopping the almost unstoppable Paul Malignaggi wasn't enough! These scoundrels demanded Khan go back and fight Breidis Prescott as if he were made out of sterner stuff than the proven world champions Khan duffed up.
But Khan didn't defer from the path set out for him in life, he doesn't dance to the beat of anyone else's drums but his own. In a triumphant display of courage and bravery Amir Khan is taking on Breidis Prescott x 10 in Maidana. He hits harder, boxes better and has less defeats then Prescott and is the mandatory defence for Amir Khan. He has also fought for a world title before. Make no mistake about it, Khan is looking for redemption against Maidana and this spells trouble for his challenger. Khan will put to rest any accusations that he has a glass jaw, or doesn't have the heart to mix it up with a big puncher. He is going in there thinking that a better Breidis Prescott is in front of him and that he has to shut him out completely because it's Christmas and he deserves it. So a win over Maidana is for once and for all putting to rest the ghost of Christmas past in Prescott.
CHRISTMAS PRESENT
The second man Khan is facing is in fact the man in front of him, Maidana. Khan is a wise man for his age, as we can see from his statements on his Facebook page such as "Thinking of getting a lambo lp560 or the farrari California. My dad said it's not the fire time to buy due to the weather." He heeds the advice of others and this is why he has improved rapidly under the guidance of Roach. Khan knows that the decisions and actions of the now impact greatly on the future, he knows whatever the cost he must beat Maidana. Surely no one in their right minds is picking against Khan who is practically unbeaten, especially not when he is as focused as he is and about to buy a new car? A win over Maidana just a few days after Khans 24th birthday clearly cements him as the top 140lb fighter in the world and thus Khan will have beaten the ghost of Christmas present.
CHRISTMAS FUTURE
Fast forward twelve months from now to Christmas 2011. Instead of Manny Pacquiao people will be saying Amir Khan is number 1 pound for pound, I imagine Froch will be rated two and Chisora at 3 and if my other prediction comes true Audley Harrison could be in the top 5 as 2011 will be his year. This isn't because Pacman will invariably loose in 2011, but because if we compare performances in recent bouts Amir Khan is just much better, plus he panned Pacman in sparring. In truth Khan is the best fighter pound for pound right now but has stated he will never fight Manny Pacquiao because they are both trained by Roach. This is understandable; Roach wouldn't want his eight time world champion getting beaten up by the younger and much faster Brit.
So we have to draw a line in the sand in a non-gay way and compare the last performances of each fighter. Pacquaio looked moderately OK against Margarito who is tailored made for Pacman. He was obviously too big and slow to really trouble him just as everyone predicted. Khan on the other hand is as tall as Tony but much faster and more handsome. With a dominating, crushing win over Maidana we can then all look at the sparring footage of Pacman vs King Khan with a clearer picture of who the superior pugilist is. So in effect Khan doesn't have to beat Pacman to be given the #1 title, much like Lennox Lewis didn't have to beat Riddick Bowe to get his belt way back in '92. With a performance as sparkling as tinsel on a Christmas tree Khan will dismiss the ghost of Christmas Future, claiming the top spot in boxing as his own like Scrooge did with that giant Turkey for Tiny Tim.
CONCLUSION
Khan knows that beating Maidana also gets him a moral victory over Prescott, cements his place as the best 140lb fighter on the planet and if he wins emphatically enough he instantly becomes the #1 pound for pound champion, no doubt. I can foresee Amir coming out and finishing things early here, probably knocking Maidana out with a devastating combination within the first couple of rounds, punching his foe in the face and belly. If he chooses to put on more of a show and carry Maidana bet your presents from Santa that it is going to be a clear and decisive win. He won't be troubled at all in this fight, unlike Mayweather was versus Mosley and certainly not like Pacman was against Margarito at times.
No doubt Khan will win, he is after all a superior fighter and on Santa's nice list because he helps out with charity and rarely swears. I think this Christmas will be one of the best for British boxing, especially when Chisora upsets Wlad on the same night.
Yours in manliness,
Fantana
About the author – Fantana's book titled 'Boxing – Rubbing shoulders with the modern greats in a non-gay way ' is available to pre-order from Amazon and all obscure book shops, tentatively set for a 4th February 2011 release.