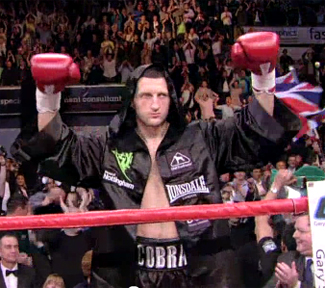 by Geoffrey Ciani – This week's 102nd edition of On the Ropes Boxing Radio featured an exclusive interview with WBC super middleweight champion Carl Froch (27-1, 20 KOs), who is just coming off an impressive victory against Arthur Abraham (31-2, 25 KOs) in Group Stage 3 of the Super Six tournament. Froch is now scheduled to square off against Glen Johnson (51-14-2, 35 KOs) in the semi-finals early next year. Froch provided opinions and insight into his career and future, the Super Six, and other affairs pertaining to the current boxing landscape, including Haye-Harrison, Khan-Maidana, a possible ring return for Ricky Hatton, Pacquiao-Margarito, and more! Here is some of what he had to say:
His evaluation of his performance in his recent unanimous decision victory against Arthur Abraham:
"Yes, it's up there with one of the best performances in my career purely because I stuck to a game plan and I didn't take any punishment in doing so. On top of that I wasn't in against a bum. I was in against a top level fighter who has previously given everybody trouble. So when you add all of those factors together it makes it an even bigger accolade, so it's right up there with like I say my career best."
On whether he was surprised that Abraham was unable to be more effective and competitive:
"No because I nullified his work. Every time he tried to get something going and set his feet to get his bombs throwing, I just stuck the jab in his face and moved out of range. That's why it's called boxing and not fighting. I didn't stand around and fight so it made him look ordinary, but everybody knows he's not ordinary. He is previously the middleweight king and champion of the world. He's caused problems in the super middleweights as well, but he came up against the wrong guy. He had a guy that had the right tactics and employed the correct game plan on the night. It worked perfectly. No, I wasn't surprised how little he got off because I was so good."
On whether he was ever tempted to be drawn into the type of fight Arthur Abraham wanted:
"I was tempted to get drawn in. I was tempted to take myself in voluntarily and have a fight. He was trying to draw me in all night by standing back behind the high held guard and I wasn't going to take the bait, but I was tempted to move in and close the show and put the icing on the cake if you like. My trainer Rob McCracken—he's the master, I'm the student. I listen to him. He told me to keep doing what I'm doing, keep him at range, keep the jab going, keep the right hands and the hooks going, and the body shots. I did everything out at range and it worked perfectly. However, I do feel a little bit of dissatisfaction because I feel I could have gotten the stoppage later on, but I never went for it. I didn't try and stop him."
His views on comments made by trainer Ulli Wegner when he said "you are a coward" to his fighter Arthur Abraham:
"Yeah, that's just a disgrace because you know Arthur Abraham isn't a coward. You've seen how he fights. The amount of punches he took body and head off me, I don't know any coward that would have done that. A coward would have pulled out in the corner or jumped on the floor. So his trainer is totally out of order and disrespectful, and I'm not happy with it."
On where he rates himself in the super middleweight division following his victory:
"Is that a trick question? Because I'm t he best super middleweight in the world."
His views on Andre Ward's claim as the best super middleweight and his recent victory against Sakio Bika:
"I don't see how Andre Ward can be up there with the best in the world because he's not had a significant win. The only fighter he's fought and won where you could say it was a good victory on paper is Mikkel Kessler, but anybody who watched the fight realized what happened in that fight. If that fight would have taken place in Herning in Denmark where I fought Mikkel Kessler, it would have been a disqualification victory for Kessler. What he did was totally out of order, head-butting him, creating cuts above the eyes, and holding. You can't get away with that unless you are at home. So he's not got a significant win on his record for me to say he's the best super middleweight in the world. It's a ludicrous comment. He needs to fight somebody like me, and this is the good thing about the Super Six World Boxing Classic. I feel it's going to be a Froch-Ward final and then we'll find out who the best super middleweight in the world is, because it isn't Lucian Bute I assure you."
His views on his next opponent Glen Johnson as a fighter:
"Glen Johnson's a great fighter and an old veteran, but let's be honest—he's past his best. He's holding on to a dream that's realistically not going to happen. At 41 years old with quite a few losses already on his record he's not going to beat somebody like me, but he deserves respect. He's a good fighter. He means business. He comes to win. So I don't see a problem with that fight to be honest."
On whether Arthur Abraham's power was more than he expected, less than he expected, or about what he expected:
"I heard he was a big puncher, but he was a big puncher at middleweight not super middleweight. Let's not forget I've been in there with the current light heavyweight champion of the world Jean Pascal. I've taken his shots flush on the jaw. Mikkel Kessler was a puncher as was Jermain Taylor. I mean he put me down for the first time in my career. He only hit me with a couple of jabs, Abraham, and a couple of right hands towards the end of the fight on the back of the head so I wasn't able to fully feel his power, but I knew enough from the jab and from his previous fights that he could punch. So when he hit me I wasn't surprised by how hard he did hit, but he did hit hard. I mean if he catches Andre Ward on the chin then we are going to find out what Andre Ward is all about."
His views on who represents a tougher style match-up for him—Andre Ward or Lucian Bute:
"It's difficult to say. They're probably on an even scale, but the reason I say that about Bute is because he is ranked number one in one of the boxing publications and I think it's ridiculous that he's ranked their number one. That's why I brought him into the mix. At the minute I can't separate Bute and Ward because of the fighters they've both faced. Lucian Bute really, really struggled against Librado Andrade. I know he beat him in the rematch, but he shouldn't have struggled like he struggled that first time and Andrade went over easy in the rematch. I don't know if they were ill-prepared for that fight. So there is nothing that stands out on his record and like I said the only thing that stands out on Ward's record is the Kessler defeat and I think that fight was a disgrace. I was watching that fight at my brother's wedding with everybody and everybody agreed it was terrible. What happened was out of order. He gets away with murder in Oakland, Ward does. He gets to do what he wants—throw the elbow in, head-butt, lean on his opponent, and hold him and maul him. It's not pretty to watch. It's not entertaining and I'm not impressed. I've got to be honest."
On whether he saw any new vulnerabilities in Ward in his most recent fight that he had not seen in previous fights:
"Not really. I mean Ward's not a big puncher. He never seems to hurt his opponent or get his opponents out of there, so I know definitely what I need to do to beat Ward and that's impose my authority on him and put him on his back foot. It's a lot down to the referee as well and what the referee allows him to get away with, but I won't allow him maul up close, or hold and hit, and get away with those dirty cheap tactics. I just won't allow it. He'll get some back off me."
On whether he would be willing to fight Andre Ward in Oakland if they meet in the Super Six Finals:
"No, I don't think that would be fair. It wouldn't be fair for me to go to his hometown to fight him the same way it wouldn't be fair for him to come to Nottingham to fight me. It needs to be somewhere like Las Vegas or somewhere neutral where no one has home crowd advantage."
His views on potentially facing Andre Ward somewhere in America should they meet in the finals:
"I think I've got to fight him in America. That's the rules on the Super Six World Boxing Classic contract. The finals and the semi-finals take place state-side. So I'm expecting to fight Ward in America, but I can assure you it won't be Oakland."
On who he considers to be some of the most talented boxers in the world today:
"The usual you'd expect—Floyd Mayweather, Manny Pacquiao, and I think I would have to be up there, too, because like you just said the last five fights have been outrageous fights with top level opposition, and although there is a loss in there, it's a disputed loss and then there was a great comeback fight. I probably wouldn't be able to name you two or three others. I mean David Haye is doing really, really well at heavyweight. If he beats one of the Klitschkos he deserves to be up there as well, but other than that it's just the list I've given you. Some of the all-time greats have retired, like Roy Jones in his day. He was definitely up there pound for pound, and Shane Mosley was a tough fighter and Oscar De La Hoya, but at the minute with active boxers, it's hard to form a big list to be honest. There are a couple of Mexicans that I don't really know. There are a couple of fights that we don't get to see in England."
On whether he thinks it is a bad idea for Ricky Hatton to make a comeback given recent rumors that he could possibly have a fight with Oscar De La Hoya:
"Yeah, I think it's a bad idea for Oscar De La Hoya to make a comeback as well. Forget Ricky Hatton. He should never fight again. He's finished. He should never fight again as far as I'm concerned, especially with what he's been through with his problems with his license. He's made his money. He's done what he's done in boxing and he just needs to leave or he's going to get badly hurt. He was a great fighter, Ricky Hatton. He's achieved great things and he's been wonderful for the sport, but the last thing he needs to do is come out of retirement and I feel the same about Oscar De La Hoya, so no that fight shouldn't happen for either party."
His views on Manny Pacquiao's recent victory against Antonio Margarito when he was outweighed by seventeen pounds on the day of the fight:
"Well they both made the weight the day before, so the fact that he was seventeen pounds heavier than him is insignificant. In fact, it's a disadvantage. So to chuck that in the mix like it's a big feat, I don't think it is. I weighed 169 pounds when I fought Arthur Abraham. I weighed in at 168 the day before. Fighters at the top of the game that do the weight correctly are the best fighters in the world. The fact that Manny Pacquiao was a lot lighter is an advantage, not a disadvantage. But to answer your question, I just thought he was too fast, too skillful, punched too hard, and he had too much for Margarito. You know Margarito seemed to fade because he probably put so much weight on it showed how much he took off, and that's why he faded after round five and six, and I think Manny Pacquiao went easy on him late."
His views on David Haye's third round stoppage victory against Audley Harrison and whether he believes Haye needs to fight a Klitschko:
"I thought the fight was rubbish because Audley Harrison didn't come to fight. I thought it was a brilliant performance by David Haye. He beat the guy who was in front of him. It was just unfortunate that the guy that was in front of him was Audley Harrison and we know what we get with Audley Harrison. We know that he's scared of his own shadow. He's got no heart or courage or determination. He tells lies. He kids himself. He's just a salesman is what he is. He tells you what he's going to do and that he doesn't do it. So I wasn't surprised at all with the result and the way that it happened. I actually thought it would have happened a lot earlier, but David had his own reasons for sort of waiting until round three. David Haye is a great fighter and deserved world champion. He does need the fight with Klitschko. Yeah, he does, but it's not imperative. If the Klitschkos don't want to fight him or if that fight can't be made for fiscal reasons then it's no fault of David Haye's because I know David Haye will fight Klitschko in his next fight, one brother after another because that's the kind of guy he is. He's a fighter. He's confident and he means business. So that fight should happen, and it's through no fault of David Haye's if it doesn't."
On whether he feels Dereck Chisora has any chance against Wladimir Klitschko:
"Well they're heavyweights so you always got a puncher's chance, but I won't be rushing down to the bookies to put my house on it. You got to say Klitschko's winning that one."
His views on Amir Khan's upcoming title defense against Marcos Maidana in light of the fact Khan thought his fight with Abraham would be extremely difficult:
"If he does the right tactics, Khan, and he'll probably take a little bit of confidence from what I did to Abraham to be honest. I mean he was right in his opinion in thinking that it would be a harder fight for me and a closer fight, because potentially it could have been. Based on my last few fights, you could say Carl's going to make hard work of this, Carl Froch could struggle here. But I changed my game plan and I worked out with my trainer what we needed to do to beat Abraham relatively easily. We executed the game plan perfectly. If Amir Khan does the same, he can do the same but it's whether or not he can carry it out because he's not a big, big puncher Khan and we all know he is a little bit suspect around the chin, although he has sort of improved his ability to take a shot through fitness. He's very fit and strong and he seems to be developing and maturing as a man now. He seems to be getting bigger and stronger. They say you can't put muscles on your chin, but you can develop your ability to be able to sustain a shot and his punch resistance seems to be a lot better than what it used to be. So even if he gets caught by Maidana, he will probably still be okay but I don't think it will be a one-sided shutout like mine was. Who knows? Khan is very fit and fast and he moves well. He's got youth on his side. He's got fast hands and good range. So if he employs the right tactics there is no reason why it can't be an easy night's work for him. He's just got to keep that chin out of the way and keep that guard up tight."
On whether he would want to avenge his only loss against Mikkel Kessler if he wins the Super Six:
"No, not at all. I don't consider the Mikkel Kessler defeat to be a defeat. I think I did enough to win the fight. I watched it three times and I scored it with me winning and I scored it subjectively in his favor seeing what the judges might of seen with the crowd cheering him and cheering all his work that wasn't landing, and the best that I could give Mikkel Kessler was a draw. I was friends with Mikkel Kessler before the fight and I'm still friends after the fight. I got no ambitions to beat the guy up and finish his career or do him some serious damage because I quite like him. I spoke to him the other night. I keep in touch with him on the phone. So on a personal level I don't actually want to fight Mikkel Kessler again. If the fight is there and the public wants it, and we're going to get paid a ludicrous amount of money, then I will happily beat him up to show everybody that fight should have never gone the way it did. I think if you ask Mikkel Kessler if he wants the fight, he will tell you he doesn't want the fight because he knows what's going to happen. I've had a good chat with him. We speak and he knows there is only one winner in that fight. I'm not looking at that little blemish on my record as a problem. I'm really not."
On whether he believes Mikkel Kessler can ever have a successful return following his eye injury:
"I don't think he'll come back at all. I think now he's retired. I don't think he'll fight again. I'll be surprised if he does. I can't speak for Mikkel Kessler. I can only speak from what I think. I don't think he'll box again, but I might be wrong. He might very well still have a desire to still fight on. If he does, fair enough, but my opinion is he won't fight again."
His expectations when he steps into the ring against Glen Johnson in the Super Six semi-finals:
"Against Glen Johnson I expect to beat him. If I have to beat him on points and do what I did against Abraham, I will do that because I think the way I fought against Abraham, if I do that with any boxer in the world, with any shape, size style, or experience, that sort of performance beats anybody. If it has to go twelve rounds on points, then so be it. I obviously punch hard. If I decide to close the show or if I see an opening and go for it, then the fight will be over early, but at minimum I see a victory for 'The Cobra'."
His views on where he will be ranked pound-for-pound if he wins the Super Six:
"I think once I win the Super Six World Boxing Classic, I will be well deserving of at least a top three spot in the pound-for-pound best fighters in the world."
***
For those interested in listening to the Carl Froch interview in its entirety, it begins approximately one hour and forty-six minutes into the program.
***
To learn more about "On the Ropes Boxing Radio:
Visit our official Website:
http://www.ontheropesboxingradio.com
Join our Facebook Group:
http://www.facebook.com/group.php?gid=231954175413&ref=ts
Or Follow us on Twitter:
http://twitter.com/JennaOnTheRopes
To contact Geoffrey Ciani or Jenna J:
ontheropes@boxing247.com
To read more by Ciani or Jenna please visit The Mushroom Mag:
http://www.eatthemushroom.com/mag