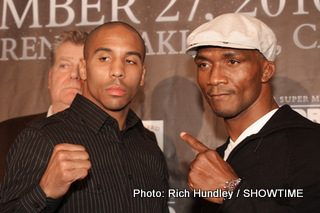 By James Slater – Cameroon tough guy Sakio Bika, known as "The Scorpion," has warned unbeaten possible star of the future Andre Ward about his formidable power, saying he has what it takes to upset the odds on Saturday night. As fans know, the Australian-based Bika got the call to come into the "Super Six" tourney and face Ward when Andre Dirrell, Ward's buddy, pulled out with neurological issues.
Fresh off his 1st-round DQ loss against Jean Paul Mendy, who Bika hit whilst he was down in their July meeting, the 31-year-old with the 28-4-2(19) record gets the biggest fight of his career since his IBF and WBO title challenge of Welshman Joe Calzaghe back in 2006. But can Bika make the most of his huge opportunity?
We all know Bika is rough and tough (known to throw the odd head-butt, never stopped), but can his somewhat crude skills possibly get the job done against the superbly skilled, fast and all but flawless-looking Ward.?
The 26-year-old with the 22-0(13) record burst onto the world stage with his WBA title-winning effort against the formidable Mikel Kessler. The deeply religious Ward put on a clinic and took a victory over the busted up Dane via 11th-round Technical Decision. There was nothing technical about it though; Ward was way better than Kessler in every department, to the surprise of many.
Since then, Ward has seen off a reluctant Allan Green, and his sheer talent combined with his momentum makes it clear that only a huge upset will see him lose to the slower, less naturally gifted Bika. Saturday's fight doesn't figure to be an easy win for Ward; "S.O.G" will simply make it look that way – as all the great ones do. Great ones? Is Ward deserving of being mentioned as a great fighter already? Maybe not, but he sure is doing everything right as he gets closer and closer to being associated with the very best in boxing.
Bika, with his physical strength and his often unpredictable approach (let's hope he keeps it clean in this one!) will give Ward something to think about in there, but he won't win. Bika won't lose his perfect record when it comes to never having been stopped, either. Look for Ward to win, possibly by way of shut-out, on the score-cards.
But, with the inevitable war/FOTY candidate that is Froch-Abraham taking place that same night, will a dominant win by Ward grab the headlines? I have a feeling that, as good as Ward is, the fans will on Sunday be talking about the other "Super Six" clash that happened the night before!