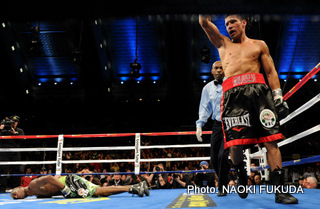 By Michael Montero – This past Saturday Sergio "Maravilla" Martinez not only defended his middleweight championship, he solidified his position as the consensus #3 on the pound for pound list of best fighters worldwide. Furthermore, he gave us the top contender for the 2010 "Knock Out of the Year" via a stunning left cross that rendered opponent Paul Williams face first on the canvas in the 2nd round of their much anticipated rematch. Lastly, he put himself on the short list for this "Fighter of the Year", having previously scored a big win over former middleweight champ Kelly Pavlik back in April. Indeed, 2010 has proven to be quite a year for the Argentine!
Looking back, it's hard to believe that boxing's powerbroker promoters, Top Rank and Golden Boy, passed on Martinez a few years ago when advisor Sampson Lewkowicz shopped his discovery in attempts to link with an American promoter. What a difference a few years makes. Sergio Martinez is now the hottest fighter in boxing short of Manny Pacquiao – and while the "big boys" of the promotion game are kicking themselves in the butt, midlevel promoter Lou DiBella has to be smiling ear to ear. DiBella, who's always had an eye for talent, knew he wanted to sign Martinez as soon as he watched a DVD of his fights that Lewkowicz sent him. It turned out to be the best move of his promotional career..
The southpaw speedster made his American network premiere on HBO in October 2008 against seasoned veteran Alex Bunema. An impression was made, and we all knew we'd be seeing more of this guy. In early 2009 Martinez manhandled top contender Kermit Cintron, yet was robbed of victory twice on the same night. The official allowed the fight to continue after Martinez dropped Cintron and the Puerto Rican couldn't beat the count. The bout ended up going to the cards and the judges screwed up what should have been a clear decision win by calling it a draw. Undeterred by the travesty, Sergio moved forward to bigger things. Late in the year, when Kelly Pavlik pulled out of a scheduled bout with Paul "The Punisher" Williams, Martinez jumped at the opportunity. The clash with Williams turned out to be one of the best fights of the year and when The Punisher scrapped by with a close, controversial decision, a rematch was inevitable. The rematch proved difficult to make as negotiations between the two camps repeatedly stalled out, so the Martinez camp went a different way and Sergio faced Pavlik for the linear 160 pound title in April. Again the stakes were raised and again Sergio raised his game en route to a clear decision victory over a bloodied and battered Pavlik. Now the middleweight champ of the world, the stage was set for the Williams rematch and almost a full year after their first fight, boxing fans across the world finally got their wish. The first round was action packed and surprising as Maravilla employed an aggressive, pressure fighting game plan as opposed to his usual cautious boxing style. I felt Williams showed some good counterpunching and I actually gave him the round by a narrow margin. More of the same followed in the second round until about a minute in when Williams lunged forward, attempting to land a punch, moving directly into a perfectly placed shot that he never saw coming. A split second later Paul's jaw was hit flush and he immediately went limp, falling face first to the canvas. This was the type of knock out where you knew the man was out before he even went down – BAM! It was very reminiscent of Manny Pacquiao's left cross knock out of Ricky Hatton last year.
In my opinion Sergio Martinez is the obvious favorite for Fighter of the Year and everybody else is far behind. In defeating Pavlik, he claimed the undisputed middleweight crown. In knocking out Williams he further legitimized that title, avenged a previous controversial loss and defeated a consensus top five pound for pound fighter. That's Fighter of the Year type stuff! Best of all, he accomplished all of this in exciting, decisive action. Even better, Martinez seems to grow more confident and improve as a fighter with every bout. At this rate, it seems the sky is the limit for Maravilla in 2011. Whomever he fights, we'll all be watching.
RANDOM RANTS AND RAVES:
– Unfortunately, I don't think we'll see a Pacquiao-Mayweather bout next year. In fact, I think it's quite possible we won't see Mayweather in the ring at all. If he does return, the only names "Money" should mention are Manny Pacquiao or Sergio Martinez. If he returns to the ring and fights anybody other than those two, his already plummeting credibility will be all but lost. Sadly, his biggest bout next year may be in the courtroom.
– Just as unfortunate, I don't foresee a Klitschko-Haye match happening next year. Unlike the Pac-May debacle, which carries blame on both sides, this one is cut and dry. It's clear to any unbiased observer that David Haye is the one at fault here. He's been offered 50/50 deals (with no options) from each Klitschko brother and still found a way to duck them. Both have been more than willing to fight in the Londoner's hometown, yet they were still turned down. Short of giving him 90% of the purse, I don't think either Klitschko will get Haye in the ring next year, if ever.
– Props to Showtime for not only finding a way to save the Super Six Tournament by adding consummate professional Glen Johnson to the mix, but also for signing Lucian Bute to a three fight deal. Bute is the #1 or #2 super middleweight in the world (interchangeable with Andre Ward) and now everything is lined up for him to face the winner of the Super Six. What's not to love there? Showtime gets it!
– Big props to Glen Johnson for giving us even more reason to love him. The guy comes into the Super Six at the last second, drops down from 175 to 168 (his first time at that weight in a decade) and rids us of Allan Green for good. Thank you "Road Warrior"! Don't get me wrong, Green seems like a good guy, but he completely blew it in every one of his big opportunities as a pro. He just seemed to fight scared anytime he stepped up in competition and made for frustrating (sometimes awful) bouts to watch. Johnson came in and did what tournament favorite Andre Ward couldn't do – he stopped the all bark, no bite Allen Green. Whether he wins it all or not, Johnson saved the seemingly doomed Super Six from the brink of disaster.
– Here's hoping that HBO has taken note of what Showtime is doing with the super middleweights (as well as the bantamweights) and they follow thru with their investment at 140 pounds. Bradley- Alexander is set for St Louis this coming January (yours truly will be there) and of course Kahn-Maidana is coming up next month. There's absolutely NO reason the winners of those two bouts shouldn't face one another by year's end 2011. The last man standing would not only be a top five pound for pounder, but the heir apparent to Manny Pacquiao (and a possible future opponent, should he still be around in 2012). And no I don't mention Mayweather in the discussion because I don't believe he'd fight any of those men. He has a pattern of avoiding those type of fights.
– Continuing on that topic, I want to make something clear. Boxing fans continue to argue who's at fault for Pacquiao-Mayweather not happening, who would win in a potential matchup, who has faced the tougher opponents, etc. And while everybody is entitled to their opinion, there is one element of the argument that remains crystal clear to me. I keep hearing members of the Mayweather camp and his fans alike say things like, "May would've whooped Margarito if they fought" or "Floyd could've destroyed Cotto if the fought". Here's the point guys – Pacquiao did. There is no "would" or "could" with Pacquiao because he actually did. It's one thing to sit back and say "I would have", it's another to say "I did". We'll probably see Manny fight Shane Mosley next year. If "Pacman" stops Shane in dominant fashion what can Floyd's people say then? The guy has fought everybody. And please don't say "he should fight the Alexander-Bradley winner next" because as I stated above, the winner of that match should fight the Kahn-Maidana winner before anybody else. Bottom line, there's simply no more justification for Mayweather's excuses, demands and constant insulting of our intelligence. For him to claim that negotiations with team Pacquiao "never took place" this past summer is beyond insulting to our intelligence, it's insulting to our sanity.
– A little food for thought regarding Antonio Margarito. After watching replays of his bouts against Pacquiao and Miguel Cotto, I noticed a staggering difference. Margarito landed 229 total punches on Pacman and his face did show some effects, but nothing substantial. Yet while he landed a tad more (267) against Cotto, the damage on the Puerto Rican's face was much greater. It was the type of damage I saw that bothered me the most – the abnormal swelling, bruising and lacerations. Considering that Pacquiao landed 336 shots on Cotto when they fought – yet his face wasn't half as rearranged – it leaves me with little doubt that Tony's hands had been wrapped with a little something extra well before his ill fated match with Shane Mosley. I'm just saying…
– Funny how a year can change everything huh? For the longest time, team Kelly Pavlik and team Paul Williams repeatedly uttered phrases like "we don't need that fight" and "we're going a different way". Now, the two have them may not have anywhere else to go. They need each other more now than ever. But can Pavlik make 160 pounds anymore? And will Williams fight at 160 again? His camp says he'll go back down to 154 and will stay there from here on out, claiming he's not a "natural middleweight". For what it's worth, I still think that's a terrific fight, but will it ever happen? Only time will tell.
– Crystal ball fortune telling/prediction time: there will be an American heavyweight champion in the next twenty years and he'll be from the Los Angeles area, of Mexican-American heritage. I'm picturing a bigger, stronger Cristobal Arreola that actually takes his craft seriously and stays in relatively good shape. Am I crazy? Is this just a pipe dream? Maybe, but I think this scenario is very possible and would do wonders for the future of the sport in United States.
Happy Thanksgiving everybody! Questions, comments, hate mail? You know what to do.
Ciao,
Michael Montero
mjbdetroit@aol.com
PS: if you ever wanna talk boxing, hit me up on Facebook (use my email to search)