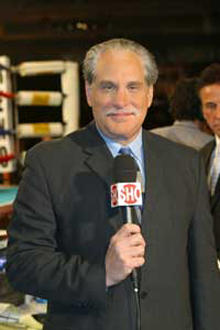 by Geoffrey Ciani – This week's 97th edition of On the Ropes Boxing Radio featured an exclusive interview with Showtime commentator Al Bernstein. Al discussed a variety of topics, including the Super Six, the bantamweight tournament, Pascal-Hopkins, Marquez-Lopez, Pacquiao-Margarito, Glen Johnson, and his new on-line boxing channel. Here is what he had to say:
His initial reactions to all the recent changes and replacements that have transpired in the Super Six:
"Well you know, obviously when something goes on like that does and there is the potential for change and issues, sometimes that's going to happen. In this case, clearly there were a few bad breaks with injuries, etc, but for the most part what happens is that we've had changes and we're hoping to get to the end of this and create some more excitement with these matches."
His views on the news that Andre Dirrell was forced to pull out of the tournament:
"Well obviously some people are a little skeptical about it, and I understand that. I get why they might be because clearly we didn't hear about these injuries or potential neurological problems when the fight was made with Andre Ward for November 27. They came after. Beyond that, you have to accept the veracity of what they're saying. It's unfortunate. It's really unfortunate because (1) it would have been a very interesting fight with Dirrell and Ward, and (2) obviously as much as anything, that throws a big monkey wrench into the tournament. Obviously nobody wants a fighter to get hurt and you would not want him to fight if it's not appropriate, but I think Dirrell and his camp certainly left room for skepticism about their assertions."
On what other reasons he could think of as to why Dirrell would not want to face Ward:
"Well, I mean I don't know. One would be that I don't think Ward and Dirrell were anxious to fight each other in any case. Both would admit that they weren't that crazy about fighting each other at this juncture, but it was penciled into the tournament and you have to assume that they were going to. So some would look at that as a potential reason and really beyond that, I don't know what other one there would be, but for whatever reason they chose not to."
On the fact that the fight between Andre Ward and Sakio Bika will take place outside the Super Six:
"Well you know, I think part of the problem is that you can only ask so many people into the tournament. You can only water it down so much, I guess somebody might say. They could use that statement. I think at that juncture we already had Glen Johnson fighting Allan Green, and I think they just decided he already made it into the semifinals Ward, and I think that was part of the reason why they decided to do that. It's a tough situation. I can say, while I don't make those decisions with Showtime I am at least privy to some of the thinking and debate that goes on. There were many scenarios debated, and it was really hard to come up with something that they thought might work for the fans and work for the tournament as well."
On whether he believes Glen Johnson will be able to perform at super middleweight given the fact he has been a light heavyweight for approximately ten years:
"Well you know it's interesting. I'm a big Glen Johnson fan. I think most people that like boxing and know him at all, have to be impressed with Glen Johnson as a human being. He's wonderful and still fighting at a very high level. He just lost a very, very close decision to Tavoris Cloud in a fight he could have easily gotten the decision on. Coming down to 168 is another issue. He doesn't always fight up there at 175, but the last time out he looked a little fleshy. I hope he can get down to 168. They say the can, and I certainly hope he does. Will it sap him of energy? I don't know. He's the kind of fighter, he's not a big knockout puncher but he needs energy because he's a walk-in kind of fighter who's very busy and likes to throw a lot of punches."
His views on whether he believes anyone can beat Andre Ward given the fact he previously stated that he thought Andre Dirrell had the best style to match up against Ward:
"Chances are, well there are many scenarios as to who he might fight depending on how the points spread down. We don't know who's going to win the Froch-Abraham fight and we don't know how many points someone will get with the Glen Johnson-Allan Green fight, so we don't know who he would fight. Of those four people the interesting is if he were, people are probably going to laugh at this, but if he were 100% right and the weight agreed with him, an interesting style match-up would be Glen Johnson simply because he has the style where he's always inside, he smothers your punches, and that could be somewhat effective—although, we saw Andre Ward fight very well on the inside against Allan Green, but that was an Allan Green that was not very active. It's going to be hard. Arthur Abraham has been a very effective fighter for the most part, other than the recent fight against Dirrell, with that peek-a-boo style where he comes out of that shell and punches. But Andre Ward is such a clever, smart, economical fighter that I can't see him falling prey to that. With Carl Froch, out of all the fighters in the tournament in some way, he has the biggest upside and the biggest downside. The biggest upside is that he has a great chin and when he fights appropriately he's hell on wheels, but sometimes he doesn't. He throws wide punches and just doesn't fight as well as he might. So right now you have to rate Andre Ward a pretty big favorite. That isn't to say that some of these people can't beat him. I could see an Abraham or a Froch potentially beating him, but it's going to be an uphill struggle."
On whether he was surprised that Jean Pascal became the first fighter to defeat Chad Dawson:
"A little bit. Of course in the fight itself, Dawson was kind of coming on late in the fight and it would have been interesting if the fight had continued without the cut, but I am a little surprised. I have respect for Jean Pascal. He had a great fight with Carl Froch when he lost and then was able to win the light heavyweight title, and has been getting better, and better, and better. I just didn't know if he would match up there. I thought Chad Dawson, to be honest, at his best he's one of the best fighters in boxing, but I think what happened was Chad Dawson beat himself and he beat himself in many different ways. All is not right with the Dawson camp. I don't if all is right with him in terms of how is life is going, and I think basically that added a lot to the victory."
His views on the upcoming fight between Jean Pascal and Bernard Hopkins:
"Well you know, if you're going to be Jean Pascal fighting Bernard Hopkins, I think you want to fight him coming off that performance against Roy Jones Junior as opposed to the performance against Kelly Pavlik. Clearly Bernard Hopkins wasn't quite as effective there as he was against Pavlik, and I thought that was the first true signs of age that we have seen from Hopkins in the Roy Jones Junior fight. Obviously he won the fight, but it was such an odd fight and it was just so strange. He wasn't the fighter, I didn't think was there. It's an interesting fight. I mean Hopkins is one of those people, though, that you can never count out. He may have an off performance and then he comes back with something special, and for the most part he wins. He's so clever in the ring, and Pascal is a good fighter. I don't know if anyone would call him a great fighter at this point, but he's very good. So it's going to be an intriguing match-up. I hope the Bernard Hopkins that shows up is the one that wants to throw punches and wants to engage, and that will make it more entertaining."
On his on-line boxing channel:
"I've signed on as executive producer of BoxingChannel.com which is a boxing channel that's already up, and providing coverage, and interviews, and most importantly is providing boxing action. One of the things that I'm most excited about with the channel is that it has the exclusive rights to the foreign boxing library. We roll out about every week. There are great fights in the foreign boxing library including great champions like Daniel Zaragoza, Juan Manuel Marquez, and Marco Antonio Barrera and all of those great fighters. We just put up the Paul Benke-Daniel Zaragoza trilogy which is three of the best fights, and one of the best trilogies maybe and one of the best four or five ever in the history of boxing. So those fights haven't been seen in twenty years and many people never saw them, so I'm kind of excited about that. It's all free. All you have to do is go there. You don't have to sign up for anything or do anything. You just watch. It's BoxingChannel.com.
On whether he believes a fight between Manny Pacquiao and Floyd Mayweather can still happen in 2011:
"I'm actually less optimistic. For one thing, I think Floyd Mayweather's legal issues are considerable. I live here in Las Vegas and many people I talk to suggest this is not going to be a walk in the park for him and that there are many potential ramifications. So I'm not sure. He postponed this fight, or not postponed, but decided against fighting Pacquiao partially because of the legal issues of his uncle. Well his uncle's legal issues are not even as extreme as his now, so I'm not sure that he will be able to concentrate and be a part of a match next year and I also think that Manny Pacquiao is going to come to the end of things and I don't think he'll desperately pursue it."
His views on the upcoming fight between Manny Pacquiao and Antonio Margarito:
"It's interesting. Obviously Margarito has been diminished some because of his loss to Mosley and also the issue with the gloves in which now people have questions about whether his power was there as much as we thought to begin with. Obviously he's a bigger stronger man and we would have thought two years ago or three years ago it was crazy for Pacquiao to fight him. For Margarito it's all about the power and the strength, and for Pacquiao it's all about the combination punching and lateral movement and agility. I always felt that Margarito had some serious defensive liabilities, and those defensive liabilities could hurt him badly in this fight with Pacquiao."
His views on Antonio Tarver's heavyweight debut:
"Well Antonio obviously works with us in the Showtime booth as a broadcaster, so I've had more contact with him in recent months than before. My opinion is that I think that heavyweight is a stretch for Antonio. The cruiserweight division it seems to me would have been a better fit probably because he could have gone up there and it wouldn't have been such a dramatic weight gain and I think it probably would have been better for him. But nobody wants to stop at the cruiserweight division. Everyone feels there is big money in the heavyweights, but nowadays heavyweights are much bigger. I think for a fighter like Antonio Tarver to get up there and compete with those big, big, big men is going to be really difficult for him. I just think it's going to be hard. He may beat some 220 pound heavyweights or beat heavyweights like Aguilera at a certain level, but I think it's going to be very difficult for him to beat the bigger heavyweights and it really would be, I think, a stretch to think that he would beat one of the Klitschkos. I love Antonio and he's a great guy. What he showed I thought in that fight was he still has skills. The skill-level is still there and he handled himself fairly well, but I just don't know in the grand scheme whether that will equate into something meaningful in the heavyweight division."
His views on the upcoming bantamweight tournament:
"Well obviously, thank God, Ken Hershman may survive because it's only two rounds and it's a little easier to manage than the Super Six idea. I think the four fighters obviously have already shown they can make great matches with each other, because Agbeko and Perez is a rematch of what was a phenomenal fight, and Darchinyan and Agbeko fought before, Mares fought Perez before, and everyone of the three fights I just mentioned were tremendous and I was privileged to call all three of those fights. So this bantamweight tournament really should be excellent. It's hard to look at any of the match-ups with those four fighters and think that one of the match-ups would not be good."
His views on the upcoming fight between Rafael Marquez and Juan Manuel Lopez:
"I'm so looking forward to it. I think all revolved around whether Rafael Marquez, who's stepping up in weight, can deal with the power of Juan Manuel Lopez in any respect. If he can, we're going to have a shoot-out. He will hit Lopez. Lopez is vulnerable, he was down against Juan Concepcion, he was in huge trouble against Rogers Mtagwa, but he's also resilient. Rafael Marquez is going to have to fight a very, very good fight, but he's a Hall of Famer and he has one of the best offensive arsenals of anybody in boxing. So I think it could wind up being really a classic match."
On which fight coming up he is most interested in watching:
"Oh boy. Well, probably for me anyway, another fight that I'm looking forward to is Amir Khan and Maidana. I think that one's going to be a really good fight and I think it could be really exciting. For me, probably of the ones I'm doing, I think that night of the bantamweights. That to me has the earmarks of being a really fun evening."
***
For those interested in listening to the Al Bernstein interview in its entirety, it begins approximately fifty-seven minutes into the program.
***
To learn more about "On the Ropes Boxing Radio:
Visit our official Website:
http://www.ontheropesboxingradio.com
Join our Facebook Group:
http://www.facebook.com/group.php?gid=231954175413&ref=ts
Or Follow us on Twitter:
http://twitter.com/JennaOnTheRopes
To contact Geoffrey Ciani or Jenna J:
ontheropes@boxing247.com
To read more by Ciani or Jenna please visit The Mushroom Mag:
http://www.eatthemushroom.com/mag