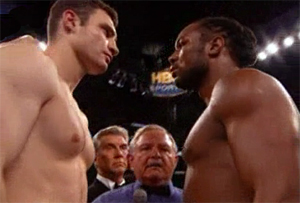 by Geoffrey Ciani – When IBF/WBO heavyweight champion of the world Wladimir Klitschko (55-3, 49 KOs) recently defeated Samuel Peter (34-3, 27 KOs) by tenth round knockout, it was typical of his recent efforts. Since winning the IBF version of the belt against Chris Byrd in April 2006, Klitschko has now successfully defended the title nine times. He also defended the WBO version of the title on five occasions since winning the strap from Sultan Ibragimov during a 2008 unification bout.
What is most impressive about Klitschko's reign is not that he continues winning, but the manner by which he wins. Klitschko has dominated all who have been put in front of him. Eight of his nine title defenses have ended inside the distance, and he has rarely lost a round during that stretch. In fact not only does Klitschko hardly ever lose rounds, but he has become so effective with his fighting style that he seldom gets hit. The last time Wladimir was truly tested inside the ring was back in September 2005, when he fought Sam Peter the first time in a fight which saw Wladimir dropped three times in a winning effort.
This got me thinking about the best heavyweight title fights over the last ten years or so. Interestingly enough, despite becoming a dominant force in the heavyweight division over the better part of the last five years, Wladimir Klitschko has never really been involved in any of the better title fights from that period. Aside from losses suffered against the likes of Corrie Sanders and Lamon Brewster, Wladimir has dominated virtually every title fight he has been involved in. So what were the ten best heavyweight title fights between 2000 and 2009?
Here is my take:
10. Lamon Brewster TKO9 Luan Krasniqi
DATE: September 28, 2005
LOCATION: Hamburg, Germany
RECAP: This was Brewster's third defense of the WBO title. He was coming off of an impressive first round knockout victory against Andrew Golota, and he picked things up right where he left off. Brewster came out swinging and looked to make quick work of Krasniqi, but the German fighter began finding the mark with his jab. Krasniqi began growing more confident and started throwing more combinations in the subsequent rounds. The decision to begin standing toe-to-toe with Brewster ultimately backfired. Krasniqi was tagged with a nice left hook near the end of the eighth that forced the him to the canvas. After a controversial long count, Krasniqi survived until the end of the round. Still behind on all the cards entering the ninth, Brewster looked to finish Krasniqi with a vicious assault. It appeared Krasniqi would survive yet another round until he was nailed with a good right hand with only seconds remaining. Krasniqi was again sent to the canvas which prompted the referee to call a halt to the contest.
9. Vitali Klitschko TKO8 Corrie Sanders
DATE: April 24, 2004
LOCATION: Los Angeles, California
RECAP: This fight was for the vacant WBC title following the somewhat surprising retirement of Lennox Lewis. Klitschko had lost to Lewis ten months earlier in a fight he was winning before it was stopped due to a grotesque cut on the eyelid. Making matters more interesting, Sanders had scored a shocking knockout victory against Vitali's younger brother a year earlier. In the opening round, Sanders almost became the first person to officially drop Vitali when a solid left hand had him on uneasy legs. Vitali persevered. With each passing round, Klitschko became more accustomed to Sanders speed and took control, but Sanders never stopped trying. The fight was eventually stopped near the end of the eighth round after an accumulation of punches rendered Sanders helpless.
8. Chris Byrd SD Jameel McCline
DATE: November 13, 2004
LOCATION: New York, New York
RECAP: This was Chris Byrd's third defense of the IBF title. He was coming off of a somewhat controversial draw against Andrew Golota and McCline was on a three fight winning streak since losing to Wladimir Klitschko nearly two years earlier. Fights between former sparring partners often turn into lackluster affairs, but that was not the case in this one. The bigger McCline sought to impose his physical size and strength on Byrd early, and it paid off. McCline dropped Byrd with a big punch in the second and it almost appeared as if there was an upset in the making. It was an uphill battle for Byrd, but he showed tremendous heart and battled his way back into the contest. The slicker, quicker Byrd began really finding his rhythm as McCline grew sluggish in the later rounds. Byrd was ultimately awarded a hard-earned split decision victory with the final scorecards reading 115-112, 114-113, and 112-114.
7. Lennox Lewis KO8 Mike Tyson
DATE: June 8, 2002
LOCATION: Memphis, Tennessee
RECAP: This was one heavyweight fight fans had been talking about for years. When it finally happened, both fighters had already seen their best days pass by but Tyson was much further removed from his prime and it showed. Lewis had gone 10-1-1 in title fights since 1997, whereas Tyson was just 0-1 during that same period, with that one loss being in the now infamous ear-biting incident with Evander Holyfield. True to form, Tyson stormed out looking for a knockout while Lewis, who was usually known as a safety first fighter, uncharacteristically stood toe-to-toe looking to earn Mike's respect. Tyson won the first round on pure aggression, but Lewis landed a nice uppercut which may well have changed the course of the fight. It was all downhill for Tyson from there. Lewis was peppering Tyson with stiff jabs and big right hands all throughout the fight until he was ultimately worn down both mentally and physically. Lewis finally sent Tyson to the canvas with a big right hand (and a little push for good measure) in the eighth round, and that was it. Tyson remained on his back and was counted out without making much of an effort to rise to his feet.
6. Lennox Lewis KO4 Hasim Rahman (rematch)
DATE: November 17, 2001
LOCATION: Las Vegas, Nevada
RECAP: Rahman was attempting to make his first defense of the WBC/IBF titles he had won from Lewis seven months earlier in the shocking upset in South Africa. This fight was also preceded by a battle in the court room, where Lewis ensured that he would get his immediate rematch. Many questioned how Lewis would respond in the return bout. After all, when he avenged his only other career loss against Oliver McCall, it was under strange circumstances which saw an emotionally disturbed McCall break down crying in the ring. This time, however, Lewis left no doubts that he was the better fighter. After dominating the action with his jab and superior skills, Lewis closed the show with one of the best right hands in recent memory which sent Rahman crashing to the center of the canvas in round four.
5. Oleg Maskaev TKO12 Hasim Rahman (rematch)
DATE: August 12, 2006
LOCATION: Las Vegas, Nevada
RECAP: Rahman was attempting to defend his WBC title for the second time. These two had already met almost seven years earlier when Maskaev scored a dramatic eighth round knockout which literally sent Rahman out of the ring. Despite the result of their first encounter, Maskaev was an underdog going into this one. Experts viewed him as slower and more battle-worn, and few were expecting Maskaev to be competitive let alone win. As the old saying goes, styles make fights. For whatever reason, Maskaev just matched up well with Rahman. The fight was competitive through the midway point and Maskaev began taking control in the later parts of the fight, culminating in a dramatic twelfth round stoppage that was eerily reminiscent of their first fight. Following the widespread popularity of the 2005 motion picture Cinderella Man, inevitable comparisons between Maskaev and James Braddock ensued.
4. Hasim Rahman KO5 Lennox Lewis
DATE: April 22, 2001
LOCATION: Gauteng, South Africa
RECAP: Lewis was looking to defend his WBC/IBF titles for the fourth time since beating Evander Holyfield in their November 1999 rematch. Rahman was expected to be nothing more than another Lewis victim in the lead-up to an inevitable mega showdown between Lewis and Tyson. Unfortunately for Lewis, Rahman had other plans in mind. Lewis showed up in South Africa just a few weeks before the fight. He had been on the film set for the movie Ocean Eleven while training for this fight, and according to rumors, Lewis was overconfident and taking Rahman lightly. The fight was competitive, although both fighters appeared tired as early as the third round. In round five, Lewis appeared to be gaining momentum when he was suddenly backed across the ring by a series of Rahman jabs. Lewis seemed amused by Rahman's attack, and he smiled. An instant later, he was on the canvas being counted out compliments of a Rahman right hand. Rahman's upset victory naturally brought back memories of Buster Douglas.
3. Chris Byrd D Andrew Golota
DATE: Aril 17, 2004
LOCATION: New York, New York
RECAP: This was Byrd's second defense of his IBF title and it was a fight that came up unexpectedly. Byrd was originally slated to defend his title against DaVarryl Williamson, but an injury forced him to pull out. When Andrew Golota (who had recently just signed with Don King) got the call as a late replacement, uproar ensued throughout the boxing community. Golota only had two fights since his meltdown against Mike Tyson nearly four years earlier and many viewed him as an undeserving challenger. The fight itself, however, exceeded all expectations. It was a brilliant clash of styles that saw a slick counter puncher and a boxer/puncher engage in a dramatic twelve rounds of action. It was a back and forth encounter where both fighters had their moments and many rounds were extremely difficult to score. In the end, Byrd retained his title with a somewhat controversial draw in a bout many observers felt Golota did enough to win. Unfortunately they never had a rematch, despite having such an entertaining affair.
2. Lennox Lewis TKO6 Vitali Klitschko
DATE: June 21, 2003
LOCATION: Los Angeles, California
RECAP: Lennox Lewis had waited almost a full year for a Tyson rematch, but "Iron" Mike wanted no part of it. Instead, Lewis was slated to fight Kirk Johnson and Klitschko was supposed to appear on the undercard against Cedric Boswell. When Johnson suffered an injury to his pectoral muscle just over two weeks before the fight, Lewis and Klitschko both admirably agreed to face each other and save the card on short notice. Klitschko surprisingly jumped out to an early lead and appeared to have Lewis hurt in the second. Lewis began finding his rhythm in the third and the two were engaged in an exciting scrap with lots of big punches being landed by both fighters. During the third, fourth, and fifth rounds a grotesque cut began growing above Klitschko's left eye, thanks to a Lewis right hand. The cut got progressively worse, and a second cut soon emerged underneath that same eye. Lewis smelled blood and the momentum appeared to be shifting in his favor. At the end of the sixth round, Lewis landed a lethal uppercut, but somehow or another Vitali remained on his feet. Lewis collapsed onto his stool and appeared totally exhausted and Vitali seemed to be slowing down himself. By this time, the cut above Vitali's eye had gotten so bad that the ring doctor had the fight stopped in between rounds. Unfortunately, a rematch never happened. Fans will always be left to wonder what could have happened had the fight been allowed to continue for just one more round.
1. Sergei Liakhovich UD Lamon Brewster
DATE: April 1, 2006
LOCATION: Cleveland, Ohio
RECAP: Brewster made three successful defenses of his WBO title before being pitted against Sergei Liekhovich. This was not a fight surrounded with a lot of buzz or huge expectations. As such, this action-packed slugfest exceeded any and all expectations, much to the delight of boxing fans. This crowd-pleasing encounter was a great display of heart and guts from both fighters. Liakhovich demonstrated the superior skills, but what Brewster lacked in skills he made up for through sheer determination. The two warriors bludgeoned each other in a give and take battle. Liakhovich was forced to take a knee in round seven after Brewster unleashed a vicious barrage. Despite being down, Liakhovich battled back and appeared to have better stamina down the stretch. His superior skills and conditioning were enough to win in the eyes of the judges as Liakhovich was awarded a twelve round unanimous decision with the final cards reading 115-113, 115-112, and 117-110.
For more information about On the Ropes Boxing Radio please visit our website:
http://www.ontheropesboxingradio.com
To contact Geoffrey Ciani:
ontheropes@boxing247.com
To read more by Ciani please visit The Mushroom Mag:
http://www.eatthemushroom.com/mag