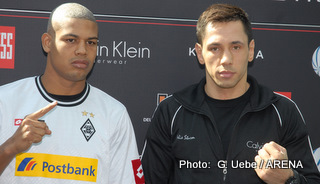 COLOGNE, GERMANY (August 31, 2010) Middleweight contender Giovanni Lorenzo captured the interest of the sports media, fans and champion Felix Sturm on Monday afternoon in Cologne, Germany, by appearing at the final press conference wearing the jersey of local underdog soccer team, Borussia Mönchengladbach.
Lorenzo and Sturm will battle this Saturday night, September 4th at the Lanxess-Arena in Cologne for Sturm's WBA Middleweight Title.
On Sunday afternoon, Lorenzo had watched as Gladbach defeated arch rival Bayer Leverkusen by a score of 6-3 in a major upset on Leverkusen's home field..
Said Lorenzo, "I am all fired up and inspired by the Gladbach soccer team, they are an amazing example of an underdog who never stopped believing in themselves. That's the same spirit that I feel inside of me. For now, I accept that this is the Felix Sturm show, and it is without question a tremendous show, we got Michael Buffer, Linkin Park, I even heard that Sturm is getting dropped into the ring by some circus contraption, that is all going to be a treat for the fans, but once the bell rings this is going to be the Giovanni "GladBach" Lorenzo show.
As for Lukas Podolski since he is so good at carrying things (everything but his Cologne team) he can carry my new WBA belt out of the ring for me and all the Gladbach soccer fans that inspired me. I love Germany; these are the greatest fans in the world."
Speaking about Sturm at the press conference, Lorenzo stated, "I know I got this, Sturm couldn't even look me in the eye at the press conference, just look at the press photos and you can see he was looking down. He is not mentally fit for this battle, He looks weak. I can see he was more focused on planning this mega fight to feed his ego by hanging larger than life posters of him all around Germany. These 500 feet high posters tell me he is insecure."
"Sturm is going to learn that doing your first promotion at the same time you are trying to make comeback after a 14 month lay-off where he admittedly blew up to 90 kilos (200lbs) is a huge mistake. He would have been better off leaving the promotion for someone else and just focused on what he does best. In his condition I would be surprised if he lasted 6 minutes, let alone 6 rounds but I will take it anyway it comes. I prepared for 15 hard rounds".
The 29 year old Lorenzo, 29-2-1 (21KO's), previously traveled to Germany in September 2009, challenging Sebastian Sylvester for the IBF Middleweight Title, losing a very close, controversial, split decision.
Sturm, 33-2-1 (14KO's), won the WBA title from Javier Castillejo in April 2007 and has defended it seven times, most recently winning a unanimous decision over Khoren Gevor on July 11, 2009 by unanimous decision.
A native of the Dominican Republic, Lorenzo is promoted by TKO Boxing Promotions and managed by Kurt Emhoff and Rich Ryan.

Sturm vs. Lorenzo heating up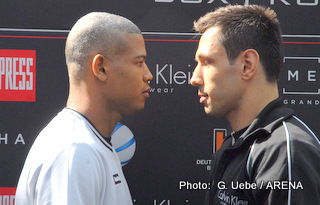 WBA Super Champion Felix Sturm and Giovanni Lorenzo were face to face for the first time at today's press conference for their middleweight title fight this Saturday (Sept. 4) in Cologne, Germany.
"There's no doubt about me winning the fight and becoming champion of the world", said Lorenzo who showed up in a jersey of local soccer team Borussia Mönchengladbach; Gladbach had won a clash with local rivals Bayer Leverkusen with 6-3 on Sunday afternoon. "The team of Gladbach inspired me. They were the underdogs, they played in front of Leverkusen's home crowd and they scored a very convincing and impressing win. That's exactly what I will do next Saturday. Gladbach scored 6 goals – I will score 6 knockdowns. When I heard that Sturm is from Leverkusen like yesterday's losers things were very clear to me: I will be the new champion."
Felix Sturm wasn't too impressed with Lorenzo running his mouth: "Talk is cheap. I heard he said that he will stop me within five or six rounds. We will see who will be on the receiving end on Saturday. All I can say is that I am very well prepared and all fired up for this fight. It's a new situation for me because this is the first show I am doing all by myself. Of course, I have a phantastic team; everybody on Team Sturm has been doing a great job organizing this huge event. I promise all fans that this Saturday will set new standards for boxing and entertainment in Germany."