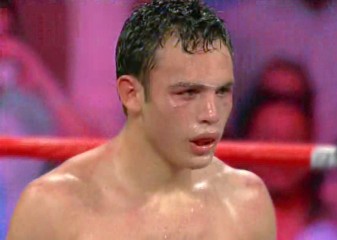 Javier L. (Dallas, TX): I read your FaceBook comments about Julio Chavez Jr.'s performance. Can you talk about what his victory means for his personal growth and legacy as a fighter?
Vivek W. (ESB): I thought the performance of young Chavez Jr. was stellar. Without question, he legitimately solidified himself as a fighter by finally cementing his own identity, rather than clinging to the coattail of his namesake, Papa Chavez Sr. Admittedly, I have been very tough on the young Chavez Jr. in the past, because I simply felt that it was beyond time to see him tested on a more difficult level. It didn't happen when I would have preferred, but nonetheless, it happened, and I give him and his team full credit. Also, I think you have to credit Manny Pacquiao, (who told Chavez he needed to consider Freddie Roach if he truly wants to progress in the ring); And you have to give full credit to Roach and Ariza for a job well done..
As solid as his performance was, speaking of Roach, there is one challenge I think Chavez Jr. may face as a result of working with him, as well. Roach is brilliant with mounting an attack, but the reality here is that although Duddy was 'game' and nothing short of a true warrior, (if my memory serves me correctly), he isn't ranked in the top 5 of any sanctioning body, and barely cracks the top 15 in the WBO (#14).
Against a more formidable opponent with better power, Chavez Jr. may have met his match. Although his offense and power were more pronounced, he was still hit far more than I'd like to see a fighter get hit. The reason for the success of Chavez Jr./Roach in this fight was because it was a total offensive gameplan, which offense always comes quicker in the ring. It's instinctive. Defense, you're either born with or learned over a great deal of time. Hatton was a perfect example of how a defensive specialist in training camp needs lots of time to make his mark on an undisciplined fighter. I've always said the worst defenders make for the best fights because all both men will do when they meet is "get hit". This fight could very well net "fight of the year" honors, or very close. That being said, Chavez Jr. will need more defense if he is ever to truly reach the top of the mountain.
Christian T. (Queens, NYC): Recent talks of David Haye facing Audley Harrison tell me that he truly has no plans of facing the Klitschko's. What are your thoughts about this recent news?
Vivek W. (ESB): To be quite frank, this news doesn't really surprise me, even though Haye recently made it appear that it surprised him. This has been the Haye 'norm', lately, and I think it's quite bizarre, considering the buzz associated with his name, and the subsequent fizzle. When news first broke that he would be headed to the heavyweight division, I was part of that contingent that was on 'cloud 9'. I really felt he was the answer. My guess was that he would be that once-in-a-generation rare hybrid fighter, combining the power and explosiveness reminiscent of Mike Tyson, along with that magnetic ability to draw the female base like Oscar De la Hoya. While I'll stop short of saying that his chance to become that transcendent figure has expired, I will say that he's currently no closer to that plateau than you are. And the big problem with that is that YOU DON'T EVEN BOX!
I never endorse critical-fan rhetoric like saying a fighter is "afraid", but this is beginning to clearly borderline that very expression. It truly does. People say, Pacquiao is afraid of Mayweather or Mayweather is afraid of Pacquiao. Those statements are hilarious because in their case, as impractical as it is, at least they do have major ego, money, and political implications that they can hang their hats on as legitimate issues between them. In the case of Haye, there is NO VALID REASON why he hasn't faced them, and he had a shot at both! I think back to the stories sparring partners who say they saw Haye the preceding Sunday afternoon, then returned for work Monday morning and was told Haye was "injured"; Only to be told to immediately report back home, totally baffled because they knew "something wasn't right". I'm a firm believer….when it comes to stiff ring challenges, you have warriors, and you have worriers!
Pacquiao…..lives for the moment the bell rings and the biggest challenge awaits. Mayweather…..lives for the moment the bell rings and the biggest challenge awaits. Tyson, Ali, Duran, Leonard, Hopkins, Jones, Toney, Gatti, and company (in their primes)…..LIVED for the moment the bell rang with a stiff test awaiting. In the case of David Haye, this recent 'denial' has made it clear that he's the type of fighter who lives for those other 6 days, 23 hours and 24 minutes during a fight week; a time where autograph sessions, photo ops with the ladies, and interviews are the norm. I say that because when it comes to facing his "biggest challenge", it seems that remaining and decisive 36 minutes of heat is simply too much for this cool customer! Afraid? I won't say that. But I sure as hell wouldn't argue if you did…..(And that's coming from a fan of his, too)!
Craig P. (Miami Gardens, FL): Do you think Timothy Bradley is ready for Andre Berto?
Vivek W. (ESB): Very easy answer to this question…..NO! I think Bradley has shown great resolve and has evolved quite nicely, but we haven't seen him against a legitimate welterweight and Berto has some very good pop. I think the only fighter to really do damage against Berto at this point is one who's power affects him enough to make him think twice about coming forward. Bradley barely lands a KO victory at 140, so to think he could hurt Berto or slow him down is far-fetched, to say the least. I think Berto has more speed, and certainly more power. I think it would be entertaining, but I do strongly lean to Berto if that one ever took place. Certainly a fight I'd like to see happen, though.
Neisy R. (Ontario, CA): Styles make fights, as we all know. Who do you think Chavez Jr. would fare better against between Pacquiao, Cotto, and Williams and Cintron?
Vivek W. (ESB): Without question, Kermit Cintron. I think that's a VERY winnable fight for him under the careful tutelage of Freddie Roach, and possibly even by KO. He would have to smother Cintron, similar to what Ward did to Green, to prevent those bombs from landing. If he can do that, this fight is easily winnable for him in my book. Beyond that shot, as I look at the other names you tossed out, (Cotto, Pacquiao, and Williams), lets just say this…..his odds alphabetically when skimming across that list! Cotto has bruising issues and some would argue even ring related psychological issues. If Chavez Jr. is able to use his long jab and land enough of those thunderous shots, he can control the fight with distance and reach, and give himself a slight shot at victory.
Against Pacquiao, although he would hold a considerable height and reach advantage over him, I still think Pacquiao's ability to take a punch, paralleled with his swarming style would dictate the ultimate result, although I do think Chavez Jr. would have his way in very short spells. Introducing Williams to the equation I think would leave very little to discuss or debate. This isn't to say Williams is necessarily the best boxer of the bunch, but as you stated, styles make fights, and stylistically, his work rate and ability to take a punch I think would spell major trouble for Chavez Jr. If Pacquiao's work rate would cause trouble (which we know it would), then certainly I don't expect him to deal too well with a reach like Williams' and a work rate that parallels Pacqiuao's. My perspective on these fights are based on the 'here-and-now'. As Chavez Jr. evolves, perhaps this may change. Clearly after his recent performance, he is still evolving.
Lez M. (Coral Springs, FL): What do you see in the future of Tomasz Adamek if he gets beyond Michael Grant?
Vivek W. (ESB): I hate to say this, but I don't see him doing anything significant until the K-Bros are out of the way. Love them or hate them, the K-Bros are literally the 'Jordan' equivalence in the heavyweight division; in the sense that no one will get that rite of passage to advance and become champ until they have moved on. Chambers, Arreola….nothing. Povetkin and Haye…..both appear intimidated, although Povetkin I think really has a shot if he can penetrate the reach advantage. Valuev and Chagaev….nothing. We can go down the list, and whether you wanna see it as a matter of size or skill, there's no one on the horizon that will be able to do ANYTHING against these super-heavyweights! I like Adamek's heart, but if Arreola buzzed him, the K-Bros will probably stop him. No, they will! I hope he gets his shot because he deserves it. But it'll be like watching a movie you fell asleep through the first time. You won't know exactly how things will happen, but you'll have a good idea how they will end.
(Vivek Wallace can be reached at vivexemail@yahoo.com, 954-292-7346, Youtube (VIVEK1251), Twitter (VIVEK747), Facebook and Myspace).