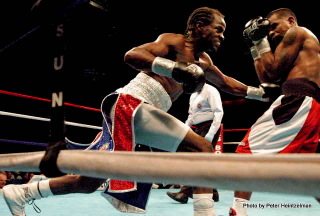 By Peter Heintzelman, Photos by Peter Heintzelman – On Saturday night, at Mohegan Sun Casino, in Uncasville, Connecticut, Mike "Machine Gun" Oliver overcame his opponent, Mauricio "Indio Boy" Pastrana, in a co-feature Super Bantamweight bout scheduled for eight rounds, but ended by disqualification, when referee Michael Ortega, called the fight off in the 8th round, due to repeated wrestling and rough play tactics by Pastrana.
"Mike Mike", under a New England favorite trainer, John Scully, was as sharp has he has ever been, throwing crisp effective jabs, that impressed the judges, and racked up the score card in a way that frustrated his Columbian opponent.
Many seasoned observers were worried for Hartford, Connecticut's Oliver going into the fight. He has had mixed results with Columbians..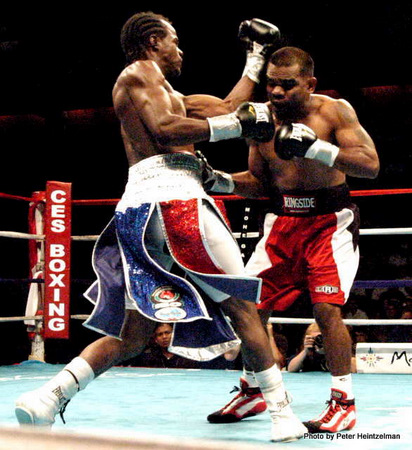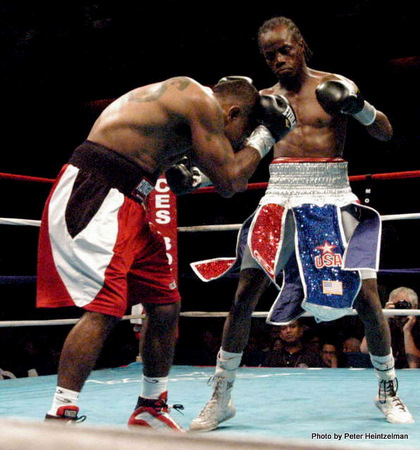 Oliver was sporting trunk of blue and white with a CES Patch belonging to fight night host, Jimmy Burchfield's Classic Entertainment and Sports, although it is not clear Oliver had signed yet with CES. Yet the mild mannered Oliver looked and performed masterfully, with ring generalship skills that frustrated his opponent's "come at you" brawling attacks.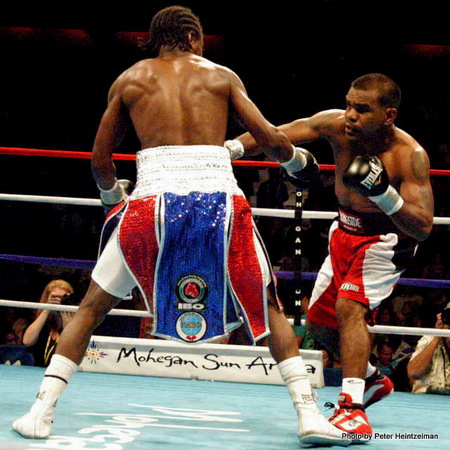 Rounds one and two were clearly for Oliver. After the first bell, trainer Scully said to his fighter: "Pastrana's only chance is to catch you in the exchange. Mike listened. He and Scully are a long-standing effective team. "Tighten up that fist . . . you're during great," said Scully. Oliver responded.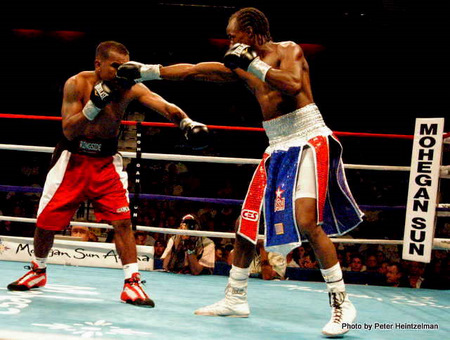 In rounds three and four, Oliver was the offensive actor; dictating the speed, circling the ring, jabbing his opponent at will, and keeping Pastrana at bay.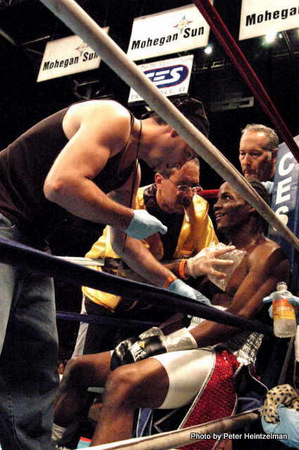 Relaxed and active, with his jab, jab, jab, he frustrated the attempts of Pastrana to get inside. At the end of four, and back on the blue corner stool, Oliver gulped some water to the song of Scully, "you're looking like a million dollars out there!"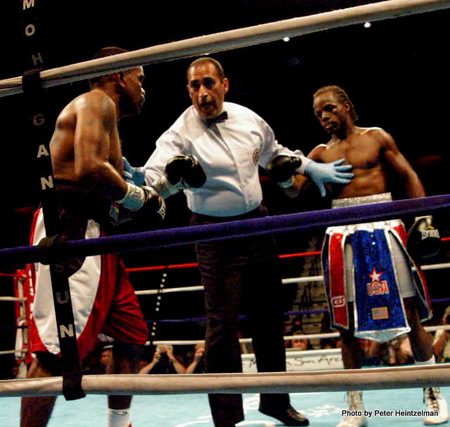 Round five saw a frustrated Pastrana in angst, having his apparent game plan taken away by Oliver in the earlier rounds. Pastrana should have been deducted a point for foul play in changing from pro boxing to body slamming wrestling, when the fighters were in a clinch, and Pastrana tried to body slam Oliver to the floor. The ref must have missed that one.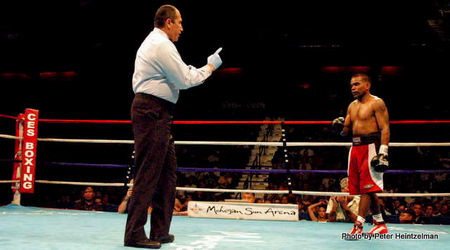 Yet, later in the fifth round, the ref did catch similar nasty tactics by Pastrano, and took a point away from the visitor. It did reveal, however, that Oliver's opponent was frustrated that the bout was being dictated by the terms Oliver sought to impose.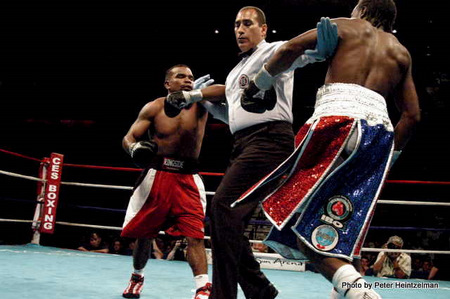 Team Oliver's pre-game plan was working. "You've won already," said Oliver's trainer, as the fighter came for the break between rounds five and six. And yes, the die appeared cast.
As the sixth round approached, it was apparent, to even a neophyte boxing fan, that Pastrana had a long road to go, to get back into the game, and " Mike Mike" played coy, bouncing, advancing his glove to touch his opponent's, . . . circling his foe, . . . winding down the clock. Pastrana finally caught Oliver, but as the slick man from Hartford was slipping out of grasp, Pastrana in obvious frustration, grabbed and twisted Oliver's left hand . . . "F*ckn bitch," Oliver protested with a wince of pain, grabbing his arm. The ref warned Pastrana, that was the last foul that would be tolerated.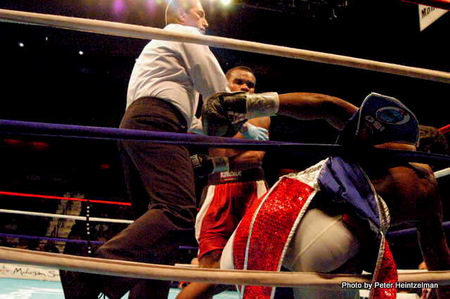 But at 43 seconds left in the eighth round, and maybe (but probably not) Pastrana did not understand English, Pastrana grabbed Mike Mike head, and twirled Oliver around in a head lock, that caused the referee to finally stop the fight by disqualification of the Columbian.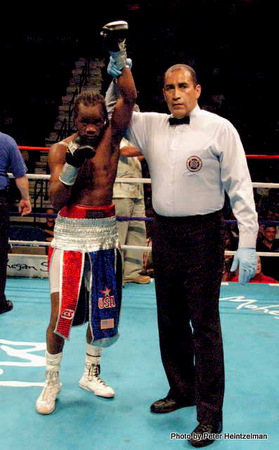 With the win, Mike "Machine Gun" Oliver, improves his record to 24-2, 8 KO's, and successfully pass what some had called his crossroads fight in great style, while Pastrana settles at 35-14-2, 23 KO's. Oliver's fight was one of the best of the night. I'm sure Jimmy Burchfield was impressed. Ritchie Cappiello was smiling.