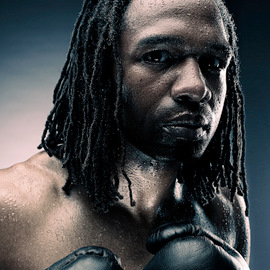 by Geoffrey Ciani – This week's edition of On the Ropes Boxing Radio featured an exclusive interview with former two time heavyweight champion Chris Byrd. Early in the interview, Byrd notified our audience that he does not intend to continue on with his boxing career. Byrd, who was always known as a small heavyweight, used slickness, quickness, and tremendous defensive skills to compete with the best the division had to offer during his long and illustrious career which saw him square off against many of the best fighters of his generation. That someone so small in stature was able to compete and succeed at a championship level in boxing's most prestigious division during an era of gargantuan 'super heavyweights' is a marvel in and of itself. During the interview Byrd reflected on numerous moments from throughout his career and here is some of what he had to say:
On winning the WBO heavyweight title from then undefeated champion Vitali Klitschko:
"Eight days notice I get a call that Donovan 'Razor' Ruddock had backed out of a fight with Vitali Klitschko and would I be willing to fight him. So I was like, 'Of course, I'm not afraid of anybody'. I had never seen Vitali fight before, I didn't really know how tall he was, I didn't know anything about him. All I knew was he was 27-0 with 27 knockouts and I'm going to Germany to fight this monster they called. So we get there and it was pretty overwhelming, the crowd, and they were nice but getting in the ring was kind of crazy because when we got in the middle of the ring it was the first time I ever heard a crowd actually laugh. He was so much bigger than myself and all I was thinking was in four rounds the crowd will change, and of course it changed. I mean they started cheering for me, it was funny. He was just a hard guy to fight. He was very strong, just a complete fighter, and I was just amazed at how tall he was and how much reach advantage and all these other advantages he had over me. So I had to use all my skills and attributes to try and walk him down. You know, I'm a very smart heavyweight with a boxing style, a true boxer who tries to use counter punching but I had to try and walk Vitali down and just win the fight.."
On how he feels about the fact that ten years later, Vitali is still a reigning heavyweight champion:
"Oh my goodness. You know, the era of boxing that I grew up in as far as heavyweights go, there was so many heavyweights all over the world. It was a great time for heavyweight boxing. Right now, Vitali and Wladimir could fight until they're fifty. There's not much of a challenge out there. I think a lot of great teachers are gone and a lot of these big guys coming up, they're not very talented. It's amazing to see. You would think in this era of boxing, the big guys would be dominating but they're not. There's a lot more big guys now than when I was a little kid boxing. It was the smaller weights that were dominating, but now that we're in a big era where there's a lot of big guys, I guess boxing is not interesting to a lot of kids growing up and staying with the sport all the way through so you don't see that many great big men anymore."
On how he first got involved in the sport of boxing:
"I got into the sport of boxing because my father was a boxer. He was a trainer, he had a gym, and you know I got four older brothers who boxed and I stayed with it all the way through which was a blessing because when you stay with boxing from a young age and you stay with it all the way through, your balance and development is pretty good. So I stayed with it and didn't do anything else, and I had a pretty successful career, amateur career and professional."
On whether he ever imagined he would succeed the way he did at heavyweight when he first started his professional career:
"No, not at all. Not at heavyweight, especially. I mean I came out of the Olympics and my hometown of Flint, Michigan called me 'The Lanky Olympian'. I was a skinny guy, really skinny. They said I had really good skills, but the business of boxing going through contracts and promoters and managers, it didn't pan out for me, so I'm just sitting at home. I had a fight in January of 1993 and then I think I fought six months later and then that was it for like two years and it stalled my career. I'm watching boxing on TV seeing these heavyweights, I'm like I might as well move up to the division. I don't have to lose weight anymore. I think I can compete with some of these guys. Evander Holyfield was champion at the time. He was 208 pounds, so I'm thinking I'll move up. I didn't know anything about supplements, lifting weights, and my father didn't really believe in it so I was really like a fat heavyweight. I mean, I was kind of chubby. I ate my way and drank protein shakes and lifted a little bit of weights, and I put on the size. I was never truly a solid heavyweight, I was always undersized. I weighed in with my clothes on. I just knew I had talent and then all of a sudden, the momentum started. I kept winning fights, and I'm like, 'Okay, I think I can be a champion in this weight class' but I never thought the heavyweights would be so big. I thought there would still be medium sized heavyweights. Small heavyweights that you would call today weight like 220 pounds. As I got further in the division the guys got bigger so I had challenges to be the best in the world."
On his experience fighting Ike Ibeabuchi:
"Going into that fight I would say I was ready for anyone, I was so cocky in my style. I thought I was untouchable. I watched Ike on tape and I was thinking, 'He's big but I've fought a lot of big guys. He's not going to hit me. My style is just too amazing'. But it was tough. I mean it was a tough fight. He was smarter than I thought. One thing I learned from the fight was don't go into a fight with injuries. That's one thing I should have learned. I had separated cartilage a week and a half before the fight and everybody thought I was going to pull out, I'm like, 'I don't pull out of fights'. I just never do that. I'll fight. I was taught since I was a kid from my father that you fight so going into it I had a little bit of an injury but there was no excuses—he beat me. It was a devastating loss but it was a learning experience and I'm telling you, from it I learned a lot and I went on to win titles later so it was just a great learning experience for me."
On his exciting twelve round draw against Andrew Golota:
"I always wanted to fight Andrew Golota. I mean, from the time he was with Main Events and when I first moved into the division, the two guys I wanted to face were Golota and David Tua. I felt they were the hottest young heavyweights out there and I respect Andrew Golota probably a lot more than a lot of other guys I fought because of his amateur background. You know he was in the Olympics in '88, had a great amateur background out of Poland, and was a good fighter so going in to it I knew he was on his comeback and he had just signed with Don King, but man, it was a tough fight. Going in I knew he had good speed, he had a great right hand, and one thing about it, I could have stayed back and boxed the whole time but I heard the crowd kind of booing. I told Don King before the fight, I said, 'I'm going to save this show, so I'm going to do something out of the ordinary'. Even though I was heavyweight champion and going against a dangerous guy, we're going to see ups and downs and fight a little bit more than normal and not just move a little bit and slip and make it boring. I wanted to excite the fans and that was one fight that I think excited the fans enough to say that, 'Hey! Chris Byrd is not a scared safety first type of fighter, he would go in there and fight'. I think it was a great fight for the fans. It was a draw, so I was a little disappointed but I still kept my title so it was great. That was one fight in my career that I can say I just went in there and fought in the trenches'.
On why there was never a rematch between him and Golota:
"Everybody wanted it. I wanted it, Andrew of course wanted it, it was for the heavyweight title, TV wanted it but in the business of boxing, you know, I'm not going to throw anybody under the bus and throw names out there, but it's the business of boxing and we couldn't come to an agreement. I wasn't going to keep taking short every fight. I love the sport, but at the same time, you have to live up to the agreement that we made in the contract and somebody wasn't living up to their agreement so we couldn't make the fight."
On his experience getting knocked down early against Jameel McCline before rallying down the stretch for a victory:
"Man, I can tell you man, I'm very strong mentally. My faith in the Lord is great. After I got knocked down I sat back down after the bell rung and I'm like, 'Man! I'm down in this fight big time against this big strong 270 pound man' and realizing that he wanted this belt. He really wanted it and so I got to defend it. So I just dug deep and said, okay, if you jump out in a race early in the fight like he has, and as we get on later in the fight I can break him down. He's going to get tired and I'm going to wear him out and sure enough it happened. I was in great shape, I withstood some big shots and came back to wear him out throughout twelve rounds and did enough to finish strong and win the fight, man. It was a great fight, also. It was a good challenge for me."
On what it was like scoring the upset against David Tua:
"Oh man! It gave me so much motivation. I loved being in fights where I'm an underdog and everybody thought with David that I was getting knocked out. David had just lost to Lennox Lewis, then he came back and beat my Olympic teammate, knocked him out pretty good—Danell Nicholson. So after he knocked out Nicholson it was like, oh man, the new David Tua is back and he's going to knock Byrd out and then challenge Lennox again for the title. So I'm like no, that's not going to happen. I'm going to put something special together for him. Sure enough, I trained really, really well for the fight and my thoughts going in to it were stay away from that big hook, of course, but I had to be mentally strong for twelve rounds. I mean, the Lord gave me supernatural strength. It's a Bible verse that I stand on which is Acts 4:12, and that's my favorite verse. The Lord spoke to me, 'You got to box him for twelve rounds. You have to be on top of your game for twelve rounds'. If he just hits me, okay. Have fun in the ring, but be very cautious and you got to be precise in what you do and be alert for twelve rounds. There was no horsing around in this fight because you're going in against a dangerous, dangerous puncher so that was a special fight for me. It got me over the top. It got me into the mix to fight with Lennox Lewis, to fight him, to be the number one contender. It was great. I fought my way to the title. I can say that and I went through some pretty tough guys to get there."
On whether he was satisfied by the way he won the WBO title against Vitali Klitschko:
"How I feel about the win? My thought is you don't quit the fight. I don't care what happens. If you're a champion, you know you're winning, why would you quit? You just don't do that. I've been injured in many fights that people don't even know about. I'm a very small guy. I mean, I've suffered major injuries in the ring while I boxed, and one of them being I got my nose broke, pushed all the way over in the first round. I didn't quit. I didn't tell anybody. I just sat in the corner and was like, 'Oh my goodness', because if the doctor would have checked me they would have stopped the fight. I didn't want to lose. So with the heart of a champion, you keep fighting. With German reports of the fight, as opposed to HBO, in Germany they had either way 5-4 for either person going into the tenth round. So I don't know if he was hearing German reports and the fight was close, but you don't cop out. You may have a shoulder injury but you keep fighting. It's part of the sport, it's a hurt sport, so looking at that I would have kept fighting. That's why I was so happy after the fact that it didn't seem like he was truly hurt, but in the fight I threw really good body shots and early on he wasn't grunting at all when I hit him to the body and then in the fifth or sixth round he started to, and I'm like, 'Oh, I'm getting to him, more and more, and people don't see this'. I'm like wow. That's why I kept cutting the distance if you noticed in the fight and he ended up quitting. It was a cheerful moment for me because I took this fight on eight days notice and I hate to say it, but I had major diarrhea going into the fight because I wasn't adjusted to the food and I was drinking juice over there that was 100% so it goes right through you and when I got in the ring I probably weighed 199 pounds and I'm fighting a guy who weighed around 250. I was just extra excited and overwhelmed with emotion because that was a giant killer everybody said, that I'm hearing, that nobody could beat. He was 27-0 with 27 knockouts, I'm like, 'Man, I guess I am pretty good'. Especially coming off of the Ike Ibeabuchi loss which still haunted me, and I'm in the mix now, where I wanted to be."
On his first fight with Wladimir Klitschko and having to fight him immediately after beating his brother Vitali:
"Like I said, the politics and business of boxing, it was a great time in my boxing career to win the title but then I had to go with the business and politics of boxing. Really, if you're not at the top level and going through stuff, you really don't know what's going on behind the backdoor with negotiating and how they plan and want to put people in certain situations. It wasn't for me to be WBO champion at that time, so of course, from the fight with Vitali to Wladimir there was so much negotiating that was going on that was terrible. It wasn't in my favor and they forced me to fight Wladimir in my very next fight. It wasn't really deserved, I don't think and I waited. He had two fights and an exhibition in that whole time. They wouldn't allow me to have an exhibition or do nothing. I mean, he had an exhibition like three weeks before we fought and I'm like, 'This is crazy'. But the Germans were the lead promoters and that's their fighter, and when you understand what goes on, like I said with the business side and the business decisions, which favors the Germans so I was told I still have to fight. I go in and fight, he beat me really bad—I mean it was bad. More power to him."
On why he believes a unification fight between him and John Ruiz never happened:
"I'm wondering, too, for real. We were both promoted by Don King, we both had titles—just unify and get it over with. I wanted to fight. At that time, I didn't care who. It was never on me that didn't make the fight. I don't know what happened. His fight with Roy Jones, he won a portion of the heavyweight title, everybody thought well two small heavyweights—we can make this match. The ball was in their court, not mine, because I was ready to fight. I don't know how it didn't come about."
On winning the vacant IBF title from Evander Holyfield:
"Going into that match, after I fought David Tua, I felt at that time in my career there was not one heavyweight on this planet who could beat me. I looked at Evander Holyfield, he is too slow. He is not going to hit me. I'm younger, I'm faster, I'm very confident and going into the fight I'm like I'm winning this easy, but it wasn't as easy as it looked. Evander is a smart man in the ring and he punches really hard so I won on the scorecards fairly easily. I think he only landed like three jabs and that was by design. I had to not let him set up his jab to set up his combinations. By me being a southpaw, I just tried to shut him down in that area and just win the fight over twelve rounds. Going in I heard some grumble of, 'I don't know if Chris Byrd is experienced enough, I don't know if he can take Evander's punch, Evander is too experienced, this and that', and I'm like okay, whatever. My thing is, you still got to fight. You have to prove it in the ring. I was never a trash talker because trash talking won't get you anywhere—you still got to get in that ring and fight."
On his rematch with Wladimir Klitschko which followed four successful defenses of his IBF championship:
"I can tell you one thing, this was the only time in my whole career my father chewed me out after a fight. I mean, I've done certain things in certain fights that I did wrong but not like this fight. I had a great, probably one of the best training camps a person could have for a fight. I guess emotions got the best of me. Thinking about the first fight, he beat me, he beat me in devastating fashion, and in this fight I'm like I'm going to take it to him. I'm going to prove to everybody that this man is not bigger or stronger than me and I don't know what came over me. I ran down the catwalk they had for us. I usually just walk, take my time, I'm cool, calm, and relaxed. Emotions got the best of me. I mean, I blew it. That's all I can say. I mean that fight, it really ruined me. It ruined me big time because after that I was never the same. It took everything out of me. I was so devastated and am still devastated to this day. It took a lot out of me and I lost my title. I could kick myself right now when I'm talking about it. I could kick myself because I didn't fight like I should have."
On when he decided to call it a career in boxing (which he had mentioned early in the interview):
"Well, you know the industry actually kind of decided for me a little bit. I'm still called a nice guy, and in boxing a lot of promoters don't want to take a chance that I can get hurt because of the light heavyweight thing. You know, I can move back up to heavyweight, I can fight at cruiser, but if I'm not in the mix fighting for titles what's the point of boxing? And I want to get there immediately. I don't have any time to waste. I just want to hang it up and start training and helping out with boxing and hopefully commentating somewhere one day and give my advice on boxing."
On how he would ultimately like to be remembered by boxing fans:
"In one aspect, is a small guy. When you think about my career I was never truly a heavyweight. You know, I'm the little guy. One boxing writers said you're the only heavyweight in history, I believe, that won the heavyweight title on defense. I wasn't a big puncher, I had pretty fast hands, and I had good skills but I had great defense and toughness, also, and I want them to remember me by my faith. I tried to share the love of Jesus Christ to the world and to the masses and just come across as a pure genuine guy, and what you see is what you get. If you meet me in person, I'm nobody special. I talk to all the fans, I do whatever—it's about people. Hopefully I touched many lives through it, because I got a lot of e-mail from people and I got to share my faith with them—not cram it down their throat, but to share the love of the Lord and that's what my career was built on."
His views on a potential unification bout between Wladimir Klitschko and David Haye:
"Nobody beats Wladimir Klitschko right now. It's a hard match-up. I mean, David Haye is my height, six one and a half, I think they got him listed at 6'3". When you get in the ring with Wladimir Klitschko you truly realize that's a big man you're fighting. Now with Emanuel Steward, the height and reach thing—if you look at Wladimir earlier in his career he was looking for the knockout. Now, he systematically breaks you down with the jab, makes his height and reach work for him, makes the smaller fighter work hard to get past his jab, and once you get past the jab he's going to use the right hand and he takes a step back and he uses his reach. It's a hard match-up and I feel right now him and his brother are going to dominate and they're going to be dominant for awhile until somebody special comes along and beats them because they're big guys and they know how to fight. David Haye-Wladimir Klitschko—I don't see anybody beating Wladimir Klitschko right now."
***
For those interested in listening to the Chris Byrd interview in its entirety, it begins at approximately twenty minutes and one second into the show.
***
For more information about On the Ropes Boxing Radio please visit our website:
http://www.ontheropesboxingradio.com
To contact Geoffrey Ciani or Jenna J:
ontheropes@boxing247.com
To read more by Ciani or Jenna please visit The Mushroom Mag:
http://www.eatthemushroom.com/mag