By Brendan Galbraith – Luke 'Winky" Wilton (6-2-1) will return to the ring on the 8th May 2010 on the Alio Promotion at the Holiday Inn, Belfast, Northern Ireland. Wilton, who will celebrate his 22nd birthday a few days after his bout, will be looking to take a step closer in his surge for a title shot this year.
Wilton explained: "I would love to fight the winner of Bayaar v Sexton (for the British Title) or a shot at Commonwealth king Chris Edwards. I know some people might say its too early in my career or I'm not good enough, but I think I deserve a crack as there aint many flyweights and the rest have had their chance.."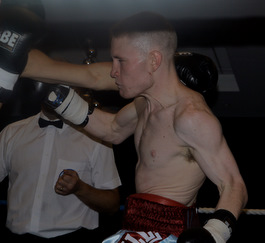 Wilton has been in a good run of form in his last outings and his high-octane pressure style would make a tough night's work for most flyweights in the Britain.
Northern Ireland has a great tradition of flyweights over the years, and if Wilton succeeds in his pursuit of a British Title he will be following in the famous footsteps of greats such as: Hugh Russell, John Caldwell, Rinty Monaghan, Damaen Kelly and Dave 'Boy' McCauley.
Wilton is satisfied with his training camp thus far:
"My training camp has been good. I have sparred 55 rounds for the fight with 2 weeks to go, and I hope to do around 80 (in total) or so rounds."
As for the east Belfast man's plans for the rest of 2010, Wilton said:
"I would like to get at least 2 fights after this one as I'm stepping up the rounds so fights will be less. Come the close of 2010 I would like to have had a crack at a title of some sort".
On the proposed card are four debutants: Ryan Greene, Paul Kayes, Brian Cussack and Paddy McGarrity. Interesting, the Alio Show will also be stage former Olympic medalist, the Georgian heavyweight, Vladimir Chanturia (who recently signed with Cork man Gary Hyde). Cuban heavyweight prospect, Mike Perez is also listed on the proposed bill. As yet, opponents have not been announced.