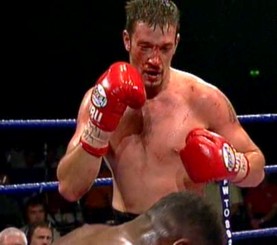 by James Slater – Enzo Maccarinelli, the former WBO cruiserweight champion, made a success of his trip to St. Petersburg, Russia tonight, as he sensationally blew away local man Alexander Kotlobay inside the opening round to win the vacant European 200-pound belt. Knowing his very career at top level was on the line, the 29-year-old Welshman took the potentially risky fight with the never-stopped Russian hope – and did he make the most of his big chance!
Always a big puncher, Maccarinelli let his hands go almost immediately, with some shots to the body and then some big right hands upstairs scoring for him. Guilty of starting slowly, Kotlobay was promptly decked hard by one of these rights. Up, but looking very wobbly, the 30-year-old was soon under more fire and pinned on the ropes. Maccarinelli wasted no time finishing matters, and after a flurry of punches punctuated by a monster uppercut got home, the referee had no choice but to dive in and save the slightly older man. The official time was just 2-minutes and 15-seconds of the 1st-round..
Maccarinelli, who captured his third major pro title, is now 32-4(25). Kotlobay, who looked devastated at what happened to him, is now 18-2-1(12).
Big Enzo has now won three 1st-round stoppages in a row since a terrible spell of bad luck saw him lose back-to-back against Ola Afolabi and Denis Lebedev, both defeats coming via stoppage. Thought by many experts and fans alike to be all but finished, Maccarinelli proved otherwise tonight. Okay, he didn't beat a big name (outside of Russia), but he got the job done in style, travelled a long way to do so and picked up a useful title in the process.
Maccarinelli may now opt to defend his European belt, or he may even have made serious inroads towards getting one more "world" title shot. Before tonight's fight, David Haye, who took out Maccarinelli inside a couple of rounds just over two years ago, said the Welshman has what it takes to once again become a "world" champion. Based on what we saw tonight combined with the raw power Maccarinelli will always have, maybe Haye was not just being nice to Enzo after all.
What would be interesting would be to see Maccarinelli try and avenge his recent defeats. A return with Haye won't happen, obviously, but Maccarinelli-Afolabi II could go ahead, as could Macca-Lebedev II. If Enzo does go that route and gets himself two big wins, a fight between he and the current holder of his old WBO belt, Marco Huck, would be a potentially exciting match-up.