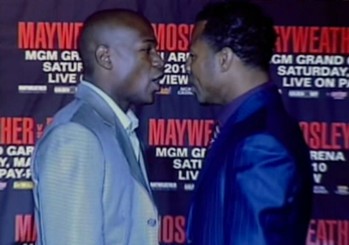 Maurice W. (Charlotte, NC): I recently heard about a youtube clip relating to Shane Mosley and his alleged admission of use of banned substances. Do you think that video footage was a 'smoking gun' displaying his guilt?
Vivek W. (ESB): My position on this topic is one that I think perhaps everyone out there should adopt, and that's the fact that this is a process which is still being heard and hashed out, so until that process completes itself, we can't rush to judgment and yell "guilt" because one side decided tip their hat to the public and present what THEY consider to be a 'smoking gun'. There's more to Mosley's side that has yet to come out, and I think we need to respect that. Are there certain elements to question? Absolutely. To the contrast, are there things that potentially point to his innocence? Yes. On a personal note, if I were a close friend to Shane or someone in his circle, my discussion with him would surround the fact that he basically allowed himself to be party to a situation that overwhelmingly compromised his worth. Whether it's true or not, I would want to know as his friend why he allowed himself to be in that situation to begin with..
Where this matter for him gets dangerous is that in life, when we want help (of any kind) we utilize the best resources available, and depending on how severe that want is, we elevate the level of help we ultimately seek out. If my back is hurt, I don't want to see the regular doctor after the initial consultation, I want go see a chiropractor….a specialist. If my feet are bothering me, I don't want to keep seeing the nurse, I want to go see a podiatrist….a specialist. My question would be what did Shane hope to find in bypassing traditional options like the local vitamin shop or a wider selection at GNC, and subsequently going to see a 'specialist' known to design specific blends to accomplish specific things. I can live with him saying he "didn't know what it was", but my question would be "what was he hoping to find by going to a specialist in the first place"? We don't know if he knew what he was taking, but what we do know is that a specialist in any field is known to produce results the typical outlets can't. That decision to go to a 'specialist', whether it was ill-intent or not, is what ultimately put him in this position. That being said, we need to let the true and total sum of facts come out and see where the chips fall.
Rodney E. (Kendall, FL): How do you feel about Floyd Mayweather jr.'s decision not to fight for the WBA strap?
Vivek W. (ESB): I think this whole discussion of Mayweather "trying to be bigger than the sport" is yet another example of how things can go haywire when he's part of the equation, as opposed to some more likable talents in the sport. Consider two things before you make the same mistake in passing that judgment…..For starters, how many of us have often sat back and said, "damn, there soooo many alpha-belts in the sport, when really, there needs to be just one official strap", or something of that nature? The reality of my first point is that once you reach a certain level in the sport – (that Pacquiao, Mayweather, Oscar, Tyson level) – a title holds less and less value. Sadly enough, the glory that once came with being a champion is no longer, and we're constantly reminded of this, even from fighters of lesser stature, in the fact that practically NO FIGHTER in any particular division today can truly be identified as one who sets the goal to actually unify. David Haye, Calzaghe, Hopkins, Taylor, and Campbell are officially amongst the last and possibly the final.
My second point is that people have been quick to say Mayweather needs to pay the fee and go for the strap, but I've asked 4 people so far and NOT ONE OF THEM could identify more than 3 people in the top 10 of the WBA welterweight rankings. The true humor is that of the 3 they could identify, aside from Zab Judah (currently ranked #8) the other two they heard of, yet have never actually seen them fight (Mike Jones #5 and Saul Alvarez #7). The two mandatory challengers right now are Soulemane Mbaye and Vyacheslav Senchenko. No offense to these two men, but is anyone really paying to see Mayweather defend against them, with Pacquiao looming at large? So that's the thing. People have to realize that with Team Mayweather, it's all about business, and when you're talking business, you're talking MONEY. Sucks to say, but it is what it is. There's no money in those options, so he won't be wasting his (money). It's that simple.
Allen S. (Brooklyn, NYC): I initially disagreed with your prediction of a Mikkel Kessler victory over Carl Froch, but you were right. Do you think Kessler has what it takes to win it all?
Vivek W. (ESB): Short answer to your question…..No. Long answer to your question….I'm a huge Kessler fan, but my decision for picking him in this fight had little to do with that. It had more to do with the fact that I never fell in that baseless contingent that decided to write him off after his recent loss. I'm quick to tell fans, we all know that styles make fights. Aside from that, something a bit more obvious is that Kessler's only two losses came to Calzaghe, (an undefeated fighter with far greater than average ability), and Andre Ward, who not only had the benefit of a wicked gash above Kessler's eye that bled uncontrollably, but also a man that I feel is easily the second best fundamental fighter in the sport, behind only Floyd Mayweather jr. Ward can fight inside, outside, box, brawl, rough-it-up and do it all! Fundamentally, there are simply too many holes in Kessler's arsenal. Which gets to my next point.
The reason that I don't see Kessler winning it all is because despite his motivating trainer and his hunger to remain relevant, fundamentally, there are still a number of things that a more intelligent and skilled fighter can take advantage of. His punches are still a bit wide, exposing him to quick counters. His position is still too upright at times. His footwork is still not as great as it would need to be at this Super-6 level, and the list goes on. I love Kessler's talent and his heart, but on this elite level, it's not like the animal kingdom. Out there, only the strong survive…in the ring, only the best do!
Aubrey R. (Jacksonville, FL): In past editions of 24/7 you spoke of things you would do differently to make it more substantive. What would you change about this current series of 24/7 between Mayweather and Mosley?
Vivek W. (ESB): This is a very interesting topic to speak on. I say that in the sense that what we get may not be what many want to see, but it's the best recipe for success, as it relates to the bottom line numbers. I've always told people that I think Showtime puts on a better lineup of actual fights, and their reality based 360 Fight Camp series; but HBO brings the "Hollywood" element, and they bring that Hollywood element with this type of made-for-Hollywood, scripted, reality television. Most have agreed with me that many Showtime based fights are just as better quality, but here's the best testament to my theory…..When you turn on an HBO PPV card or even a regular telecast, you can barely count the amount of celebrities and Hollywood figures on hand at ringside because there are so many, right? OK….Now answer this, and please, think hard and heavy…..When was the last time you saw Denzel Washington, Magic Johnson, Stallone, Tiger Woods, Barkley, or anyone close to their status at a Showtime televised card? Clearly one group reaches a totally different demographic than the other. I can't debate that one is any better than the other based on what I like, because the 'better' one isn't landing the better numbers. At the end of the day, it's all relevant.
If I were the one behind the control switch, I'd have less ego driven dialogue about things we've seen before, (money, family drama, security teams), and more 1-on-1 chats with the fighters surrounding monumental ring moments of the past, how they overcame certain ring adversities in the past, little unknown facts and details about great fights they've been apart of, their journey to where they are in the sport, etc. There are just so many different angles I'd take if given the resources, yet then again, despite the great substance I may bring, that's more documentary driven, and that's not what the producers have in mind. What they have in mind is what they have given the public, and truth be known, to their credit, that's probably the difference between a fight that does 700K PPV buys and one that does 2.4M. Ask Manny Pacquiao and Joshua Clottey how much one of these drama based 24/7 series would have helped them. Once again, it's all relevant.
Jarrod L. (Los Angeles, CA): Tomasz Adamek put on a great show against Arreola. Do you think he has what it takes to dethrone the K-Bros?
Vivek W. (ESB): First and foremost, congrats to Adamek for a job well done. I thought Adamek showed a lot, but I'd caution anyone expecting to see him dominate the division. As great as Adamek performed, you have to consider the source in which he performed the job on. Despite the slimmer appearance in recent photo's, Arreola's weight kept him relegated to the role of a very immobile object, unable to get out of the way of a much faster man. For the second week in the row the fight public has seen that a smaller, faster man with a good level of skills can indeed out-duel a bigger, heavier punching man without that same skill level. Arreola's power was certainly enough to pull the curtains, but he had to work so hard and take so much punishment that it was never a factor in the fight. As far as Adamek's chances of running the table in the heavyweight division, if he really wants a strap, his best bet would be to take a run at David Haye.
Truthfully, I don't see him winning that fight either, but it would be a much more neutral task than trying to place him in the ring with the K-Bros who would both hold sizable advantages and equal (or greater) athleticism, not to mention destructive power that I doubt seriously he could handle. Adamek showed a lot of heart and decent power, but in unison with my longstanding argument that we truly need a super-heavyweight division in the sport, the size and reach advantage would be far too great for him to conquer. David Haye would be a great matchup, but honestly, I don't see Haye giving him a shot, although he may not have a choice considering that we've yet to get a response from him relative to his intentions of ultimately facing the two men he stated to be the very reason for him stepping up in weight to conquer. I think Adamek is a great addition to the division, but I truthfully don't see him getting an opportunity to face any of the champions any time soon, Haye included. We'll see if that changes. Hopefully it does so your question can be put to rest.
(Vivek Wallace can be reached at vivexemail@yahoo.com, 954-292-7346, Youtube (VIVEK1251), Twitter (VIVEK747), and www.vivekwallace.com)