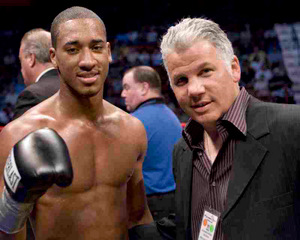 This Friday night at the Mohegan Sun Resort and Casino in Uncasville, CT, Joe DeGuardia's Star Boxing presents an exciting seven bout card, featuring a must-see main event as well as some of boxing's most promising up and coming talent fighting on the undercard. The card is headlined by Delvin Rodriguez (24-4-2, 14KO) defending his USBA welterweight championship against former jr. welterweight title challenger, "Mighty" Mike Arnaoutis (22-4- 2, 10KO). ESPN's "Friday Night Fights" is broadcasting the card and will begin live coverage of the event at 9PM.
Recently Star Boxing CEO and founder, Joe DeGuardia, took time to sit down and talk about the upcoming card, his plans for his young Stars in 2010, and also about the newly formed Boxing Promoters Association, for which DeGuardia was elected President of.
Q: Joe, first and foremost, I want to thank you for sitting down with us. Tell us about the main event on Friday.
JD: The fight between Delvin and Mike truly is a crossroads battle. Both guys are looking to get themselves back into world title contention, and a win in this fight does just that. Both of them are very confident, and both have promised they are going to put on spectacular performances..
Q: Both Delvin and Mike are Star Boxing fighters. Many wouldn't put two of their top fighters in against each other, can you tell us about that why you will let these two boxers fight each other on April 2 at Mohegan.
JD: The reason is simple, giving the boxers opportunities and giving the fans compelling fights. I believe that in order to develop boxers, we need to give them opportunities and we won't hold back our fighters from the best possibilities available to them. This is a great opportunity for both Delvin and Mike and we are providing them with that opportunity. Also, it is a great fight, and we always want to put on the best and most entertaining fights possible, and you will see just that this Friday. This is how to keep the fans coming back to our sport.
Q: As if the main event wasn't good enough, you have absolutely loaded the undercard. We hear the 2007 Amateur World Champion, and 2008 U.S. Olympian Demetrius Andrade (9-0, 7KO) is in the co-feature.
JD: Yes. This will be Demetrius 5th time, in just eight fights as a pro on ESPN and he has been sensational each time out. We really have high hopes for Demetrius.
Q: Ever since Demetrius turned pro he has been garnering rave reviews among boxing insiders. What are your expectations for him?
JD: Well as I said at the press conference we held when we first signed Demetrius with his co-promoter Artie Pelullo, I don't think Demetrius is going to be just a champion, I believe he is going to be the next superstar of boxing. He has all the talent and ability in the world to be a star inside the ring, and he has the personality and charisma to be the same outside the ring as well. Ever since the first time I saw him fight I knew he was something special.
Q: We understand there will be an additional 'bonus' feature fight.
JD: Correct. We will open the ESPN telecast with two more Olympians, Roberto Benitez (6-0, 3KO) (U.S.) taking on gold medalist Yan Barthelemy (9-2, 2KO) (Cuba). This is going to be a step up and a true test for Roberto. This is a great example of the fights we put on at Star Boxing-two top prospects, both Olympians from the same Olympics (2004), fighting against each other. The winner of this fight can truly be looked at as a top prospect in that weight class.
Q: Can you tell us about the rest of the card?
JD: I am just so excited about this undercard. We added our light heavyweight phenom Yathomas Riley (7-0, 5KO). Yathomas is one of the purest punchers out of any prospect, he has tremendous power in both of his hands, and he isn't afraid to fight anyone. If it were up to him he'd be fighting guys like Chad Dawson right now. He is a throwback fighter and you have to love that about a guy. We also have former top jr. middleweight contender "Mean" Joe Greene (21-0, 14KO) on the show and Elvir Muriqi's cousin Shqiprim Muriqi (2-0, 1KO), who just like his cousin packs the house with his loyal contingent of Albanian fans. Between the Dominican's coming out for Delvin, the Greeks for Mike, the Albanians for Shqiprim, as well as the New Yorkers making the trip out to see Roberto Benitez, Joe Greene and Yathomas Riley, we are expecting an enthusiastic crowd.
Q: Congratulations on being elected as the president of the Boxing Promoter's Association. How are things going with the BPA?
JD: Everything is going really well and moving right along. We just recently entered into a long-term distribution agreement with Round1 magazine. Beginning this summer, Round1 will be distributed directly and for free to boxing fans at events promoted by members of the Boxing Promoters Association. Very soon the BPA website will be up and running and we have another meeting scheduled for early June. People doubted that we would ever be able to get through the first meeting let alone form the Association, and almost a year later we are functioning and have made tremendous progress. There will be some great news released soon about that progress.
Q: Thank you for speaking with us, is there anything you would like to say in closing.
JD: I want to encourage everyone to come out on Friday night to Mohegan Sun. This is going to be a show you won't want to miss. Come back to boxing live: 'what's old is what's new' — come join us at Mohegan Sun, and if you can't make it live, be sure to watch it on ESPN.
Doors open at 7PM with the first bout scheduled for 7:30PM. ESPN will begin their live coverage at 9PM. Tickets are priced and available at $75, $45 and $30 and are on sale now. Tickets may be purchased by calling the Star Boxing office at (718) 823-2000. To find out more information about exclusive tickets please call Star Boxing at (718) 823-2000 or visit www.starboxing.com. Tickets may also be purchased through Ticketmaster. Ticketmaster customers may log on to ticketmaster.com or purchase tickets by calling 1-800-745-3000. Tickets can also be purchased at the Mohegan Sun Box Office.