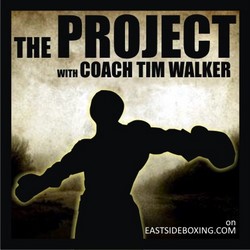 by Coach Tim Walker – This weeks Project, Jeremiah Graziano (9-0-0 KOs 9): Jeremiah "Wyson" Graziano of Kansas City, Missouri is a 6′-0″ 200 pound orthodox fighter. He represents the term "project fighter" in the truest sense. Before we get into him as a fighter let's talk about the nickname. Wyson has an interesting meaning. It stands for "White Mike Tyson" because Graziano emulates Tyson's style. This offers up the question "Can he punch like Tyson?" Let's get into that now. In 9 pro fights he has amassed 9 knockouts. Rightfully some of you are thinking, "Sure he does. At the beginning of your career it's easy to knockout guys." You're right. But if you take a look back on his hyphenated amateur background he was knocking out guys then too. And not just scrubs.
Graziano the amateur fighter
On his way to winning the 2008 Future Stars heavyweight championship (keep in mind that he started boxing in 2006) he faced excellent talent. He opened the tournament by scoring a second round TKO win over the United States Marine Heavyweight Champion Jerome Amato. He followed that up with a third round TKO win over Region Five Champion Craig Lewis, a decision win over 2007 P.A.L. National Championship silver medalist Craig Baker, and a finals first round KO win over Region Four Champion Michael Bissett. That is an excellent crop of amateurs to have wins over let alone wins over all of them in a single tournament..
Graziano the pro fighter
He is very aggressive with side to side motion that is similar to the style that Tyson used. However, his movement is not yet 100% purposeful. He does the motion but the movement is not yet innate. He loves to punch and does not waste time felling out his competition. He keeps his hands high but his arsenal is devoid of a jab. Still he is banger and bangers typically under-utilize the jab. This is interesting. If you watch early Tyson he absolutely used a jab. Graziano has a tendency to leap in with his left hook following his side to side motion. He'll be able to do that now but more experienced fighters might begin to time that move and counter it. At this moment it is not an issue.
As I watched film on him I noticed improvements in several areas. His ring generalship improved, he began cutting the ring off decently and he even started slipping a few punches. He will, sporadically, stop moving and take a punch or two. Regardless, the guy is a closer.
Final thoughts on Graziano
He is an outspoken character with strong Italian heritage who just so happens to be a little wild on the stick. Coupling this with his banging style and a cheering crown suggests a bright future in the sport. Keep winning, keep improving and he'll go far.
Note: Trained by John Brown (trained Tommy Morrison) and Austin Ford.
Coach Tim Walker is a contributing writer for Eastsideboxing.com and his own blog at boxing4life.blogspot.com. For questions, comments or to suggest fighters for Weekly Stud or The Project please email tpwalker@hotmail.com.