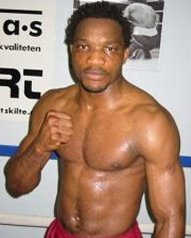 Exclusive Interview by James Slater – 37-year-old Lolenga Mock, 28-12-1(12) is a fighter who is probably best known to the majority of fans for his incredibly exciting, but losing fight with David Haye. The two met in September of 2003 and the man who was born in Kinshasa and who now lives in Denmark had Haye down in the 2nd-round. To this day, Mock, who was TKO'd in the 4th, maintains Haye was given extra time to recover from the right hand that decked him and that he himself was stopped somewhat prematurely.
Also having rumbled with top names like Charles Brewer ( a win for Mock), current IBF super-middleweight champ Lucian Bute, Mario Veit and, last time out in March of 2009, current WBA light-heavyweight ruler Gabriel Campillo (all points losses for the man who calls himself Lumumba Boy), Mock has proven his toughness.
The former two-time European Union super-middleweight champion gets a chance to regain his old belt one more on January 30th in Denmark, as he faces what has just been changed (according to BoxRec) to a TBA – as original foe, 27-year-old Frenchman Medhi Boudla, is now set to box in France instead of facing Mock as was originally the plan..
Mock, speaking in broken English, told me how training has been going for his upcoming fight. (although, obviously, the interview, conducted earlier this week, is now a little out-dated – I had no opportunity to speak with Lolenga a second time – the piece still makes good reading, I hope you agree.)
"Training has been very good," Mock said over the phone, in broken English. "I had a short break over Christmas, to spend some time with my family, but everything has been going perfectly. I have been sparring with two good fighters, one of them my best friend, Evans Ashira – a long-time sparring partner of mine. We are working together in Denmark right now, with my two trainers, Ivor Delima and Johny Delima."
Mock has not seen much of Boudla in action, but he is not in the least concerned. Nor is Mock worried about the fact that he is ten years older than the Frenchman.
"I have seen just one of [Bouadla's] his fights. He looks to be a good boxer and he has never been stopped. But I'm not worried about his record or his age, he is coming to meet me in the ring and he better know he is going to be fighting the Lumumba Boy! This one is a hundred-percent. I will win this one, a hundred-percent!" (It will be most interesting to see who comes in as a replacement for Mock)
Mock feels a win could lead him towards a world title fight, and there is one man at the top of his list.
"I want a rematch with [Gabriel] Campillo. I don't know how I lost that fight. It was in my country of Denmark, I had him down in the 2nd-round and I was the one making the fight with my aggression. I don't know what the judges were looking at. One of them had me losing my just one point. He [Campillo] was southpaw and I did have some problems with his stance. But I wanted a rematch straight after the fight, but then they gave him a shot at the (WBA) world light-heavyweight title. After I win back my European Union title on the 30th, I will be very happy if I get a rematch with Campillo."
Mock will have been out of the ring for over nine months by the time Jan. 30th rolls around, yet he says he has been keeping sharp by doing lots of sparring.
"I have been in the gym since the loss to Campillo, and I have been sparring all over. I sparred recently in Ireland – I sparred with the Cuban kid who is also a 168-pounder, I forget his name. [promoter] Gary [Hyde] set it up. (Mock is referring to the Glen McCrory-trained Luis Garcia). I have also been sparring in Germany. So I have been busy, keeping things in control, keeping myself in shape."
I asked the colourful warrior about some of his big fights. "The Lumumba Boy" spoke about two fights in particular.
"The Charles Brewer fight was a very good fight that I won. The [David] Haye fight was also a very good fight. But Haye was bigger than me – I wasn't in his weight division. He has good power and I like his uppercut; he has a nice uppercut. But I had him down in the 2nd-round and they [the officials] gave him time to recover. He had about 30-seconds of time given to him after he got up from the knockdown. I was made to go back to a neutral corner. "Get back!" the referee told me. He had to see that I had Haye hurt. I was then stopped without being given a chance to continue (laughs). It was a good fight though."
Mock laughed when I asked him about all the different weight classes he has fought in – middle, super-middle, light-heavy and even cruiserweight – but he says he is a natural 168-pounder now. He also refuses to listen to anyone who says he is getting on at age 37.
"I'm strong at 168. I don't struggle to make the weight at all. I'm a natural super-middleweight. As for my age; I look like I'm in my twenties. People tell me all the time that I look around 25! I take care of my body and if you look at my record you will see how there have been times when I never had a fight. People talk about when a fighter should stop, but they don't understand how a fighter's mind works. I feel I can go for another ten years, because you'd never guess I was 37. And I have never been KO'd in any fight – never! There are plenty more fights still to come."
Mock, who has literally fought all over the world, is happy to be boxing in Denmark once again.
"I am very happy this fight is taking place in my home [country]. I know I have many fans here in Denmark and they will all be coming to the fight. I know I have to show them something good. I will stop Bouadla!"