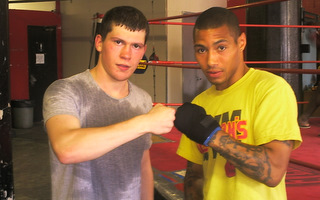 By Gavin Lee – Ashley Theophane spent the weekend with World number one Dimitriy Salita before Salita's World Championship challenge to Amir Khan in Newcastle this Saturday. I spoke to Ashley on his return to London to get his thoughts on Amir Khan's challenger.
How are you Ashley? I am good. Just got back from Newcastle.
How do you know Dimitriy Salita? I met Dmitriy at Gleason's Gym in Brooklyn, New York back in August 2006. We sparred and his trainer at the time Harry Keit liked our session, so he invited me to Dmitriyfs training camp up in Pocono's mountains later that month. That was the beginning of our friendship. I had seen Jewish people in London but didnft really know none. Since knowing Dmitriy I have met many more Jewish people and learnt more about their religion and culture..
What made you get into boxing?
As a kid I watched the big fights with my father. Watching Marvin Hagler and Mike Tyson triggered my love for Boxing.
How did your weekend with Dimitriy go?
It went well. Dmitriy is in great shape and I am excited for him.
We went for morning runs along the river in Newcastle and we sparred on Saturday and Sunday. Dmitriy has fast hands and hits hard with good skills so it will be a good fight.
I have been a part of his training camps around five times so I have seen his improvement over the last three years and I am happy for him and look forward to seeing him with the WBA belt around his waist.
It was also great to meet the guys from New York as I havenft seen them in a year. Felt weird being around them in Newcastle. Like I am in New York with all these Brooklyn accents around me.
Was there any highlight of your trip to Newcastle to help out with Dimitriyfs last preparations?
I would say meeting Bob Goodman who is Chief operating officer with Square Ring who promote Dmitriy. He worked for Don King for 30 years and has seen Boxing legends like Joe Louis, Sugar Ray Robinson and Muhammad Ali at close quarters. So it was great to speak to someone who has been all over the World and experienced so much.
It was good to hear his thoughts and get some advice which I appreciated.
Was there any low points of the trip?
I would have loved to have seen some of the landmarks of Newcastle but I just did not have the time as only spent a weekend here and I was here to support Dmitriy. I wasnft on my own vacation.
Newcastle is known for itfs great night life.
Did you get to sample the late night entertainment of Newcastle whilst there over the weekend?
I did you know. I accompanied a member of Team Salita as he wanted to see how they get down in Newcastle. It was good. I enjoyed my time out in the Town Centre. I had to be up and ready for 8am as I wanted to run with Dmitiry so we didnft stay out too late.
Letfs talk about you for a minute. Whatfs going on with you?
I have been good. I beat former Commonwealth champion & European title challenger Craig Docherty in March then I won an eight rounder at York Hall in June.
I have Been working on my Calendar with the help of Hoodtwinz Entertainment which is for charity. Finalizing the Hood star clothing range which is available now.
I threw 2 parties celebrating the Calendarfs release and I was happy with the love I have been shown by people for that project.
I am currently in US magazine Urban Ink which is out now in all good retailers in Britain and the United States.
European Champion Paul McCloskey flew me out to Ireland to help him for two weeks which was fun. I came back and have been sparring WBC number 3 Ajose Olusegun and now I had a weekend with the number 1 contender in the World Dmitriy Salita ahead of his clash with Amir Khan, so I have had quality sparring for the last two months. I feel in great shape.
It is a shame fights with Carlos Quintana and Randall Bailey didnft materialize but my team is trying to get Steve Forbes on January 3rd.
@
Whatfs been the most memorable fight in your career so far?
On a personal note, I would say fighting in Saint Lucia. My family from my fatherfs side are from there and I grew up around my St.Lucian family so it meant so much for me to go back home and fight in front of my people. I would love to fight there again be it defending a title or challenging for one.
In terms of my career, beating former World Champion Demarcus gChop Choph Corley was very meaningful. He lost to WBC World Champion Devon Alexander just before me and former World Champion Randal Bailey who went on to challenge Juan Urango for the World Championship a few months later.
Who is your favorite boxer of all time and youfre current favorite one?
Roy Jones Junior was incredible as an amateur and even better as a professional in the nineties. There has never been a talent like that. Sugar Ray Leonard or Floyd Mayweather Junior donft even come close to how good Roy was.
Currently I would say Floyd Mayweather Junior but I have seen Manny Paciquao train in the flesh at Wild Card Gym in Hollywood and I have never seen someone go through the routines he goes through. He would spar 12 rounds with decent fighters and still hit bag and do pad work. Incredible!
@
Are you sponsored by any companies and if so have you found it hard to gain support from companies in the past?
I am working with Rock-it Tattoos, Wellman, HIGH5, For Goodness Shakes and soon to be Boxfit UK.
When you are successful in what you do, companies want to be associated with that so I work hard everyday in the gym to be the best I can be and I am seeing the results with the help of these companies.
@
Tell us something people outside the boxing business might not know about you?
I am writing my novel gRaised By the Hoodh and working on my Hood star Clothing line.
The Hoodstar~Hoodtwinz 2010 Charity Calendar is out now and available to buy from various shops, All Stars Boxing club,
www.allstars-gym.com and www.ashleytheophane.com
@
If you could fight anyone in the World, who would it be?
I grew up watching the best fighters fighting each other not just young fighters beating up old fighters like Amir Khan wants to do and Ricky Hatton, who made a career out of it.
So fighters like Juan Diaz, Victor Ortiz, Paul Malignaggi and Lamount Peterson are fighters I would like to fight in the future.
Will you know when its time to hang up your gloves?
I have a plan in my head of when I want to retire. Fighters like Bernard Hopkins, Roy Jones Junior, Nate Campbell, Daniel Santos and Carlos Baidomir all had success into their thirties so I have a time line of what I want to achieve and by when.
Athletefs are lasting longer these days. Sports nutrition is at itfs best so me using Wellman, HIGH5 and For Goodness Shakes with healthy eating and a great training routine can only help me in my quest to be the best.
Is there anything you wish to say before we wrap this up?
I would like to wish my friend Dmitriy Salita the best for Saturday night. As long as he does what he is capable of doing I am confident he will win in Newcastle and bring the WBA title back to Brooklyn.
Also! Buy a Hoodstar~Hoodtwinz Charity Calendar. All profits go to Cancer Research UK, The British Heart Foundation and All Stars Boxing Club.
Get them online at: www.allstars-gym.com and www.ashleytheophane.com
Thank you Ashley. All the best for 2010