Jaime Castro-Núñez – "Heavy-handed" –That's the first adjective that comes to mind when we hear about a Colombian boxer scheduled to fight here in the US. Instinctively, fans associate his nationality with action, excitement, exchange and even drama. Ricardo Torres, Edison Miranda, Juan Urango, Yonnhy Pérez, Joel Julio, Lely Luz Flórez, César Canchila and Fulgencio Zúñiga are just few examples of what I'm talking about here. But today am not going to spend any time with these athletes because by now you've seen them many times. They are veterans and their respective performances have given you enough elements to assess their skills and power, so you've a clear picture of what they can –and cannot- accomplish up in the ring.
That's why I've decided to introduce you 10 Colombian boxers who will entertain us in the years to come.. They range from flyweight to heavyweight and some are more skilled than others. But one thing is for sure: these boys have the hands of Mike Tyson and they don't get wrinkled… They come to fight! And that's what we want. Don't we? Before I give you my list, I want to add that some of them are already on youtube. Watch them, if you have time. Here we go…
1. Darley Pérez, 26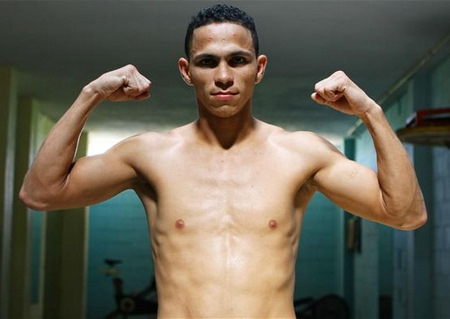 Record: 11-0-0, KO's 10
Division: lightweight
Residence: Barranquilla, Colombia
Manager: Billy Chams (Cuadrilátero)
Trainer: Orlando Pineda
Comments: Darley Pérez is Colombia's hottest prospect. Undefeated in 11 professional bouts, the current WBA Fedelatin lightweight champion is scheduled to fight Panama's Irving Berry (13-1-2, 7 KO's) in February. Recently, I published an article on his victory over Argentinean Patricio Pedrero (20-2-1) with a youtube link included. Here is what some ESB readers said. "No Clue. Seems like a good kid (…) He reminds me of Torres. Same lean frame and heavy hands." "Goatsnake. Perez looks legit." "Nila. Wow I like Perez, nice defense with some crazy quick strong combos. When this guy fights, somebody is getting KO." "Maynila. Relentless warrior this guy is". Photo: Guisselle Vargas.
2. Eléider Álvarez, 25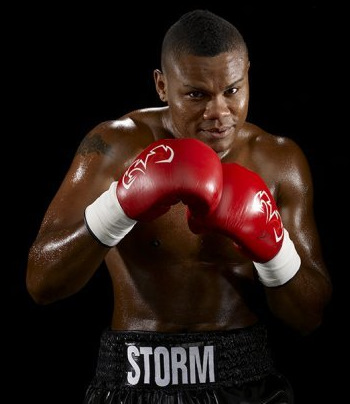 Record: 3-0-0, KO's 2
Division: light heavyweight
Residence: Montreal, Canada
Manager: Yvon Michel (GYM)
Trainer: Marc Ramsay
Comments: During the mid-2000's Eleider Álvarez was considered Colombia's greatest amateur boxer since the times of legendary bantamweight Robinson Pitalúa (1964-1985). After claiming the gold medal at the Pan American Games in 2007, Álvarez represented his native country at the 2008 Olympics, where he lost to Tony Jeffries. He decided to turn pro early this year and signed a contract with Canadian promoter Yvon Michel, who relocated him to Montreal, where he currently lives and trains under the supervision of Marc Ramsay. He has power on both hands and moves with solvency up in the ring. However, as any prospect with a record of 3-0, he still has many things to learn. Patience seems to be one of them. Photo: Courtesy of Yvon Michel.
3. Óscar Rivas, 22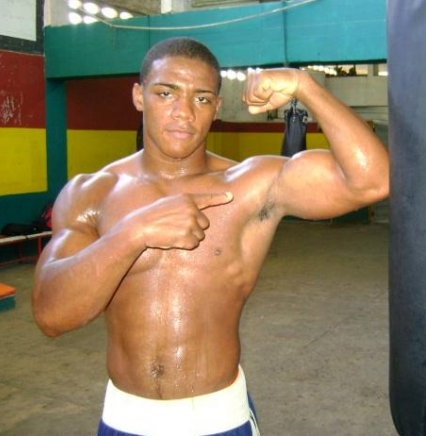 Record: 3-0-0, KO's 1
Division: Heavyweight
Residence: Montreal, Canada
Manager: Yvon Michel (GYM)
Trainer: Marc Ramsay
Comments: A heavyweight coming from Colombia is an oddity. But Óscar "Kaboom" Rivas has promised to follow the steps of Colombia's most celebrated heavyweight, Bernardo Mercado, ranked number one by the WBC back in 1980. Rivas debuted in Montreal against Joe Stofle (11-18-2) with a TKO 3. Later he outworked Stephane Tessier (3-22-1) and Ramon Hayes (15-28-1). In 2010 we will see Rivas facing better opponents and as is the case with his pal Eleider Álvarez, it will take him at least two more years to become a contender. Photo: Courtesy of Óscar Rivas.
4. Jhonatan Romero, 22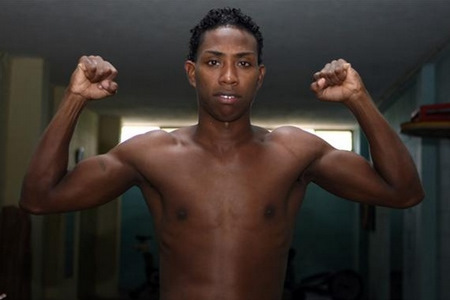 Record: 7-0-0, KO's 5
Division: Bantamweight
Residence: Barranquilla, Colombia
Manager: Billy Chams (Cuadrilátero)
Trainer: Orlando Pineda
Comments: Venezuelan Hermin Isava (9-4-0) is so far Romero's biggest test and accomplishment. In an 8-round bout that took place at Medellín's Convention Center, Romero floored twice the more experienced Isava, but in the last round he got caught with a right to the chin that sent him to the canvas. He continued to fight and won by UD. Nicknamed "Momo", the left hook is by far his biggest asset. A short video of him is available on youtube. Photo: Guisselle Vargas.
5. William Urina, 23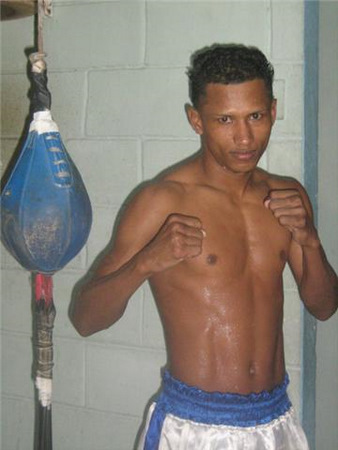 Record: 9-0-0, KO's 7
Division: Bantamweight
Residence: Barranquilla, Colombia
Manager: Billy Chams (Cuadrilátero)
Trainer: Orlando Pineda
Comments: Urina turned pro on February 14, 2009 and since then has been busy both training and fighting. At 23 he plans to be a contender by 2011, but promoter Alberto Agámez believes Urina has the discipline to make it happen at the end of 2010. Unlike Darley Pérez or Jhonatan "Momo" Romero, William Urina hasn't been tested yet against non-Colombian opponents and all of his wins have been against kids with loosing performances. His fight with Over Bolaños, a Billy Chams show called "Puños en la Playa II" (Fists in the Beach II) last October, confirmed he has dynamite in both hands. Photo: Guisselle Vargas.
6. Anuar Salas,
22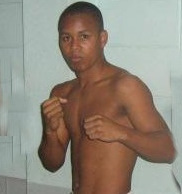 Record: 3-0-0, KO's 3
Division: Flyweight
Residence: Barranquilla, Colombia
Manager: Billy Chams (Cuadrilátero)
Trainer: Orlando Pineda
Comments: If you take a look at Anuar Salas you might think he's the younger brother of former light flyweight champion César Canchila. Well, that´s why people call him "Canchilita" or "little Canchila". The most-recent boxer signed by Billy Chams doesn't just look like Canchila, he fights like him: footwork, stamina, resistance, and power. Photo: Guisselle Vargas.
The next four boxers: Daulis Prescott, Likar Ramos, Santander Silgado and Luis Meléndez aren't prospects. However, I decided to include them in the list because we're just months away from seeing them fighting here in the US. Meléndez, in fact, has already thrown bombs in the US.
7. Daulis Prescott, 24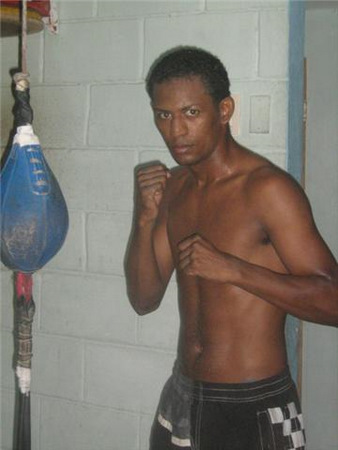 Record: 19-0-0, KO's 15
Division: Featherweight
Residence: Barranquilla, Colombia
Manager: Billy Chams (Cuadrilátero)
Trainer: Orlando Pineda
Comments: The younger brother of Breidis Prescott is rapidly following the footsteps of the man who dismantled Amir Khan. No longer a prospect, Daulis has called this coming 2010 the year in which another Prescott will be the center of many news. He doesn't seem to get upset when journalists tell him he will be tested in the US. All the contrary! He smiles, shows the fists and says: "same thing was said about Breidis and you saw what happened. I've power and know how to box." Photo: Guisselle Vargas.
8. Likar Ramos, 24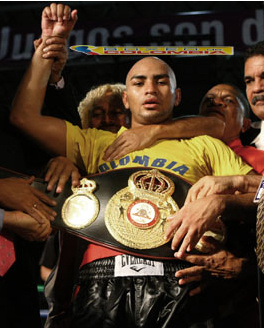 Record: 21-2-0, KO's 15
Division: Super Featherweight
Residence: Barranquilla, Colombia
Manager: Juan Carlos Devia (Probox)
Trainer: Miguel Guzmán
Comments: Having defeated 35-year-old Ángel Granados of Venezuela on November 19th, Likar Ramos is the newly crowned WBA interim super featherweight champion. He claimed the belt during the 88th WBA Annual Convention in a card organized by promoter Alberto Agámez. As a pro, Ramos has never fought outside Colombia, so the first defense of the belt will be, for sure, overseas. Rumor has it he'll fight Venezuelan Jorge Linares. This kid has some power and skills, but he runs out of gas very easily. Photo: Marco Perez.
9. Santander Silgado, 24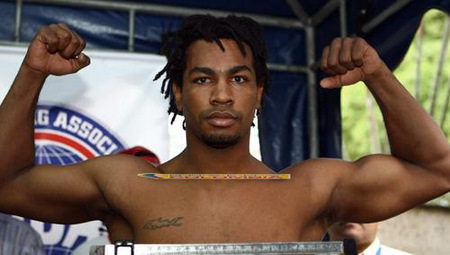 Record: 18-0-0, KO's 16
Division: Cruiserweight
Residence: Buenos Aires, Argentina
Manager: Marcelo Domínguez
Trainer: Rafael Liendo
Comments: Those who read my paper on the past, present and future of Colombian boxing at the beginning of this 2009 know that I had both Yonnhy Pérez and Santander Salgado as Colombia's best hopes for world titles. Yonnhy didn't disappoint me. And I hope Silgado won't. He can box and hit. And has a winning mentality. He's very young, hungry and has bravely fought in Colombia, Dominican Republic, Argentina and Germany. Undefeated in 18 professional bouts, recently he was relocated to Las Vegas, NV, to train under the supervision of Mike Díaz. He was scheduled to fight Brazilian Ruy Da Gloria for the Fedecaribe cruiserweight belt, but the fight was cancelled at the last minute. Unfortunately, nothing is available of him on youtube. Photo: Marco Perez.
10. Luis Meléndez, 29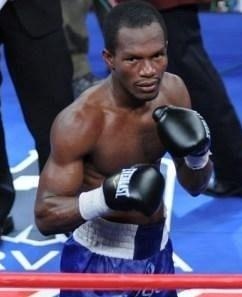 Record: 26-4-1, KO's 21
Division: Bantamweight
Residence: Cartagena, Colombia
Trainer: Martín Valdéz
Comments: Meléndez's first fight outside Colombia was two years ago on the Boxeo Telemundo show, when he fought Cecilio Santos for the WBO Latino super flyweight title. He lost by TD, but paved the way to fight, eight months later, Fernando "Cochulito" Montiel for the WBO super flyweight belt, giving the Mexican a tough battle. Perhaps with a better guidance Meléndez will be able maximize his abilities and in the near future claim a world title. His last fight, against Filipino Z Gorres, was an outstanding demonstration of desire and power. He lost against Gorres, but his trainer Martín Valdéz insists they got cheated. He argues that the last round, when Meléndez badly hurt and floored Gorres, was short about a minute. He blames it on the timekeeper. Cheated or not, it's certain we'll see Meléndez again in 2010 and when he steps into the ring, somebody in gonna get floored, at least. Photo: Jorge Najera.