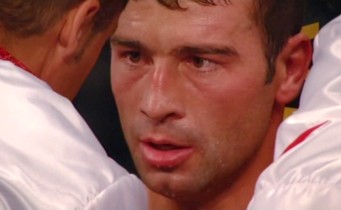 by James Slater – Congratulations must today go out to Lucian Bute, the reigning IBF 168-pound champion. Respect, too, must go out to the unbeaten southpaw who goes by the nickname of "Le Tombeur." I for one sure got it wrong going into last night's Bute-Andrade rematch. No way did I think the 29-year-old could stop the iron-chinned Mexican warrior. And okay, it was a huge body shot that stopped Andrade, but a head shot did drop the 31-year-old prior to the stunning and highly impressive finish scored by the man who is now 25-0(20).
So impressive was Bute's win, he must now be looked at as the world's number-one super-middleweight. Improving and hitting harder in each fight, the Romanian-born talent has now taken out four of his last five opponents. And it's not as if Bute has been facing mediocre fighters. Is Bute better than Andre Ward, Mikkel Kessler, Carl Froch, Arthur Abraham and Andre Dirrell? That's still a debatable question, but one thing is sure; it's a shame Bute is not fighting in the "Super Six" tournament..
Instead going his own way, Bute can pick enough big fights nonetheless. Maybe the gifted southpaw will box the eventual "Super Six" winner. In the meantime, Bute looks set to further solidify his standing as at the very least a top-three super-middleweight in the world. Already holding wins over Sakio Bika (Bika being one of the toughest super-middles in the world), Andrade (twice) and Colombia's big-punching Fulgencio Zuniga, Bute has proven his worth.
Last night's 4th-round TKO win over Andrade is his best and most impressive win yet though. Almost stopped in the 12th-round of their initial meeting back in October of last year, Bute, expected to have another tough night's work yesterday, instead made short work of a man who has never been stopped before. If that's not impressive, then what is?
So who can Bute fight in the coming months? Seemingly at his peak at age 29 and after having had 25 fights in his now six-year pro career, the IBF champion (who, interestingly, is now ranked at #1 at 168 by BoxRec's ratings) might have some trouble getting a really big fight, as most of his rival talent is involved in the ShowTime tournament. But Bute could face guys like the winner of the upcoming Robert Stieglitz-Edison Miranda WBO title clash, Allan Green and maybe Bika in a rematch. It would be nice to see Bute box somewhere other than his homeland of Canada next, too – his adopted country being the site of his last thirteen fights.
But whoever he fights next, Bute will have more and more fans tuning in. As a result of last night's stunning victory, "Le Tombeur" has more than proved himself as a true champion and a genuine contender for holding the distinction of the world's best in his weight class.