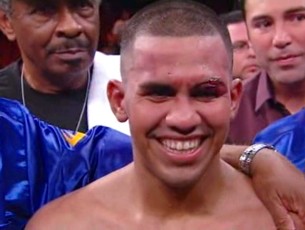 (September 29, 2009) In 1980 Roberto Duran became famous for uttering the words "no mas" in the eighth round of his rematch with "Sugar" Ray Leonard. Almost thirty years later, Juan Diaz is refusing to even entertain the thought of a rematch by saying "no gracias" to the deal his promoter, Golden Boy Promotions, had already agreed to for a second meeting with Paulie "Magic Man" Malignaggi.
On August 22, Malignaggi and Diaz battled back and forth in what has been widely acclaimed as one of the best fights of 2009. Despite the close nature of the fight, and most observers believing Malignaggi had done enough to win, Diaz was awarded an astonishingly lopsided unanimous decision.
The verdict, which was particularly jaw-dropping given Judge Gale Van Hoy's 118-110 scorecard in favor of Diaz, has had boxing fans far and wide clamoring for a rematch..
Over the course of the past two weeks Malignaggi's promoter, Lou DiBella of DiBella Entertainment, and Diaz's promoter, Richard Schaefer of Golden Boy Promotions, began hammering out the details of Malignaggi vs. Diaz 2, with both sides agreeing that everything would be split and distributed evenly, from the fighter's purses to the percentage of profits off the event that both companies would keep. The two sides had begun reaching out to venues in Chicago due to its neutral location between Malignaggi's hometown of Brooklyn, New York, and Diaz's hometown of Houston, Texas (where the first fight took place). Even HBO was onboard, agreeing to pay a hefty license fee for the rights to air the bout on December 12.
"I was very excited," said Malignaggi of his reaction to the news a deal was nearing completion. "I knew the rematch was going to be a great fight and I knew I was going to beat the breaks off this guy."
Things began to fall apart, however, when word of the deal being struck was met with vastly different responses by the camps of the respective fighters. While Malignaggi swiftly agreed to the terms of the deal and put into motions plans to start a training camp, Diaz and manager Willie Savannah rejected the offer his promoter had struck on his behalf, thus killing the dreams of all boxing fans that these two top junior welterweights would square off again.
"I assumed when Golden Boy and I reached an agreement, that the deal was done, and I think Richard Schaefer believed it was going to get done," said DiBella. "I know that Golden Boy tried to make this fight with the license fee that was available; they were frustrated by unreasonable management and an unwilling fighter."
Diaz did not give a specific reason for his withdrawal other than saying he deferred his decision to manager Willie Savannah. Whoever made the final call, Malignaggi suspects it was the overture of neutrality that ultimately killed the bout from the Diaz end.
"If Juan is a real fighter, he will pull up his skirt and tell Willie Savannah he wants the rematch," said Malignaggi. "Willie doesn't want to do a rematch because they can't screw me the second time around. In the spirit of competition, Juan should want a rematch and this rematch should happen."
"The problem with marketplace decisions are that they give the beneficiaries the idea that they have marketplace leverage, even when they don't," added DiBella, who has another theory why Team Diaz has chosen to stay away from Paulie Malignaggi this time around: "I guess Juan Diaz doesn't want to see his mother crying with her head buried in her hands again."
While Malignaggi will always be amenable to an opportunity to settle the score with Diaz, he is moving on, and not letting Diaz get in the way of him or his career advancement.
"I'm not going to wait on Juan Diaz," he said. "I heard Diaz actually wants a rematch with Juan Manuel Marquez [who stopped Diaz in nine rounds in February], but who gives a crap? Marquez will knock him out cold again. Here's an idea. How about Malignaggi vs. Marquez? I've got to keep it going, with or without Juan Diaz."