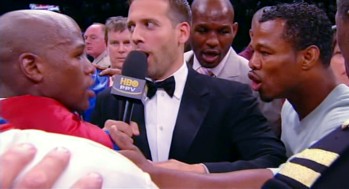 by Yero Moody – As one of the million plus viewers who tuned in to watch the Floyd Mayweather, Jr. v. Juan Marquez fight I was elated to see Shane Mosley approach Mayweather about a showdown. At the end of the fight I was very surprised to see Shane Mosley in the ring with Mayweather during his post-fight interview. If you've followed the career of Mosley, you know that he doesn't usually do things like that.
Both Mayweather and Max Kellerman, the HBO analyst who was interviewing Mayweather at the time, have been hearing their share of criticism for the way the post-fight interview turned out. I for one, am happy.. Not happy because of the way the interview ended but because of the presence of Mosley. Besides, Mayweather was able to say all that he wanted to during the live interview he gave on HBO after his fight with Marquez was replayed. As a fan of Mayweather, and most importantly the sport of boxing, I am deeply disturbed by all of the double talk Mayweather engages in.
I watched the 24/7 documentary on HBO leading up to his fight with Marquez and one of the things that stood out was the fact that Mayweather and his manager Leonard Ellerbie stated emphatically that Mayweather is his own boss and does not answer to any one. Well, if that is true (and I believe it to be absolutely true) then why does Mayweather insist upon stating that Al Haymon and Leonard Ellerbie are going to determine who his next opponent is when he was asked about fighting Mosley in his last two interviews on HBO? When Hatton and Marquez called him out he answered their challenges with no questions asked nor any diversion to his managers. What makes Mosley different?
For most of his career Mosley has been one of the best fighters in the sport. However, his popularity, pay per view sales, and money earned have never quite equaled his skills. Whereas, fighters like Oscar De La Hoya, Manny Pacquiao, Ricky Hatton and Floyd Mayweather have all basked in the glory of being extremely popular and very well paid. This all comes down to management and personality on the part of Mosley. Surely, its not about his skills, talent or quality of opposition faced. His ring resume speaks for itself. I always wondered why Mosley's mangagers never did anything to acclamate him more to the public. Mosley, until recently, has never acted with a sense of urgency about getting his just due.
A fighter of his caliber should never have to go to the Wild Card gym and ask Freddie Roach to allow his fighter, Manny Pacquiao, to face him or have to show up at Mayweather's post-fight interview and ask for a shot. It should be the other way around. Mosley has faced more quality opposition than both Mayweather and Pacquiao. Remember, he beat a prime Oscar De La Hoya which was not the case when Mayweather faced him and especiallly when Pacquiao faced him. The fight game is about money and unfortunately due to poor marketing on the part of Mosley, he is not the money maker that Mayweather or Pacquaio are. So now unforunately, he is forced to resort to these antics.
As I've said since I wrote one of my very first articles about Shane Mosley, he is the only fighter I feel that could possibly beat Mayweather. I also feel that Mayweather is the only fighter at welterweight that could possibly beat Mosley right now. Mosley, in my opinion, got a poor decision against Miguel Cotto. It should have been a draw. Mosley, since getting his father back, has returned to "power boxing." If he were to fight Cotto again the fight would be very different. Mosley I believe, would win convincingly. I also believe that both Mosley and Mayweather would beat Manny Pacquiao, Andre Berto and Joshua Clottey. I'm not mentioning Paul Williams because he is simply too big at this point in time and it would be a foolish fight for either one of them to take.
The match-up of Mosley v. Mayweather is a fight that must happen, Especially if Mayweather wants to be remembered as the best. He can't retire without facing Mosley! If Mosley wants to regain his lure and make some serious money he needs to fight the best at welterweight, Mayweather. Mayweather is not to be totally blamed here. He did pursue a prime Mosley back in 1999 and again 2006. Both times it was Mosley who declined. Despite the cries of the many Mayweather "haters" these are the facts. So Mosley must take a note from Antonio Tarver who showed up at Roy Jones' press conferences, fights and interviews. Tarver knew that Roy Jones' ego would not allow him to be constantly bombarded with challenges and questions from the press about fighting him. The same with "Money" Mayweather. Mosley must press on and not care what anyone else says or thinks. His goal should be to get Mayweather in the ring.
Side Notes: I don't think Mayweather is a "cherrypicker" or that he is afraid of fighting Mosley. If that were the case I'm sure he would never have pursued a more prime Mosley of 1999. I think he is very arrogant. He thinks the sport revolves around him. So he probabaly feels "snubbed" by Mosley. In 1999 Mosley was on top and Mayweather was trying to make a bigger name for himself so he went after Mosley and Mosley said no. Again in 2006, he tried to lure Mosley again, in the hopes that by facing a big named opponent he could surpass Oscar De La Hoya but Mosley said no again. So now he is making Mosley feel what he felt. My advice to Mayweather is to forget the past and focus on securing your legacy by fighting the best in your division, "Sugar" Shane Mosley or Miguel Cotto should he beat Pacquiao. If Pacquiao wins, Mayweather would then likely face Pacquiao and hopefully fight Mosley as possibly his last fight.
Thank you for reading. Questions/Comments: yero_m@yahoo.com