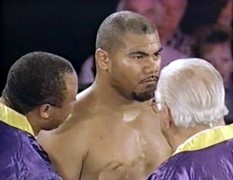 By Coach Tim Walker – Just when you thought you had heard everything you would ever hear from David Tua (49-3-1 KOs 42) he comes rushing back at you like the perfect wave coming in off the Pacific Ocean. If there has ever been another fighter who people around the world generally hope experiences success then I haven't seen him. He is the quintessential underdog. A substantially undersized heavyweight in a world of giants. A virtual peewee at 5'10" and 235 pounds.
When he faced Cerrone Fox in 2007 I thought to myself, "Okay that's it. I think he's done." In case you missed it Cerrone is no world beater and certainly not on Tua's level. Thus when a 50 plus bout title challenger such as Tua is greeted in the ring by a fighter of Cerrone's caliber you are forced to think about whether he is significant in the sport. After a while writers stopped writing about him, people stopped talking about him and before you knew it Tua was relegated to being a YouTube highlight with the distinction of being one of those fighters who was good enough to contend but never quite good enough to win a world title..
In 2003 he fought in an IBF title eliminator against Hasim Rahman that resulted in a draw. Before that, in 2000, he challenged Lennox Lewis for the WBC, IBF and IBO titles and lost a unanimous decision. That is not to say that the 1992 Heavyweight Olympic Bronze medalist didn't enjoy professional success. He most certainly has. He holds wins over David Izon, Hasim Rahman, John Ruiz, Obed Sullivan, Fres Oquendo and Michael Moorer. The success is there. But, the championship isn't and maybe that's why Tua is back on the wave.
When he steps in the ring against Shane Cameron (23-1-0 KOs 20) on October 3 at the Mystery Creek Events Centre in Hamilton, New Zealand it will be officially 25 months since he last boxed professionally. Is this the last stand of the Tua-man or is this a momentary resurgence of a once glimmering hopeful that made us all stand up and take notice? He has the right to earn money as he sees fit but I hope he's in it for the work and not just payday similarly to how Chris Arreola opponent came out of retirement to basically cash a check. I seriously hope it's not the latter but it does force me to think.
Certainly I'll root for him because he is the Tua-man but maybe, just maybe Cameron puts a stop to the greatest boxing show Somoa has ever produced. Maybe he puts a stop to the Tua-man. Or maybe, just maybe Tua stays on the wave for just one more swell.
Please contact Coach Tim Walker at tpwalker@hotmail.com for any questions or comments.