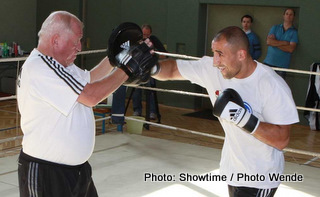 ZINNOWITZ (September 28, 2009)—King Arthur Abraham believes the solitude of Zinnowitz will help him to be in top shape for his clash with Jermain Taylor on October 17. The undefeated German takes on the former undisputed middleweight champion in the first Group Stage of the Super Six World Boxing Classic. A sell-out crowd of 14,000 fans is expected to attend the clash in Berlin´s famous o2 World Arena. Abraham moved his training from the German capital to Zinnowitz, a small island in the Baltic Sea, ten days ago. Boxing-online.com caught up with the 29-year-old (30-0, 24 KOs). King Arthur on:
ZINNOWITZ
"This is the perfect place to get in shape. I have been here countless times. The fresh air, the beach, the sea – it is perfect. We have great facilities and everything we need to prepare."
SOLITUDE
"It is good to get out of Berlin. There are too many distractions in the weeks before a fight. Here in Zinnowitz, all we do is eat, sleep and train. To be honest, there is nothing else we could do here anyway.."
PET DOG NAMED MIKE TYSON
"I miss him a lot. He is my new dog. He is eight months old and he could not join me for the training camp unfortunately. I have named all my pets Mike Tyson. The man, Mike Tyson, is the reason why I started boxing. I want to be as successful as he was inside the ring."
JERMAIN TAYLOR
"Taylor is a great champion. He is a legend. But he will not beat me in front of my home fans in Berlin. I have analysed him closely. He was winning against Carl Froch on points but then he was caught. He is very strong and I am sure it will be a spectacular fight."
OCTOBER 17
"It will be a special evening. Taylor is a strong opponent, but inside the ring, it is not the stronger boxer who wins but the smarter one. You will find out on October 17."
SUPER SIX WORLD BOXING CLASSIC
"There are no weak opponents in this tournament – it is the best against the best. For me, it is like a dream come true to participate. After the Super Six, I want to be known all over the world. I want to please the fans not just in Germany but in America and I am sure my fights will be fun to watch."
AMERICA
"I love America. It is a wonderful country. Everything is possible in America. I want to have big fights in America and the Super Six tournament will be the perfect start."
For information on all SHOWTIME Sports telecasts, including exclusive behind-the-scenes video and photo galleries from its events and complete information on the Super Six World Boxing Classic, please visit the website at http://www.sports.sho.com.