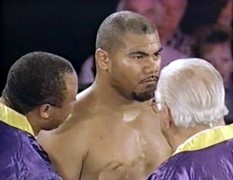 Eugene Carnachan – Leonard will be chairing a question and answers session between the two power punchers and went on record as saying that these domestic fights excite him more because they are essentially a couple of guys scraping over who is the toughest guy "on the street corner…so there is a lot of pride at stake". On that note this is very much a turf war between Tua and Cameron and Tua the old bull is fighting to preserve his status as the premiere heavy in this part of the world. Cameron, 31, on the other hand is looking to usurp the 37 year old Samoan from that standing. It goes without saying that both are looking to win this fight and contest a title for one of the major belts. A loss would make the title hill a steeper to climb but neither man is training the house down to lose!
Promoters Duco have got a coup in getting a legend like Leonard to promote what is being billed as "Fight of the Century". Leonard world renowned for his amazing boxing skills is equally adept as a commentator, technician, analyzer of fights and fighters..
Leonard has laid down what he thinks is the winning formula for Tua and stated "the way for Tua to win this fight is utilize his power and intimidation…he need's to get inside and work the body…throw body shots until the right hand comes down then throw the left hook".
When asked about Cameron's propensity to cut Sugar had this to say "the cuts Shane has incurred for a while become a handicap…for David Tua it's like bread and butter" inferring that David has to exploit Cameron's capacity to cut.
When questioned about Tua being 37 years of age Sugar said "David has to go in there and try to take Cameron's heart because Shane has not faced the opposition that Tua has faced…David Tua is ready for the big time…the question is, is Shane ready?".
Leonard when asked what he would have advised about Tua taking a couple of warm up fights stated "where David is in his life and career he has to take this fight…and take advantage of it and go in there with guns blazing".
Look forward to reading more thoughts from the great man about this very compelling fight between Shand Cameron and David Tua.