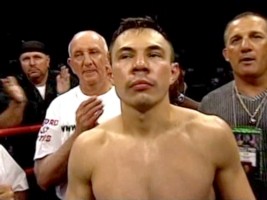 By Ted Sares – He's a very, very complete fighter. I don't think I've ever seen a fighter more ready for the pros –Dan Birmingham singing the praises of Matt Korobov
Wilder needs someone that can stay in there with him long enough for him to develop his skills, and frankly a D class opponent that folds in the first minute of action isn't going to get the job done –Jim Dower (Boxing News)
As an amateur on the vaunted Cuban national team, Rigondeaux was one of the greatest of all time. –Dan Rafael (ESPN.com).
Teddy Atlas is absolutely correct. Too many of these Olympians and other quality amateurs who have over 100 fights are wasting their time (and our's) by fighting low level opposition. However, he also needs to apply that viewpoint to "one of the greatest amateurs of all time" (reportedly his words). When 2000 and 2004 Olympic gold medalist Guillermo Rigondeaux (who had over 400 amateur fights), beat Juan Noriega in his pro debut, it was a disgraceful mismatch. When he followed this up by stopping "Big Bob" Guillen, it was even worse. Neither fight proved anything. The 28 year old Cuban will need to step up rapidly if he is to become champion in a very tough division—something that fellow Cuban Yuriorkis Gamboa has gone about doing in exactly right way. Gamboa has set the standard. It's now up to the other not-so-young Cubans to follow suit.
Heavyweight Deontay Wilder is now 7-0 with 7 KOs, but his opposition has been as bad as any I have ever witnessed. He has fought 905 seconds in seven fights. That's about 2 minutes per fight. The 6'7" 215 pound Wilder is not doing himself any good by this.
Russian Matt Korobov beat Mario Evangelista (1-1-1) in his pro debut. Fine, now he needs to start showcasing his amateur record of 310-11 against better competition. Benjamin Diaz (10-2-2) is a start; let's build on it.
Danny Jacobs
One of many things I like about Brooklyn's Danny Jacobs is that he is on a fast track. With his celebrated amateur record, the "Golden Child" has wasted no time in moving to an 18-0 record. But it appears that early on, he may have replaced quality with quantity and frequency. Jacobs had ten fights in 2008 and 5 so far in 2009. Finally, however, he is now fighting at a level more attuned to his legendary amateur accomplishments. With consecutive wins over tough Ishe Smith (21-3), George Walton (who never before had been stopped), and the very rugged Michael "Midnight Stalker" Walker, has stepped up, but surely he could have done this sooner and fought say someone like Jose Varela earlier in his career. Fighting designated losers' helps pad the record, but does little to help the fighter. In the Child's case, I had him pegged as a power puncher, but in reality that was because he was knocking out poor opponents. Atlas was correct when he noted this on ESPN during the Varela fight even though Jacobs won by a KO.
Kostya Tszyu
Perhaps the most celebrated Russian fighter ever, Tszyu retired in 2005 with a deceptively inactive 31-2 record–deceptive because he had gone up against stiff opposition virtually from the very start of his pro career. In fact, he beat Juan LaPorte in his fourth fight. His second pro opponent had 33 fights.
Oh yes, he compiled an amateur record of 259-11 before turning pro, but unlike so many top amateurs today, he hit the road running and dispensed with walk over fights—and that's the point of this article.