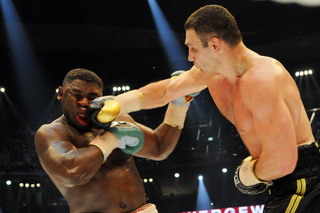 by James Slater – According to a number of reliable sources, WBC heavyweight champion Vitali Klitschko has reached a deal to defend his belt against unbeaten contender Chris Arreola at The Staples Centre in Los Angeles on September 26th. According to Ring on line (Ring on line in turn having been advised by a "reliable source") Arreola said no to a September 12th fight with the WBC champ, but said yes to the September 26th date.
The bout has yet to be announced officially, but things are looking good for this fight happening. As fans know, "Dr Iron Fist" was all set to attempt to close the big mouth of the colourful and exciting David Haye on September 12th in Germany; only for "The Hayemaker" to anger Klitschko by taking a fight with WBA champ Nikolai Valuev instead. Enter "The Nightmare," a fighter who has been awaiting his shot at a world title for some months.. At one point it looked as though Arreola would continue to play the waiting game and box former WBC champ Oleg Maskaev next, but with Haye out the 28-year-old seems set to get his chance quicker than he at first thought.
Arguably a better challenger than Haye, and one with a better chance of winning, 28-year-old Arreola of Riverside, California will be looking to make boxing history by beating the formidable 38-year-old Ukrainian.
If Arreola, 27-0(24) manages to upset and dethrone Klitschko, he will become the first boxer with Mexican roots to have won a world heavyweight title. This factor is motivating Arreola, but winning the title and fulfilling a dream is pretty much all the motivation the tough slugger needs. Can he beat Klitschko, a man who has lost just twice in almost 40 pro fights and who took everything huge puncher and all-time great Lennox Lewis threw at him back in 2003? It sure won't be easy.
But Arreola knows it won't be easy, and he and his trainer Henry Ramirez have been studying both Klitschko brothers for some time in preparation for this big chance. And Eddie Chambers and possibly Alexander Povetkin aside, who has a better chance at knocking off a Klitschko than Arreola?
One thing is sure, the September 26th fight will not be dull. Both men can punch, both men are aggressive and if he can get inside (Arreola's only chance of victory, surely) and test Vitali's body and now 38-year-old chin, the action could be of the two-way variety. Win or lose, Arreola WILL come to fight, of that you can be certain.
Let's hope official confirmation of this exciting-looking match-up is forthcoming.