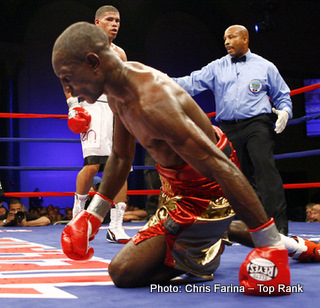 June 29, 2009 – By Scott Kraus at ringside — On Saturday night, I weaved through the maze of Atlantic City to watch Bob Arum's Latin Fury 9 live from ringside at the Boardwalk Hall Ballroom. Puerto Rican knockout sensation Juan Manuel Lopez headlined the card in the fourth defense of his WBO super bantamweight title.
The Fight Card: A rundown of the action
Juan Manuel Lopez (26-0) W-TKO end 9 Olivier Lontchi (18-1-2) – Juanma knocked Lontchi down in the second and ninth rounds and beat up the challenger in the rounds between, forcing Lontchi's corner to stop the fight after the ninth round. The unknown Cameroonian fighting out of Canada presented a very awkward style and landed as many headbutts as right hands but Lopez overcame his difficult opponent and wore him down for a second straight victory by corner retirement..
Jorge Arce (52-5-1) W-KO 3 Fernando Lumacad (19-2-2)
– The popular Mexican bounced back from a one-sided thumping from Vic Darchinyan with a huge one-punch knockout. The fight was uneventful until Arce put his full 115 pounds behind a right hand in the third round to crumble Lumacad, who could not beat the count.
Yuri Foreman (27-0) No decision Cornelius Bundrage (29-4) – A nasty gash opened above Foreman's right eyebrow after a clash of heads in the third round and forced the stoppage of a fight that featured more boos from the crowd than landed punches from the fighters. The unfortunate part is that they will probably do it again because it was an IBF eliminator.
Vanes Martirosyan (25-0) W-TKO end 6 Andrey Tsurkan (26-5) – Martirosyan hit Tsurkan with every punch in the book for six rounds, forcing Tsurkan's corner to stop the bout after the sixth. Martirosyan was very impressive against arguably the toughest opponent of his career and should be ready to step up to fight a top-ten junior middleweight contender.
Mario Santiago (20-1-1) W-UD 8 Gilberto Sanchez Leon (19-6-2) – Santiago controlled the action with his aggression and left hands to earn a unanimous decision in his first fight since his draw with Steven Lueveno almost exactly one year ago.
Matt Korobov (7-0) W-KO 1 Benjamin Diaz (9-3-1) – The 2008 Russian Olympian caught Diaz off balance for a knockdown with the first punch he threw and later punctuated a flurry in the corner with a brutal left hook to the body that stopped Diaz for Korobov's sixth knockout in seven fights.
Carlos Negron (3-0) W-KO 1 Kenneth George (9-3-1)
Jeremy Bryan (11-0) W-UD 6 Josh Beeman (4-3-3)
Michael Torres (13-0) W-UD 6 Humberto Tapia (14-11-1)
Hector Marengo (5-0-3) D-6 Angel Rodriguez (3-3-2)
Odds, sods and notes from Bolivian
– Juan Manuel Lopez is an exceptionally impressive young fighter. He has excellent hand speed, thunderous power, and Lontchi gave him the chance to show that he has guts. Lontchi fought a tough, dirty fight, using his head as a battering ram and holding throughout. Lopez showed some exasperated facial expressions but maintained his composure and busted up Lontchi. The fight discussed next for Lopez would pit him against Cuban sensation Yuriorkis Gamboa, a fight that has me drooling. Lopez has a serious shot to beat anybody at junior featherweight or featherweight right now
– The next time somebody tries to argue that punch stats can indicate who won a fight, I present the
– Arce-Lumacad punch stats as exhibit A. Arce: 6-50 jabs, 8-30 power punches, 14-80 total punches, Lumacad: 6-20 jabs, 8-29 power punches, 14-49 total punches. Arce won by third round knockout in a fight where each fighter landed the exact same number of jabs and power punches. Of course, the only one that mattered was the last right hand, which spoke a lot louder than the numbers
Arce didn't come to the ring on horseback but someone from his team left his cowboy hat and vest on the table next to me while he fought, which was pretty cool
– I imagine that people who like watching Yuri Foreman fights also like cleaning public restrooms and chewing aluminum
– Whomever Martirosyan fights next, I will be watching. He may have had the most eye-opening performance on the card, as he looked better than I had ever seen from him
– Good to see Mario Santiago again. Hopefully he will fight again before June 26, 2010
Confession time: I have a serious prospect-crush on Matt Korobov. I felt the impact of that hook to the body from press row. He looks like he could move rapidly and be a part of the title picture by as early as 2011. He just needs a cool nickname…
– Question for Bob Arum and Top Rank: Why no ring card girls until the televised card began? A little beauty goes well with all the violence
– The performance of Kenneth George against Carlos Negron, in which he adopted Vic Darchinyan's spider style to no effect when he wasn't getting battered around, led to some speculation about his 9-2-1 record coming in. So I looked it up. George's most experienced previous opponent, Jay Holland, had 14 fights when they met, sporting a neat 1-13 record. George must have liked the work because he fought Holland again six months later.
– I go to Atlantic City a fair amount. How is it that I manage to get myself lost every time I go down?