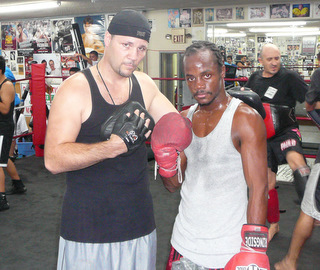 (June 26, 2009) –by Pavel Yakovlev – Boxing returns to The Roxy Nightclub Boston this Saturday, June 27th, with a nine bout card headed by super bantamweights Mike Oliver and Castullo Gonzalez. The scheduled ten round main event is regarded as a grudge match between local rivals Oliver (21-2; seven kayos) and Gonzalez (9-8; three kayos). In a previous fight, in 2006, Oliver stopped Gonzalez in nine rounds.
For Oliver, this is a "must win" fight, as he has been kayoed in devastating fashion in his last two bouts. Only a year ago Oliver was regarded as one of the best super bantamweights in the world. Early round stoppage defeats to Reynaldo Lopez and Antonio Escalante, however, have knocked Oliver out of the world ratings.
The Guatemalan born Gonzalez is a rugged, bull-like fighter who can be expected to pressure Oliver as long as the fight lasts.. Oliver will likely counter Gonzalez's tactics by using his superior hand and foot speed, agility, and outside boxing skills. It is possible that much of this bout will be fought at close quarters, with Gonzalez forcing his way inside and Oliver responding with sharp combination punching to the head and body.
Overall, Oliver is expected to have the advantage over his less-accomplished opponent and emerge with another win. The outcome, however, is not a foregone conclusion, as Oliver is coping with the psychological disadvantage of being kayoed in his last two outings. Interesting also is that Gonzalez is regarded as a fighter with a burning desire to avenge his defeat by Oliver in 2006.
According to John "Ice Man" Scully, Oliver's life-long trainer and friend, the match could be a tough one. "Mike is taking Gonzalez very seriously; he is not overlooking him. We expect Gonzalez to come into this fight highly motivated, looking for revenge. There was bad blood between the corners in the first fight, and Gonzalez will be bent on getting revenge. The motivation is clearly there."
ELVIN AYALA TO FACE DANGEROUS KAYO ARTIST EDDIE CAMINERO
In the scheduled six round middleweight fight, Elvin Ayala (19-3-1; eight kayos) meets Eddie Caminero (5-1; five kayos). This match is Ayala's second comeback fight since being stopped in twelve rounds by Arthur Abraham in a bout for the latter's IBF World Middleweight Championship in Germany.
Ayala put on an excellence performance against Abraham in their 2008 bout, and he emerged from the match having won the respect of the world's foremost boxing pundits. Although he was stopped with just 28 seconds left in the fight, Ayala impressed observers by winning most of the early rounds, and by withstanding the heavy punching Abraham's barrages in the middle and later rounds of the fight.
According to internationally respected boxing scribe Graham Houston of www.fightwriter.com, Ayala put on a "a competent, gritty performance in by far his biggest fight," and "his stock rose even though he lost."
Caminero is a powerfully built, 5'9" pressure fighter who reminds this writer of 1970s lightheavyweight contender James Scott. Like Scott, Caminero exudes a menacing ring presence and he packs power in both mitts; he is capable of ending any fight with a single blow from either hand.
No doubt Ayala's vast advantage in experience – in addition to the talent, toughness and skill he demonstrated against Abraham – will rate him as a solid favorite over Caminero. Nonetheless, this bout should prove to be intriguing because Caminero's physical strength, aggressive style, and lethal punching power will keep him in the fight as long as it lasts.
ACTION PACKED UNDERCARD
Saturday's boxing card is a co-promoted by Rich Cappiello's Cappiello Promotions and Leon Margules's Seminole Warriors Boxing. In addition to the Oliver-Gonzalez and Ayala-Caminero fights, the card features seven undercard bouts.
In a scheduled six round junior welterweight fight, 2008 U.S. Olympic first altnerate and National Golden Gloves champion Danny O'Connor (6-0; two kayos) faces Sebastian Hamel (10-19-1; one kayo). O'Connor is a native of Framingham, Massachusetts, and he is regarded as one of the most promising young professionals in the country. The 24 year old, slick boxing southpaw is compared by many to Paul Spadafora, and is promoted by Leon Margules's Seminole Warriors Boxing.
Super middleweights Andrey Nevsky (6-0; three kayos) and Roberto Burgess (4-1; two kayos) will meet in a scheduled six rounder. Nevsky is a native of Rostov, Russia, who currently lives in Boston. Burgess is from Philadelphia.
In a heavyweight battle scheduled for four rounds, Phil "Killa" Miller (4-0; two kayos) faces Jonathan Felton (6-16; five kayos). Miller, of Providence, Rhode Island, is a brawling fighter who promises excitement because he swings for the backseats when he punches. Also at heavyweight, Rashad Minor (1-1; one kayo) faces Ernest Blackwell (0-0) in a scheduled four rounder.
Frank Trader (4-0; one kayo) meets Javier Dennis (1-3; one kayo) in a scheduled four round super featherweight fight. Trader, from Philadelphia, is a sharp punching boxer who has impressed local fans with his earlier Boston appearances.
In other matches scheduled for four rounds, Derek Silveira (1-0; one kayo) will face Antonio Chaves-Fernandez (0-1) at light middleweight, and Edwin Rosado (1-5; one kayo) will face Jose Velazquez (1-6; one kayo) in a battle of junior welterweights.
TICKET INFORMATION AND VENUE LOCATION
The Roxy Nightclub Boston is located at 279 Tremont Street, Boston; directions are available via this link: http://www.roxyplex.com/roxy-directions.htm. Tickets can be obtained by calling Cappiello Promotions at 508-586-2277, or by calling The Roxy Nightclub Boston at 617-338-7699. General admission is $40, ringside seats are $50, and stage ringside seats are $75. Doors open at 3:30pm, and the first bout is scheduled to start at 5pm.
INTERVIEW WITH BOSTON MIDDLEWEIGHT ANDREY NEVSKY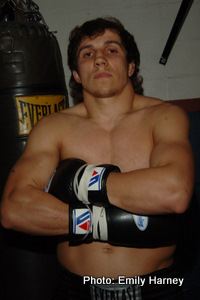 Saturday's undercard will feature a match pitting undefeated local middleweight against Philadephia's Roberto Burgess. East Side Boxing recently interviewed Nevsky about his career and background.
ESB: What is your career situation right now?
Nevsky: Well (laughs), I never expected that boxing would be my profession, but I was told I could be very good in boxing, so I stuck with it.
ESB: I understand you are working with your trainer Arsen Sarkisov to augment your style, to better utilize your punching power and natural aggressive fighting instincts.
Nevsky: Yes, we are working on flexibility and side stepping, and learning to throw more combinations
ESB: I am told that you began boxing as an amateur only when you came to the United States in 2005. Did you have any kind of athletic background while you were in Russia?
Nevsky: Yes, I was always interested in combat sports, and at the age of 14, I took up wrestling…Greco-Roman style. Later, I became involved in mixed martial arts, and I participated in amateur tournaments. As a mixed martial artist, I won a regional championship in southern Russia.
ESB: How did you get involved in boxing?
Nevsky: When I was in Cape Cod I began boxing just to work out, and I liked it. Later, I began working out at the Worcester Boys Club, and my coach was Rocky Gonzalez.
ESB: So you must have known Edwin Rodriguez, the national amateur star who was boxing out of Worcester Boys Club (note: Rodriguez is currently a highly touted, undefeated professional prospect promoted by DiBella Boxing)
Nevsky: Yes, absolutely. Edwin and I used to spar often.
ESB: What was your amateur record, and did you win any titles?
Nevsky: I had 16 amateur fights, winning 15. I won the New England Golden Gloves, novice class.
ESB: I understand you are an accomplished chess player. How did you get involved in chess?
Nevsky: (Laughs) I'm not sure I would call myself that good, but anyway, my parents sent me to chess school when I was seven years old, and I studied the game for seven years. My father is a physicist and my mother is a biologist.
ESB: That's a very interesting family background, and an unusual one for a professional boxer. Did you study at a university in Russia?
Nevsky: Yes, I attended a university in Rostov and I have a degree in civil engineering.
ESB: Are you using your engineering degree to obtain work now?
Nevsky: No, right now my only focus is boxing. It is my full time job.
ESB: What brought you to the United States?
Nevsky: I came here originally as part of an exchange program for university students, the Work and Travel Program. I came to the Boston area and lived in Cape Cod for a while.
ESB: Let me tell you, when I first saw your name, I immediately thought of the famous Eisenstein movie from the 1930s called "Alexander Nevsky," which is an action battle film about knights from medieval Russia. Surely you know of it, it's famous internationally. Aside from the hero of this movie, you are the only other person I know of named Nevsky.
Nevsky: Yes (laughs), everybody knows of this knight who defended Russia against the Europeans centuries ago. I have seen the film.
ESB: So then, have you found that people identify you with the famous knight, Alexander Nevsky?
Nevsky: Well (laughing hard), when I was in Russia there were always people who approached me and asked if the knight was my great, great grandfather or something. Some of these people really believed that.
ESB: Okay, Andrey. Best of luck in the ring Saturday night.
Nevsky: Thank you.