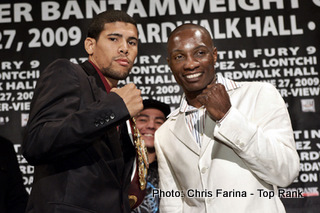 By Vivek Wallce: The island of Puerto Rico has been long known for giving the world of boxing some of its best talent. From Gomez, Benitez, and Camacho, to more recently Felix 'Tito' Trinidad; Emerging from beyond those shadows is the presence of a young man who boasts a talent that many of his native land feel may one day parallel those efforts. Blessed with power, speed, skill, and a wicked southpaw stance, it appears this knight is more than ready to shine his armour in front of anyone willing to watch. Only a few years ago it was Miguel Cotto who walked this path from the land of Puerto Rico to mainstream boxing, but after a jr. welterweight tenure that saw his chin, stamina and skill level questioned, despite his great success as a welterweight, many critics have once again found reason to debate his true worth. So far, the steps along this same trail for the young Lopez haven't quite shed any light on any such problems, but in the mind of his critics, that's precisely the problem….We simply don't know.
With a record of 25-0 with 23KOs, the focus quickly shifts to his level of opposition. As you scan around the sport and look at some of his contemporaries, we learn that the same questions which also now surround fighters like Edwin Valero (25-0, 25KOs) and Andre Berto (25-0, 19KOs), can be quickly answered when met with stiff opposition like that encountered by both Alfredo Angulo and Kelly Pavlik; two fighters who also were questioned before their "O" decided to go.. Sure, he defeated Daniel Ponce de Leon in less than three minutes of action, but on a grand scale, how far did that victory go in removing the many doubts that he has yet to shake? Prior to the initial Pavlik and Angulo defeats it was duly noted that neither man had gone beyond 8 rounds but a hand full of times in their respective careers, and that neither man had ever been truly tested by a veteran with any true degree of depth. For Lopez, this Saturday's contest won't pin him against that level of opposition, which keeps this string of questions coming for atleast the foreseeable future.
How much longer before we see the young Lopez take on this level of competition remains to be seen, but one thing for sure, there's more than enough talent around him to eventually get him out of this current comfort zone and into deep waters….soon. Within range is a host of challengers…..from Marquez and Vasquez, to perhaps even Chris John and beyond; So, the true competition many expect to see him take part in may very well soon rise like the morning sun for this young lion who hasn't yet grown a full mane. In a recent interview, Lopez was quoted as saying "I want to fight them (Marquez and Vasquez) but they'd rather fight each other for a 4th time than fight me". He went on to say that "it doesn't matter where" he fights them, he just wants to fight them. It's great to hear such a spirit of competition within the rising Puerto Rican phenom, but does he truly know what awaits on the other side of the B-level competition he has been able to so easily dominate? Perhaps he does, but until the bar representing his level of competition is raised, perhaps we'll never know. So, for now, the critics have room to speculate….that is until his career defining moment where the results allow him to separate. That degree of separation remains a work-in-progress. It'll cost $39.95 to see this phase of the evolution, but in an era of great recession, we're once again reminded that nothing worth having ever comes without a price. Stay tuned.
(I would like to take a moment to express a deep heartfelt condolence to both the beautiful Farrah Fawcett and 'King of Pop', Michael Jackson. Jackson once spoke about the "Man in the mirror", and in an odd way, it's the 'mirror' in him that leaves an impression on me. So many people took notice of his weaknesses that practically no one ever truly grasped his strengths. Many questioned his life, and now some even question his death. Rather than attempting to QUESTION either, I'll cling to the ANSWER he provided…which was the fact that "Intense Dedication, Preparation, and Depth of Soul + an Unrelenting Will = insurmountable, transcendent success that exceeds race, color, and all other boundaries. R.I.P. Michael and Farrah….Jai-Guru!)
(Vivek Wallace can be contacted at: vivexemail@yahoo.com, 954-292-7346, and Facebook/Myspace).