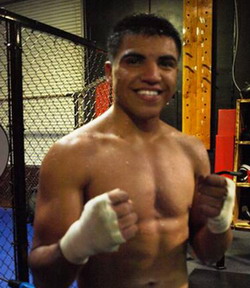 by Andrew Harrison, safesideoftheropes.com — This weekend, fight fans will be tucking into the remains of what should have been a veritable boxing banquet, however after the bizarre spate of cancellations, sick notes and let downs, the feast we originally had in prospect, one which had us licking our lips and tucking in our napkins, has been curtailed somewhat. Ray Arcel, a wise old soul, was right on the money when he remarked 'tough times make monkeys eat red peppers'. With all the shenanigans and happenings over recent weeks we're probably all just thankful to have something left on our plate to munch on at all.
Saturday's 'Latin Fury 9' PPV presentation from Atlantic City, originally boasted Kelly Pavlik headlining against former reality TV show winner Sergio Mora, beefed up by Fernando Montiel v Eric Morel, Paulie Malignaggi battling Mike Alvarado and Juan Manuel 'JuanMa' Lopez against Olivier Lontchi. Regrettably, only the latter of the quartet has survived..
On the same evening meanwhile, over on HBO BAD, Chris John and Rocky Juarez had hoped to settle the score after fighting to a 12 round draw earlier in the year and were joint bill toppers at LA's STAPLES Centre alongside Victor Ortiz (photo by R.Conde) against Marcus Maidana. After John fell ill and Juarez was unable to find a replacement opponent he felt happy with, once again the limelight was diverted solely over to one of boxing's rising young stars as they gratefully assumed centre stage.
With Lopez (25-0) and Ortiz (24-1-1) both prohibitive favourites to win their prospective bouts, the most interesting battle this weekend will be one featuring way more than the standard three judges and will be fought in not one ring but two. This one is strictly hypothetical and is thus; which one of these young bucks will steal a march on the other, along with their thunder and consequently, Sunday's headlines?
Now I'm sure both boys will say they wish the other all the very best in their endeavours, most boxers are courteous like that (especially as they aren't direct rivals so to speak), however with fighters seen more as commodities these days and their careers resembling business ventures, fighters must battle to whup not only their opponents, they must also scrap tooth and nail to grab a slice of the market. So let's get a little bit P.T Barnum here, a touch Tex Rickard and turn carnival barker to hype up a shootout between two of the hurt game's budding new hotshots as they look to outperform the other. Roll up, roll up…..
In the red corner…….
If I was a betting man (what the hell I'm I jabbering on about, I AM a betting man), I'd wager that Lopez has the smoother night in prospect. His opponent, 25 year old Olivier Lontchi is undefeated (18-0-2) and a bit of an enigma. Fighting out of Montreal, Lontchi doesn't figure to do anything well enough to fend off the surging phenom that is JuanMa, only 8 knockout victories in 18 wins indicating a lack of firepower, meaning he's probably in big trouble here. The Puerto Rican managed to break CompuBox's punch counter last time out and will utilise his deadly long left-whipping short right hook combo and devastating short shots in trying to eliminate Olivier. Lopez should be able to register an early win in this super bantamweight contest, however will that be enough to overshadow the man from Oxnard?
And in the blue corner………
'Vicious' Victor looks to have a good test ahead of him. Marcus Maidana is a rough, tough Argentine, possessing a good dig and whose only defeat in 26 came last time out against WBA light welter titlist Andreas Kotelnik, losing out by the slimmest of margins via split decision. Maidana should in all likelihood prove a smidge too pedestrian for the lively and more fleet footed Ortiz, who may have to give ground to his opponent at times, circling him before quickly closing the distance and zipping in his wonderful straight left hand, backed up with quick, snappy combinations. The worry here is that Ortiz has been hurt and dropped previously, by opponents less capable than Maidana, what if the 'El Chino' manages to land flush? Ortiz might have a struggle in this one, yet should prevail, finding his opponent more readily than he himself is located and that should be the larger story of the weekend; Ortiz graduates in a tough one.
Long term the battle may not be so straightforward, Ortiz looks the more marketable of the two (how many more Oscar comparisons are we going to hear?), however Lopez looks the better fighter.
The argument should stay a theoretical one, although who can be sure these days with the way fighters move through weight divisions so readily? I mean did Manny Pacquiao really fight Oscar De la Hoya? Possible future pound for pounders the pair, the debate over which of the duo is the better fighter should provide us with much food for thought down the track and plenty more to chew on for years to come.